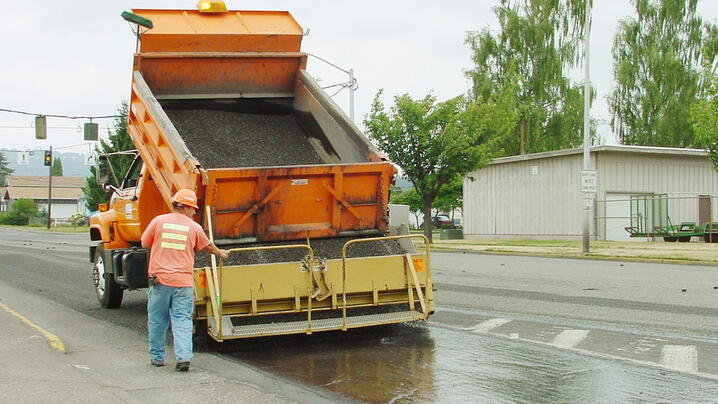 Sponsored content powered by Dude Solutions.
Roads are an important area for taxpayers and another place where public works departments must keep a close eye on balancing budgets and resident expectations.
Residents rely on roads for safe transportation, and there can be plenty of negative consequences when they are in poor condition.
Topeka's Challenge
The public works department for the city of Topeka, Kansas, was in a position where they needed to reevaluate the effectiveness of their half-cent retail sales tax to fund pavement renewal projects. To add to that, the city also tasked public works with improving their average pavement condition index (or PCI) from 55 to 60 in the next 10 years. They were given a $31 million budget.
That put them in a position where they needed to use data to answer:
What impact did the half-cent sales tax have on their pavement and roads?
How much budget did they need to improve their PCI to 60?
What difference would the budget lift to $31 million make?
How would the outcomes above affect services levels to citizens?
Data Modeling's Answers
That's when they used their strategic asset management software to help them answer the questions that needed answering.
Using data modeling powered by current pavement inventory and condition data, they could better understand their long-range pavement condition and funding needs. They ran through various scenarios to see different outcomes for 15 years in the future.
Data modeling allowed them to really look into the future, or many different scenarios of the future, to weigh out the best ways to balance their budget and PCI. Having it all in a software system based on their current data made it easy to see the best outcome for their department and for the city.
Paving Their Future Budget
Data modeling gave them the answers they needed and those were that:
If the 0.5-cent sales tax expired, roads would deteriorate rapidly and result in 19.4% (the equivalent of 304 lane miles) nearing end of life condition by 2033.
The city must maintain, at minimum, the existing funding level of $24 million in order to reach the target PCI goal of 60.
Strategic modifications to the treatment strategies modeled within the strategic asset management software showed that the PCI target could be surpassed while reducing the percentage of roads at end of life from 10% to 4.7%, all with the existing $24 million annual budget.
The models showed that an annual investment of $31 million would only yield a 3-point improvement in average PCI.
With all this information, they decided to stick with improving their treatment strategies with the same budget of $24 million per year.
Jason Peek, director of public works for Topeka, said that the software built on their data made the decision-making process much easier.
"The software gave us quick, actionable insights and a robust, evidence-based forecast of our future actions and spending to achieve pavement condition goals," he said. "Importantly, this was done leveraging existing data, efficiently and affordably."
New, Reduced Membership Dues
A new, reduced dues rate is available for CAOs/ACAOs, along with additional discounts for those in smaller communities, has been implemented. Learn more and be sure to join or renew today!