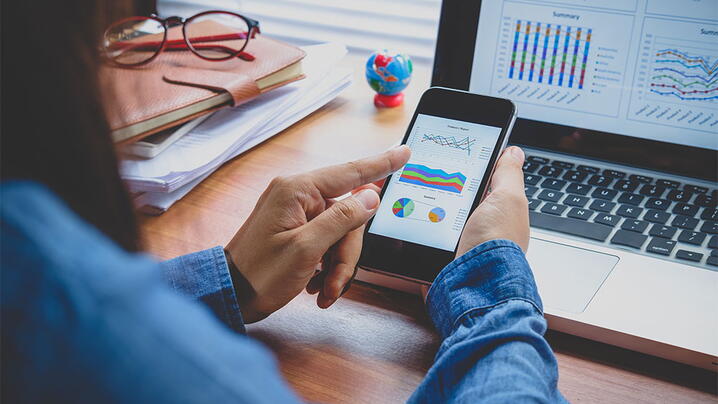 by Rebecca DeSantis, content and engagement coordinator, ICMA
"Strategic leadership" is a loaded term that can elicit groans and sighs from even the most seasoned manager. Finding ways to lead with a vision for the future can be a challenging task when there are so many day-to-day activities that require us to be deep in the details. When a leader, however, can break down a strategic plan into a series of projects that meet needs for their team and their community, they can achieve their long-terms goals.
When the city of Olathe, Kansas, saw a need to address its performance management system, a survey of the emerging trends pointed to a new solution: an interactive dashboard. An undertaking like this involved strong strategic leadership to look beyond the current situation to create a product that would be used by the community for years to come.
In 2017, the community launched the "Olathe Performs" dashboard, designed to increase resident engagement, data transparency, government accountability, and ease of information sharing. Launching the dashboard involved reviewing other dashboards, meeting with key stakeholders, and soliciting input from residents.
Olathe's work to create this platform earned them the 2018 ICMA Local Government Program Excellence Award in Strategic Leadership and Governance.
ICMA circled back with city leaders to find out more about their experience in strategic leadership.
Lessons Learned About Strategic Leadership
According to Ed Foley, performance analyst for the city, "The dashboard has shown us the value of collaboration, regularity, and simplicity. It has enabled better collaboration between departments because most of the metrics are updated quarterly, and the dashboard is incredibly easy to navigate as well as understand." Foley emphasized that the dashboard not only benefited leadership team members but residents as well. They are using the dashboard when they speak in front of the city council. "It provides data and context for everyone to make more informed and better decisions."
Challenges Faced When Implementing the Dashboard
For Olathe, this was its first time providing data to the public on a quarterly basis. There were concerns about how the data would be used by the community. "It's always a challenge when you face some uncertainty," says Foley. "We've found it has become a great tool to get our message out about our performance from quarter to quarter and the work we are doing to benefit our citizens." Accountability at the forefront, staff view the dashboard as a display of progress even if target measures aren't always met.  
Tips for Communities Tackling Strategic Projects
As winners of the award for strategic leadership and governance, Olathe staff offer this advice to local governments undertaking strategic projects like the dashboard:
Keep departments informed about the process and allow them to have input.
Keep the primary user/viewer at the forefront of your mind when planning; this could include both external and internal users.
Keep the data and information minimal and clear so it is easy to digest for anyone viewing it.
Work with a trusted partner to design and automate the dashboard. It's money well spent.
Update it quarterly, keeping it fresh and relevant.
Integrate it with the branding of your current website.
Want more information on strategic leadership and governance? Check out these ICMA resources:
Strategic Thinking: Dealing with the Daily Stuff That Comes After the Strategic Plan
4 ICMA Resources on Strategic Planning
Don't forget to nominate yourself, your community, or your colleague for a 2019 ICMA Local Government Excellence Award! Visit the website for details and instructions. Deadline for submissions has been extended to March 14, 2019!
New, Reduced Membership Dues
A new, reduced dues rate is available for CAOs/ACAOs, along with additional discounts for those in smaller communities, has been implemented. Learn more and be sure to join or renew today!