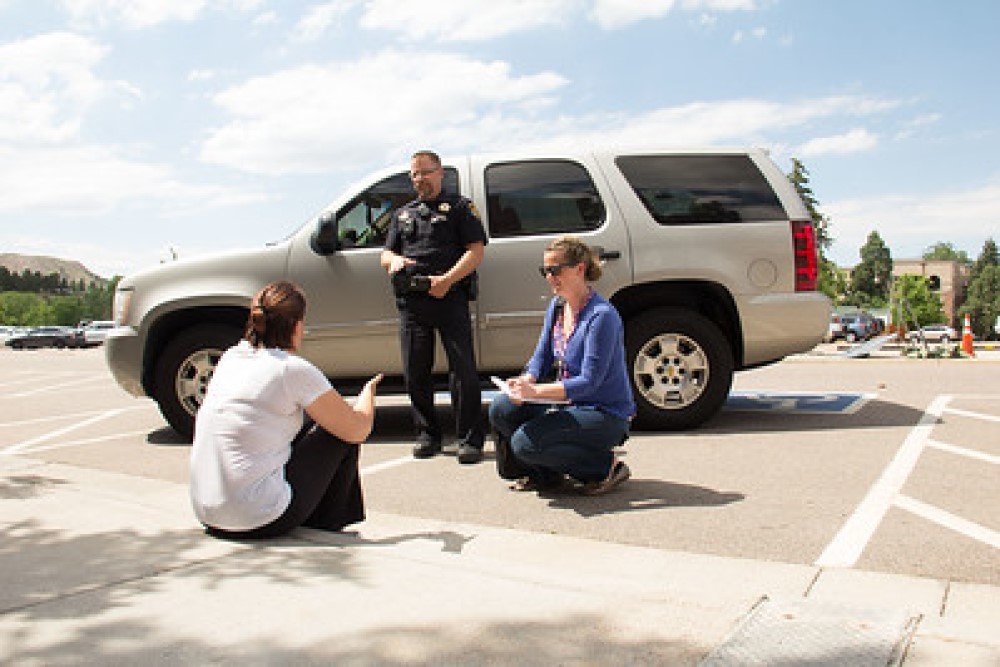 It's #NationalSafetyMonth! Led by the National Safety Council, National Safety Month focuses on reducing leading causes of injury and death at work, on the road, and in our homes and communities.
Our members know that promoting health and safety in their communities starts with building programs and processes that educate residents and offer resources for finding assistance when needed.
The winning cities and counties of the ICMA 2018 Local Government Program Excellence Award in Community Health and Safety exemplify the commitment to building stronger and healthier communities in their everyday work. These winners have implemented programs that have supported residents in need and proactively tackled health and safety concerns for the community.
New Richmond, Wisconsin: Preparing for Active Shooter Incidents
One of the winning communities, New Richmond, Wisconsin, decided to take a whole community approach to preparing for active shooter incidents, disastrous events that have become an unfortunate fact of life in the country today.  The city's police department is among the first public agencies to require all of its officers to complete certification in advanced law enforcement rapid response training. The police department has also worked closely with the city's school district to prepare a response plan using a procedure called ALICE (alert, lockdown, inform, counter, and evacuate). All school personnel received ALICE training in 2015; students participated in age-appropriate curriculum and drills in 2016.
While New Richmond's police department and Chief of Police Craig Yehlik have led the program, it came together because of support from City Administrator Mike Darrow and the city's elected officials, as well as the school district, technical college, parents, local businesses, private citizens, and others. "Our collaborative approach to this issue is one reason why our training has been a success," explains Darrow. "Building trust through police-driven community events like National Night Out; through our school resource officer; and through school mentorships between students, our officers, and our Citizen's Academy, have a direct nexus to community safety and community pride. Our police department and personnel place a high value on proactive relationships that assist in times of reactive emergency services."
An initiative of this caliber does not always happen easily. Darrow explains, "Given the frequency of tragic active shootings throughout our country, the biggest challenge is informing all community members to be prepared during these events and to continue to be mindful and vigilant if an event were to occur here."
As New Richmond continues to focus on community health and safety for its residents, it has come to understand that active shooter training, for which there is high demand, enables law enforcement agencies to strengthen their community relationships while providing a valuable service.
What advice does Darrow give to other communities focused on new public safety and health programs? "Be innovative in your approach and go beyond the tactical approaches to this issue," says Darrow. "As the city administrator for New Richmond, I am extremely grateful to our entire police department for being incredible professionals, highly trained, and ethical individuals. Beyond that, the men and women (and our K9 too) of our department look to create amazing relationships within all walks of life in our community. A lot of people can give a presentation on active shooters, but giving a training on active shooters to an audience that understands that community matters, that relationships matter, and that we are all in this together--that is community-science, dedication, and an unrelenting commitment to health, safety, and general welfare that we are excited to share with others."
Douglas County, Colorado: Tackling Mental Health Issues in the Community
Another winner of the 2018 Local Government Excellence award, Douglas County, Colorado, brought residents together to tackle mental health issues in the community. Barbara Jean Drake, deputy county manager, helped lead the way to form the Douglas County Mental Health Initiative (DCMHI). DCMHI had a mandate to assess the county's mental health system, identify gaps, and develop collaborative solutions. "Unmet mental health needs, the lack of a full range of needed mental health and substance use disorder services or difficulty accessing those services, has a dramatic impact on all sectors of the community," explains Drake. "With the county acting as a facilitator to address community mental health and safety, we have been able to implement programs such as the Community Response Teams (CRT) that are showing positive results. We started with the premise that addressing these issues falls on all of us, not just on one or two organizations. That has been key to our approach."
DCMHI's CRT streamlines access to care for individuals who are caught in the proverbial "revolving door." A mental health clinician and specially trained law enforcement officer patrol 40 hours per week, on a shift determined by highest volume of mental health-related calls. After the team triages the patient, the clinician can make an immediate referral to any level of treatment or place the individual directly into inpatient treatment.
DCMHI has 37 community partners that support this program. Drake explains, "Every organization or individual that is part of the DCMHI has to see value in participating and partnering and see how the vision of the DCMHI is in sync with what their organization values or what the individual believes in. Once you have that, you have more than just a group of cooperators; you have a consolidated group with shared goals."
CRT started with a four-month pilot in 2017 within a limited geographic area. After the pilot proved successful, the project expanded to include unincorporated Douglas County, where the bulk of its population resides. The program now has two full-time teams and two full-time case managers.
Drake offers this advice for other communities tackling issues like mental health: "View it as a community issue and try some new strategies. One of the things DCMHI members say is that they like our group because we accomplish things and we have gone beyond analysis and dialogue to action, which keeps people engaged. We also keep detailed data on our strategies and how they are impacting the community. For example, our CRT (co-responders) track the release of officers and fire/EMS back out into the field once the team arrives; they track the number of people treated in place and those being placed, along with avoidance of jail and emergency departments. This information tells the story and resonates with community leaders, citizens, professionals, etc."
Want to talk more about best practices for community health and safety? Head over to ICMA Connect to share ideas and questions with your local government colleagues!