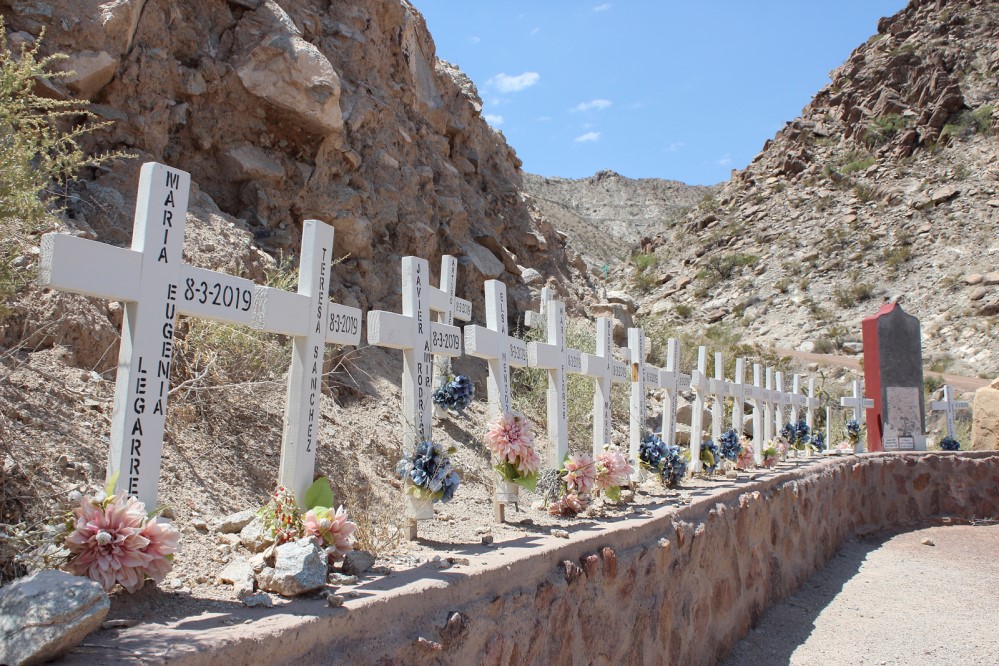 The heartbreaking mass shootings in Uvalde and Buffalo have pushed gun violence to the top of our national agenda. As the White House and Congress search for ways to end the bloodshed, the unsettling fact remains that the burden of responding to a mass shooting falls largely on our cities. Yet unlike law enforcement officials, mayors and their city managers rarely think about how they would respond to a mass shooting until tragedy strikes.
That's why, at the suggestion of then Pittsburgh Mayor Bill Peduto, who responded to the Tree of Life Synagogue shooting that killed eleven and wounded six people in 2018, the Public Health Advocacy Institute set out to research the role of the mayor when responding to a mass shooting. We researched six cities that had responded to a mass shooting: El Paso, Dayton, Orlando, Parkland, Pittsburgh, and San Bernardino. We interviewed mayors, staff, law enforcement officials, representatives of the American Red Cross and the FBI Victims Services Division, and a city attorney. We used their harrowing but invaluable experience, combined with public health resources developed by the CDC, the FBI, and other federal agencies, to develop tools for city officials: the Mass Shooting Protocol and the Mass Shooting Playbook. The Mass Shooting Protocol is a four-page guide that mayors and their staff can turn to during the first 24 hours following a mass shooting. The Mass Shooting Playbook is a 200-page supplemental resource that cities can use to prepare for, to respond to, and to help their communities recover from the unthinkable—a process that can go on for years.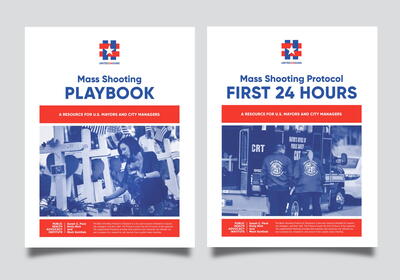 The Role of the City
The role of city leaders begins the moment the first shots are fired. Simply put, as law enforcement works to neutralize the threat, the mayor's office mobilizes to meet the needs of the city. Perhaps nothing provides a better overview of the magnitude and complexity of the city's role than the Orlando Pulse nightclub shooting case brief, which can be found in the Playbook. City leaders must ensure unified and appropriate messaging, in coordination with law enforcement. They must ensure victims and families receive the comprehensive services and support they need, and plan for the long-term mental health needs of the community. They must ensure the city's response complies with the law, while mitigating legal exposure to lawsuits. And then they must figure out how to pay for the cost of the city's response.
Front and Center: Managing Crisis Communications
The community's urgent need for words of comfort after a tragedy is the reason Orlando Mayor Buddy Dyer insisted on speaking first, before FBI officials, at the first press conference following the Pulse nightclub attack that killed 49 people and wounded 53 in 2016. As the principal elected representative and a trusted member of the community, the mayor is the "communicator-in-chief." The mayor should plan and participate in the press conferences. In consultation with law enforcement, the mayor (or the city's public information officer) should decide who will speak at the press conferences and who should not, about what, and for how long. Law enforcement officials typically provide details about the investigation, and the public looks to the mayor's office for public safety assurances, updates about the victims, referrals to mental health resources, and messages of healing and unity.
Managing communications during a crisis requires using trauma-informed messaging; public health officials should be consulted. Misinformation must be addressed by promptly correcting it when it occurs and by scheduling frequent press conferences even when there isn't much in the way of news to share. And the mayor's office must ensure unified messaging for the benefit of the community. As the National Police Foundation's after-action report noted, one city's lack of unified messaging created a vacuum filled by divisive messages that at times "overshadowed messages of unity and resilience, which also hampered the ability of the entire...community to focus on a collaborative recovery process."
The Playbook's Communications chapter provides strategies for managing the press, CDC resources for developing crisis communications, and protocols to manage social media and public records requests. Tips for managing a Presidential visit and other VIPs are included in Appendix B.
Top Priority: Providing Victims Services
Mayor Peduto's response to the Tree of Life shooting intuitively prioritized meeting the needs of the victims and family members. Such support usually starts by standing up a Family Reunification Center—a physical space to reunite friends and family and to provide death notices and grief counseling for those who have lost their loved ones. Law enforcement typically establishes this center, but city leaders should step in to ensure its location is separate from the press center and the center has a secured perimeter to prevent the press from approaching grieving family members. City officials should also work with the coroner's office to expedite death notices. Applicable law can slow the process of informing families; such delay can be unnecessarily traumatizing.
The closure of that center is typically followed by the establishment of a Family Assistance Center to provide more comprehensive services to victims, families, and friends, including referrals to mental health care, legal services, victim compensation, help with funeral costs, childcare, and so on. Providing this broad range of services is a major undertaking for a mayor's office. Mayor and staff will have to leverage existing partnerships with community-based organizations and businesses, and request the support of victim advocates, the FBI, and the American Red Cross, among others. It is recommended, therefore, to cultivate those relationships before disaster strikes.
As many readers have felt after a horrifying mass shooting, the trauma is a significant, lasting public health problem. Trauma affects not only the victims and their families, but also first responders, journalists, members of the targeted community, and the staff at city hall. It's usually up to city officials to find ways to address the trauma, often by organizing vigils and remembrance events, and by arranging long-term mental health services. The need for these critical services will continue for years, long after the nation has moved on. El Paso Mayor Margo's ability to establish a long-term Resiliency Center continues to be a key aspect of the recovery of his community following the Walmart shooting that killed 22 people and injured 26 in 2019, as described in the Playbook's El Paso case brief.
The Playbook highlights best practices for managing these support services in the Victim and Family Assistance chapter. The Mental Health chapter provides information and resources related to trauma recovery and community resilience. The chapter on Community Partnerships provides examples of how community and national partners supported cities' efforts to meet the needs of victims and families. The chapter on Commemorations provides guidance for commemorating the victims, planning permanent memorials, and preserving artifacts.
Appendix E provides additional resources prepared by the National Mass Violence Victimization Resource Center that can aid in the recovery of victims and families.
Preventing Fraud: Establishing the Victims Fund
After a mass shooting, the American people are moved to give. City officials should quickly establish an official victims fund to manage donations rather than allow private GoFundMe accounts to collect them. Leadership on this issue can reduce the incidence of fraud and ensure donations are distributed properly among the victims and family members according to a distribution protocol established with their input. The city may consider using an existing 501(3)(c) charitable entity to establish this fund, as Orlando did, or partner with the National Compassion Fund or a trusted local charity to accept donations. Note that the families of victims from previous mass shootings strongly recommend that 100-percent of the donations be distributed to the survivors and families of victims. Best practices for managing the victims fund, as well as in-kind donations (such as food, teddy bears, and other tributes to the victims) and volunteers, can be found in the Managing Donations and Volunteers chapter.
Managing Potential Legal Risks
Another unsettling fact: a mass shooting usually results in lawsuits. Although no legal action brought against a city has been successful to date, the legal risks must be properly managed. The mayor should work with the "C4 team" (i.e., the chief of staff, city attorney, chief administrative officer, and chief financial officer or their functional equivalents) to manage legal issues that arise when a mass shooting takes place, such as public records requests, emergency declarations, mutual aid agreements, and lawsuits. The Playbook's chapter on Legal Considerations covers issues that should be reviewed and managed by the city's attorneys to reduce potential liability.
Finding Funds to Pay for the Response
The cost of responding to a mass shooting can be enormous. San Bernardino spent $22.5 million after the December 2015 attack at the Inland Regional Center. But, according to its after-action report, the county was reimbursed only one-tenth of that figure. Appendix C: Funding Sources provides an overview of funding sources that cover victims crime compensation, family assistance and resiliency centers, police overtime and related law enforcement costs, and other aspects of the city's response.
City Officials Should Prepare for a Mass Shooting
After former Dayton Mayor Nan Whaley responded to a mass shooting in her city that killed nine people and wounded 17 in 2019, she advised her fellow mayors, "It isn't if, but when. You need to prepare." Obviously, the first time a mayor or city manager thinks about how to respond to a mass shooting shouldn't be when a mass shooting is in progress. Just as law enforcement officials schedule active shooter exercises and schools schedule active shooter drills for students, city officials should plan the city's response by scheduling a tabletop exercise with appropriate staff, agencies, law enforcement officials, public health experts, and partners.
Conducting a tabletop can help prevent mistakes and aid in the recovery of the community. City officials can also highlight the proactive measures they are taking to reassure key constituents—including parents, the business community, and at-risk communities—that the city is doing everything possible to ensure it is well prepared in the event of an extreme emergency.
In consultation with Mayor Dyer's team, we have prepared a tabletop template for this purpose that can be adapted to meet your city's needs. We have also assembled training resources in Appendix A.
Planning for the Unthinkable: A School Mass Shooting
School shootings can be especially hard on city officials and their staff because they often know the victims and families involved. These shootings also present unique challenges because schools are usually governed and regulated by entities not under the control of the mayor. The school district, the county, the mayors of neighboring cities, and even the governor's office may compete to assume the lead during the response. Yet the compassionate leadership of trusted local officials is crucial during these tragic events, as the Parkland case brief makes clear.
Planning a tabletop exercise focused on a school shooting with the school district and other stakeholders is therefore crucial to clarify roles, especially for small cities that lack the staff and resources of large cities. The School Shootings chapter contains best practices and resources specific to school shootings, including school security considerations and student mental health and wellness.
A Word about Community Gun Violence
Our research focused on the role of cities when responding to an active shooter who conducts a violent rampage in a public place. These shooters are often hate-filled and aggrieved, making their crimes hard to predict and prevent. That's why preparedness is so important.
Far more common are mass shootings that occur in specific areas of city neighborhoods plagued by gun violence, often underserved Black and brown communities. Leaders of large cities are familiar with these types of mass shootings, often referred to as community gun violence. These shootings rarely receive national attention or resources, yet the community trauma caused by these shootings is the same. The deaths are equally tragic. Therefore, many of the best practices offered in the Playbook apply to these mass shootings as well.
In this regard, Sacramento Mayor Darrell Steinberg's response to a gang-related shooting that killed six people and injured twelve others in April 2022 is especially noteworthy.3 He appropriately called it a mass shooting. He used trauma-informed messaging, promptly identified the victims, conveyed messages of unity and healing, and highlighted the need for increased mental health resources and funding. The Playbook's Note about Community Gun Violence provides recommendations and resources city officials can use to prevent and respond to these tragedies.
Free Resources for Mayors and City Managers
The Mass Shooting Playbook and Protocol, the case briefs, and the tabletop template are available for use by city officials without charge on our website. As Heather Fagan, chief of staff to Orlando Mayor Buddy Dyer, has noted, these resources are applicable to extreme emergencies in addition to mass shootings, such as terror attacks, wildfires and other natural disasters, and a building collapse, such as the one that occurred in Surfside, Florida.
The Public Health Advisory Institute (PHAI) is located at Northeastern University School of Law. Its nonpartisan initiative UnitedOnGuns promotes public health approaches to reduce gun violence, while respecting the rights of responsible gun owners. For more information about our work or for referrals to resources and training, please contact Sarah C. Peck or visit UnitedOnGuns.org.
SARAH C. PECK is director of UnitedOnGuns, an initiative of the Public Health Advocacy Institute at Northeastern University School of Law.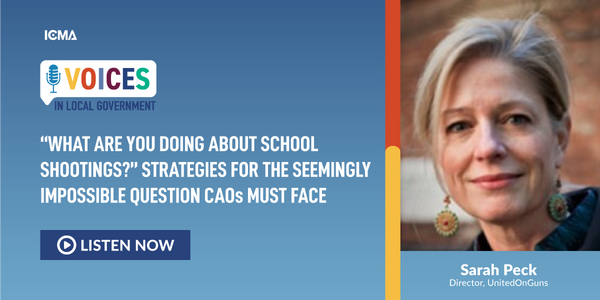 New, Reduced Membership Dues
A new, reduced dues rate is available for CAOs/ACAOs, along with additional discounts for those in smaller communities, has been implemented. Learn more and be sure to join or renew today!