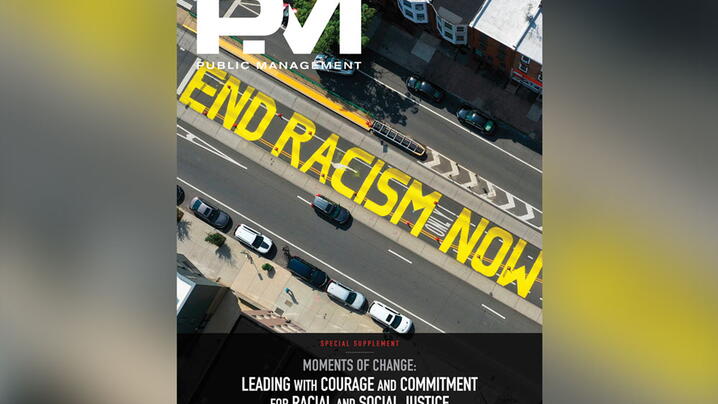 This PM Magazine Special Supplement includes observations and commentary from local government leaders, along with resources for addressing the needs of your community and ways to take action.
To read the supplement, select the square fullscreen icon in the bottom right corner of the viewing window.
Inside you'll find:
Fostering Economic Inclusion, Social Equity, and Justice for People of Color — Advice for City Managers
Valerie Lemmie, Director of Exploratory Research, The Kettering Foundation
Beyond the Birdcage: Insights to Understand, Analyze, and Improve
Dr. Kurt Wilson, local government advocate, educator, and consultant
Let's Be the Change
Opal Mauldin-Jones, ICMA-CM, city manager, Lancaster, Texas
Crucial Conversations to Challenge the Status Quo
David Ellis, county manager, Wake County, North Carolina
Against Racial Injustice and Declaration that Black Lives Matter
Rochelle Small-Toney, city manager, Rocky Mount, North Carolina
Conflicting Loyalties: Black City Managers During a Time of George Floyd
Kenneth Williams, city manager, Buda, Texas
National Forum for Black Public Administrators: Partnering to Take Action for Positive Change
Anthony J. Snipes, ICMA-CM, president, National Forum for Black Public Administrators
Silence is Complicity: Can White America Demonstrate that Black Lives Matter?
Ron Carlee, D.P.A., assistant professor, Old Dominion University
Case Study: City of Sanford, Florida — 2012 Shooting of Trayvon Martin
Foreword by Norton N. Bonaparte Jr., ICMA-CM, City Manager, Sanford, Florida
Rethinking Our Role as Servant Leaders
John Shaw, ICMA-CM
A Message from the Executive Director
ICMA Executive Board Statement Regarding Systemic Racism
Racial Equity Action Plans: A How-to Manual (GARE)
Advancing Racial Equity and Transforming Government: A Resource Guide to Put Ideas Into Action (GARE)
For more, please visit our topic page for ICMA resources that may be helpful to local government leaders as they address the current crisis of public trust, civil unrest, and social justice