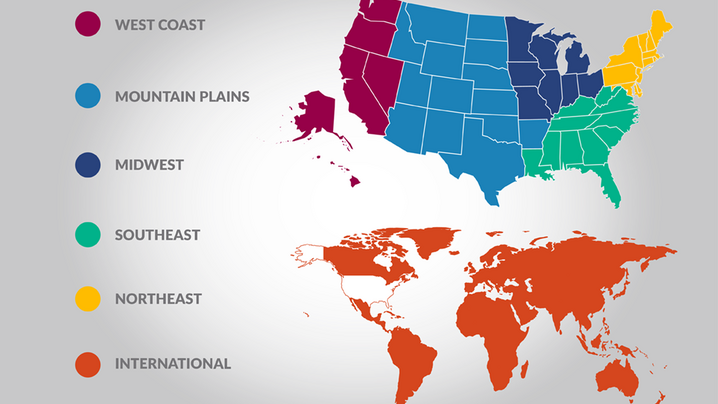 On June 17, 2021, ICMA canvassed 1,915 ballots (1,901 were received online and 14 by regular mail) cast by ICMA Corporate members to select vice presidents from each of ICMA's six regions to serve the 2021-2024 term on the ICMA Executive Board.
---
"On behalf of the ICMA Executive Board, I'd like to thank all the candidates that came forward during a trying year to interview via Zoom, the members who participated on the Regional Nominating Committees, ICMA staff that assisted in the process, and ICMA's members for voting in the election.  We had many exceptional candidates and the regions selected an excellent group of incoming board members that I'm looking forward to working with!"- Jim Malloy, ICMA President
ICMA Executive Board Regional Vice Presidents
The six newly elected vice presidents will take office with the ICMA Executive Board during the ICMA Annual Conference, to be held October 3-6, 2021. The regional vice presidents elected by the ICMA membership are:
Midwest: Corrin Spiegel, city administrator, Davenport, Iowa
Mountain Plains: Kenneth Williams, city manager, Buda, Texas
Northeast: Scott W. Colby Jr., assistant town manager, Windsor, Connecticut
Southeast: Valmarie Turner, assistant county administrator, Loudoun County, Virginia
West Coast: Pamela Antil, city manager, Encinitas, California
International: Rebecca Ryan, general manager, Blayney Shire Council, New South Wales, Australia
Nominations and Election Process
Of the 7,824 members eligible to serve on the executive board, 15 members chose to compete for a regional vice president position and participate in the 2021 interview process with the regional nominating committees. Seventy-three ICMA members were appointed by state association and affiliate organization leadership to serve on the six 2021 regional nominating committees to interview and select a recommended candidate for their respective region to appear on the 2021 ballot for election by the membership.
Three Corporate members served on the canvassing committee to witness the vote tally and certify the election results: Kip Padgett, town manager, Wake Forest, North Carolina; Michael Hornes, assistant city manager, Live Oak, Texas; and Nick Woolery, assistant city manager, Baytown, Texas.
Resources
Learn more about the expectations of board service, the nominations and election process, and requirements on running for the ICMA Executive Board.
Access more information on the current ICMA Executive Board.
---
Questions
Questions about ICMA's nominations and elections process can be emailed to icmanominations@icma.org