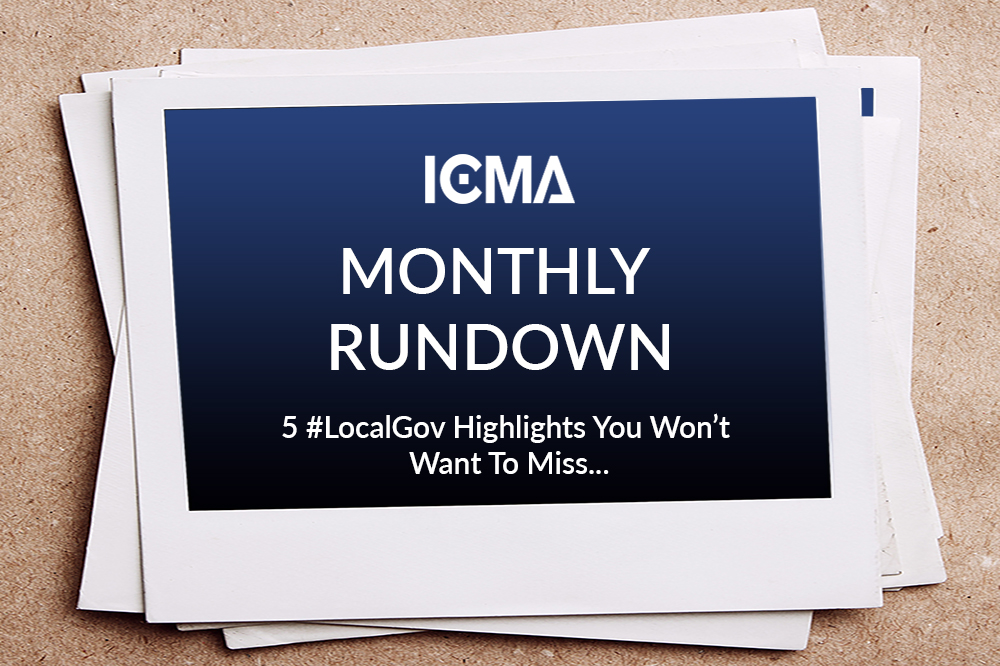 The Monthly Rundown is a collection of 5 #LocalGov highlights you can't miss from March. Consider it a friendly reminder of content you need to catch up on from ICMA. 
Check out the April Rundown Here
1.  Recommended Reading:
National Ethics Awareness Month is recognized in March every year. This month allows us to stop and reflect on the importance of building and maintaining an ethical culture in every local government organization. However, the need for ethics awareness shouldn't be limited to March. ICMA believes it is a year-round responsibility for professional local government leaders and a key pillar in ICMA's strategic plan. To supports members, other local government staff, and elected officials, ICMA provides an array of ethics resources.
2.  Member News:
Members Recommended to Receive Credential in April
Congratulations to the new group of members who have been recommended by the Credentialing Advisory Board to receive ICMA Credentialed Manager or Candidate status in April. ICMA Credentialed Managers are professional local government managers qualified by a combination of education and experience, adherence to high standards of integrity, and an assessed commitment to lifelong learning and professional development. The ICMA Credentialed Manager (ICMA-CM) designation has become widely respected, frequently requested in recruitment of positions, and cited in positive media coverage of public stewardship.
3.  Check It Out:
Resources for the Interim or Acting Local Government Manager: New, Updated Edition Available
When the local government manager's position becomes vacant, someone is bound to be tapped to serve in an acting or interim capacity. Often, the acting manager is selected from within the organization, and he or she is suddenly faced with an unfamiliar set of roles, responsibilities, and expectations. The decision to accept the role of interim manager can be a difficult one, requiring thoughtful consideration of where you are and where you'd like to be in your professional and personal journey. The 2016 ICMA Task Force on Serving as an Interim or Acting Manager updated and expanded Resources for the Interim or Acting Manager to help the interim manager make the most of a sometimes unexpected opportunity. 
4.  Listen to This Podcast: 
Step Out of Your Box - Step Out of Your Office
Dana Muscott is the first female city manager of Bay City, Michigan. In this episode of United Front, a special season of Local Gov Life, Muscott opens up about the criticism she has received about her education credentials - and how she overcame it; the management of a big career and a family; how to remain grounded in the CAO role; as well as the importance of mentorship in the profession. She also discusses why she chooses a hands-on approach as a local government leader with both her employees and the community - stating that everyone needs to have a voice - "so step out of your box, step out of your office!" 
5.  Watch the Video:
Member Spotlight - Teresa Wilson
We kicked off our recognition of Women's History Month in March with a Member Spotlight on Teresa Wilson, City Manager of Columbia, South Carolina, who shared her experiences managing her hometown and encouraged women to take risks in their careers. She also explains how she got into local government and how she has grown in her career.
For more Monthly Rundowns and updates on the latest news about local government subscribe to our blog below!