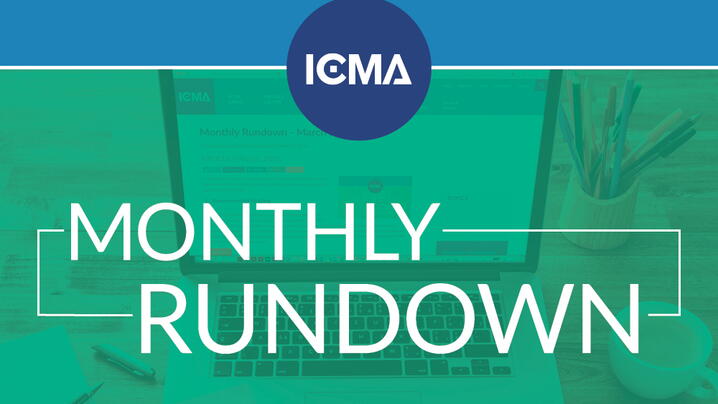 The Monthly Rundown is a collection of #LocalGov highlights from teh month of April. Consider it a friendly reminder of the content you need to catch up on from ICMA.

Ask an ICMA Manager: How to Manage Budget Expectations? A successful annual budget process centers on assuring expectations are clear for elected officials, residents, and staff. Here are recommendations, born of experience, for managing expectations. This is more on the "art" than the "science" of budgeting.
From the Ballot Box: Spring 2018 New England Elections. In a historic change to the town charter, residents in Amherst, Massachusetts (pop. 38,000), voted by a 58 percent to 41 percent margin on March 27 to adopt the town council-manager government, as recommended by the Amherst Charter Commission. As a result of that vote, a 13-member town council will replace the current representative town meeting and five-member select board.

Harvard Kennedy School Scholarships Awarded for 2018. The Harvard Senior Executive program is a unique opportunity to challenge conventional thinking, thought processes, and the values that drive leadership decisions. It's an opportunity for senior-level city and county managers and assistants to experience personal and professional renewal. Participants step away from the daily routine for three weeks to engage their intellect and hearts with other executives in team efforts to resolve tough issues and renew the commitment to their life's work.

Resource: A Budgeting Guide Teaching Resources, 3rd Edition. Microsoft Excel is a tool widely used by budget analysts. The Excel exercises introduce readers to the preparation of a departmental budget request and the preparation of revenue forecasts. 
Webinar: Entrepreneurial Solutions for Local Government Challenges. If you are interested in learning how local governments can boost their culture, strategy, and available resources, as well as how technology can support these initiatives, then make sure to catch up on the "Entrepreneurial Solutions for Local Government Challenges" coaching webinar. Presenters included Michael Davis, Durham, North Carolina; Caley Patten, Durham, North Carolina; John Keisler, Long Beach, California; and Dan Johnson from Richardson, Texas.
Podcast: Marcela Piedra Advises "Never Stop Learning." Marcela Piedra is the first female chief administrativer officer (CAO) of El Centro, California. As a 20-year veteran of local government, she has moved through a number of departments, including economic development and community services, before moving to the CAO position. With this extensive experience, plus her educational background, Piedra is a well-respected leader and role model.

Member Spotlight: Kevin Catlin. Catlin, assistant city manager of Brookings, South Dakota, shares how he got his start in local government and information on being an ICMA Member. He also offers some advice to the next generation of leaders.
For more updates on the latest news about local government, subscribe to our blog, and watch this space for more Monthly Rundowns. Leave us a comment below with suggestions on what you would like to see in future rundowns.