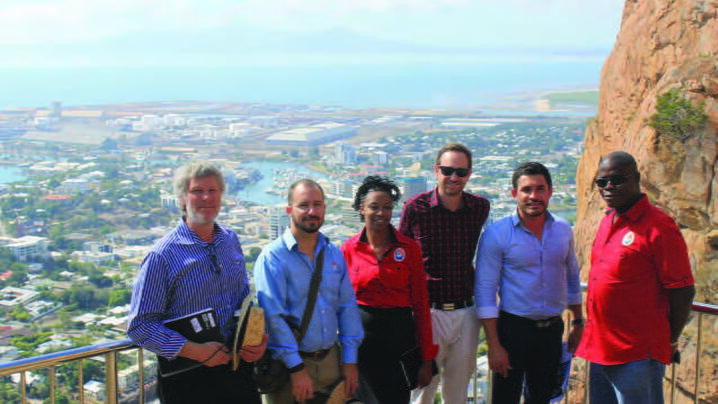 In this first issue of Leadership Matters, International Digest, we are providing an overview of ICMA's distinguished history of working internationally, past and present. Moving forward, we will introduce new programs and look deeper into each one to offer insights from the individuals helping to implement them and the stakeholders who are working with them to affect change in their communities.
Writing in the November 2018 issue of ICMA's PM magazine, celebrating 30 years of ICMA making a difference around the world through technical assistance programs, ICMA CEO/Executive Director Marc Ott wrote,
"As an ICMA member for nearly four decades, I had never fully understood the important role that our professional association plays in the world, particularly the impact we have in developing nations."
Through our donor-funded international development work, ICMA has been providing local government leaders, staff, and community stakeholders the tools that they need to build more open, inclusive, engaged, and sustainable communities. Sound familiar? The mission and vision of ICMA are ever-present in the work that we do to help local decision-makers in countries around the world improve the quality of life for their residents.
500+ Projects in 70+ Countries Over 33 Years
As former ICMA staff member Barbara Moore wrote in the 2014 Municipal Year Book article on ICMA's Evolution as an International Organization, ICMA members have been creating connections and networks with their peers around the world throughout ICMA's history. ICMA technical assistance programs reached thousands of people over 33 years, through more than 500 programs in over 70 countries.
1970–1994: From Philippines to Kenya to Honduras:
ICMA received donor funding in the 1970s and 1980s to provide technical assistance in the Philippines and Morocco, respectively. But 1989 marked the real launch of uninterrupted funded work, giving new meaning to the "I" in ICMA. That year, ICMA successfully obtained a multi-million-dollar contract to work with local governments around the world to provide management and leadership training and technical assistance. Funded by the U.S. Agency for International Development (USAID), this contract enabled ICMA members to engage in a multitude of activities, from supporting privatization of solid waste services in Botswana to conducting studies of local currency and municipal bond guaranty in Indonesia and Kenya. With the fall of the Berlin Wall in 1989 and the dissolution of the Soviet Union in 1991, ICMA saw an opportunity to apply its expertise, together with country experts and counterparts, to help newly liberated republics and former Soviet Satellite States decentralize and democratize. ICMA supported the establishment of independent local governments and provided the skills needed to local elected leaders and their staff to manage newly transferred land and property, and navigate their new roles as service providers to their communities. As the article states
"As municipalities worldwide absorbed new responsibilities—and faced new challenges—in the face of urbanization and decentralization, ICMA's mission, vision, and core values proved to be perfectly in sync with new emphases in U.S. foreign assistance policy goals."
This statement continues to ring as true today, as it has throughout the past 30 years. Guided by a commitment to good governance and ethics, the team of ICMA staff, initially led by Michael Murphy, proceeded to expand ICMA's reach to countries that were undergoing rapid change, like South Africa, where we helped strengthen an association of Black local government professionals and guided the development of new local government legislation after the fall of apartheid in 1994. The impact of our programs was also felt in Honduras, where, after the passage of the Municipal Reform Law in 1990, ICMA implemented a USAID-funded program whose legacy lives on today. ICMA strengthened and promoted the Association of Honduran Municipalities and helped to support the creation of the Metropolitan Zone of the Valle de Sula, an association of municipalities in northern Honduras focused on promoting regional development. Both organizations still exist today.
1995–2015: From South Africa to Afghanistan:
Those early programs cemented ICMA's reputation as an organization that understood the challenges faced by city leaders and staff and was laser-focused on collaboratively creating locally appropriate solutions. USAID saw value in ICMA's network and funded a program in 1997 called Resource Cities, which would become the flagship program of ICMA. Based on the premise that cities learn best from one another, Resource Cities paired ICMA members and their staff with counterparts in developing and decentralizing countries to improve local government management. The program eventually became known as CityLinks™ and involved hundreds of partnerships that spanned the globe. ICMA members and their staff donated hundreds of thousands of hours of their time to help their peers improve their municipal operations in all sectors. As cities around the world struggled to adapt to the effects of climate change, ICMA received funds to focus these partnerships on climate adaption. One of many results includes the creation of a regional climate compact in Durban, South Africa, modeled on that of the Southeast Florida Regional Climate Change Compact. Peer-to-peer exchanges are a unique and powerful methodology that ICMA incorporates in most of its international development work. 
In 2004, ICMA began what would be 17 years of engagement in Afghanistan, starting with support to the city of Kabul. ICMA implemented eight USAID-funded programs. Many ICMA members traveled to Afghanistan and shared their knowledge and expertise to help improve municipal management and service delivery, working side-by-side with hundreds of Afghan nationals. These programs helped to empower women and youth, train thousands of Afghans, and institutionalize mechanisms that created trust in government and assisted in the rebuilding of the country. Members and staff who supported these programs are heartbroken at recent events as they saw firsthand the impact that our programs had on Afghan professionals and local government leaders and staff.
2015–Present: From Philippines to Dominican Republic:
In July 2015, after a rigorous competitive process. USAID awarded ICMA the Strengthening Urban Resilience for Growth with Equity (SURGE) Project which would become our largest project by far–spanning six and a half years, ending in December 2021. Thanks to the efforts of a local staff that grew to more than 70 people, eight secondary cities received assistance that improved their capacity for inclusive and resilient urban development, economic growth, and connectivity. The acting mission director of USAID/Philippines indicated the importance of the SURGE Project in his message in the photobook, Cities Rising: Philippine Regional Urban Centers in Focus.
"These cities are thriving due to an improved business environment; increased investment, trade, and tourism inflows that have boosted job growth and revenues; enhanced urban-rural connectivity; and stronger resilience to natural and economic shocks achieved through innovating and mainstreaming disaster risk reduction and climate change adaptation." 
The success of the SURGE Project allowed ICMA to position itself to receive yet another large, five-year award from USAID in July 2021. This award, appropriately called CHANGE – Cities for Enhanced Engagement and Governance–is also a potentially transformative project. The CHANGE Project seeks to create more transparent, accountable, and responsive local governance. Through a local Filipino team of experts, this project will accelerate reforms that will lead to the full implementation of the country's Local Government Code and provide local governments with the capacity to truly engage citizens in governance.
ICMA has also supported decentralization processes and local governance strengthening in Indonesia since the early days of Indonesian decentralization in 2001, starting with several Resource Cities Partnerships. Over the years, with USAID funding, ICMA has helped to build up local government associations like the Association of Indonesian Municipalities (APEKSI), which is still active today, and provided core management and finance/budgeting skills to Indonesian local government staff. ICMA's engagement continues with a project awarded in 2021 to the Asia Foundation, to which ICMA is a subcontractor. The Local Governance Enabling Activity (ERAT) will improve subnational-level service delivery in Indonesia.
ICMA is also helping local governments respond to global threats, such as the crisis of marine plastic pollution. Through the Clean Cities, Blue Oceans Project, since 2019, ICMA, as a subcontractor to Tetra Tech, is providing capacity development and governance support to local governments in Philippines, Vietnam, Sri Lanka, the Maldives, Indonesia, Peru, and the Dominican Republic to help increase their capacity for and effective governance of solid waste management and recycling systems and help reach the goal of plastics removal directly at their source in rapidly growing cities and towns.
ICMA is committed to the next generation of leaders. Thanks to the State Department-funded Young Southeast Asian Leaders Initiative Fellows Programs, ICMA has had the privilege of hosting 500 young professionals and bringing them into ICMA's network over the past 10 years. The impact that the program has had on these individuals who spend four weeks in a community shadowing an ICMA member, staff, and other members is evident. Lifetime relationships have been formed that are both personal and professional. As one Fellow, Jenny Rose P. Olfindo from the Philippines, remarked:
"The program made me more confident in pursuing changes in the workplace/organization given the value-added knowledge I gained. I am happy to know that I have a wider network of professional partners who I can ask for support on environmental sustainability issues." 
ICMA's presence in Asia continues to grow. In partnership with the National Democratic Institute (NDI) ICMA is starting a program to help the Central Tibetan Administration build modern management systems to increase the efficiency of their responsiveness and support economic development initiatives to promote investment in Tibetan settlements in India and Nepal. In this program, ICMA is partnering with the Urban Management Center (UMC), a woman-led organization based in India whose roots are deeply embedded in ICMA, having started out in 1997 as ICMA India/South Asia. ICMA and UMC helped to create 13 city managers' associations throughout India and implemented donor-funded activities in post-tsunami recovery, financial institutions reform, and sustainable urban management.
There is a common theme to all of these projects, past and present. ICMA staff and members are contributing their know-how to ensure that local government leaders and personnel around the world have the leadership and management tools and skills to build thriving communities and create governance systems that are innovative, ethical, and effective.
Register for the ICMA Annual Conference
Join us September 17-21 in Columbus/Franklin County, Ohio for the 2022 ICMA Annual Conference.
JOIN ICMA TODAY!
ICMA provides the tools, resources and connections to help you become part of the international network of 13,000+ local government management professionals.