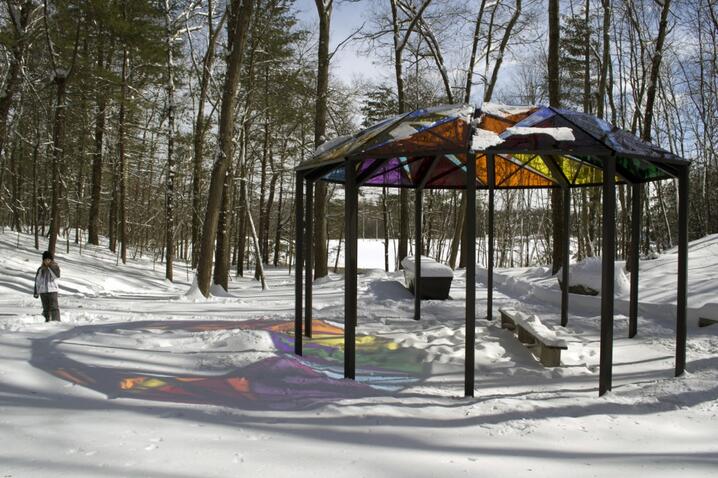 With this article in the inaugural Issue of the Leadership Matters, International Digest, ICMA research starts a series of educational and engaging content on local government management. In each issue we will share various research programs, including case studies and best practices.
Innovative local governments have been utilizing artists' unique talents to address a wide range of issues for decades in the growing field of practice known as "creative placemaking[1]." ICMA has produced a new wayfinding guide, Problem Solving Through Arts and Cultural Strategies, for local government managers. Generously supported by ArtPlace America, and developed in partnership with Civic Arts and a team of project advisors, this comprehensive resource demonstrates how leveraging the arts, culture, and community-engaged strategies can lead to innovative, creative, and more equitable solutions to challenges facing your community. It explores how outside-the-box processes can offer new ways for government staff and community stakeholders to communicate, build trust, and collaborate.
Inside Problem Solving Through Arts and Cultural Strategies is varied content for those who are considering, launching, or continuing a creative placemaking journey with staff and partners. It illustrates roles artists can play in collaborative processes to solve community problems across a wide range of contexts and provides guidance on navigating these processes—from defining your opportunity to building the team to structuring and sustaining partnerships. The document is also packed with case studies, testimonials, tools, and prompts to help you consider how creative placemaking approaches might benefit your community.
Creative placemaking strategies have been used by communities worldwide for programming in public art, cultural and artistic events, and tourism promotion for many years. However, a growing number of communities are leveraging creative placemaking as a framework for confronting other challenges as well.  One ICMA member describes his experience with creative placemaking in an excerpt from ICMA's PM magazine.
CREATIVE PLACEMAKING IN ASHLAND, MASSACHUSETTS, UNITED STATES
Before the pandemic, Michael Herbert, town manager of Ashland, Massachusetts, worked to address one of the toughest challenges a community can face. Years of corporate dumping in the 1970s left Ashland, Massachusetts, with a U.S. Environmental Protection Agency (EPA)-designated Superfund site[2] that they are still recovering from over 40 years later. A study in 2006 revealed that the spike in rare cancers in town were connected to the contamination that continued to threaten the population. Much of the community was seemingly resigned to living with this reality, until a developer broke ground to build apartment housing on the site and an outcry began.
Angry residents filled town hall meetings in protest, armed with years of suppressed frustration and resentment that made plain the unaddressed trauma in the community. Dan Borelli, a local artist who witnessed firsthand the devastating impacts of the contamination, had been studying it and building relationships throughout the community for years. Understanding his unique position and talents as an artist, the town collaborated with Borelli to help catalyze community healing and address these unseen issues.
Borelli aided the town in utilizing storytelling and art to shed a light on the hidden pollutants that still impacted Ashland's water supply. The project incorporated colored streetlights throughout the town that highlighted where and how the contaminants were concentrated. Borelli also created an art installation near the old factory site, a stained-glass structure that served as a place of healing for the community. With support from the town government to realize these installations, his work reignited a culture of resident activism that is pushing the EPA to expedite cleanup.
We interviewed Michael Herbert in the May 2021 edition of ICMA's PM magazine to get his take on what it was like to work with an artist on a community healing effort and how the lessons learned have been applied in the wake of COVID-19.
HOW DID THIS PROJECT HELP TELL THE STORY OF YOUR COMMUNITY AND HELP YOU MOVE FORWARD?
When I first heard of Dan's project, I asked myself, "Why would we want to highlight something that was so bad about the town?" The community had worked hard to overcome the reputation of being dirty, sick. No one wants to be known as the first Superfund town where kids lost their lives, but I soon realized how important this was as part of our history and the impact it continued to have on the community.
If we can intentionally address our past and the challenges that come with it, we can become a model community that can overcome even the hardest of circumstances and make that strength and resilience a part of our story, too. We decided we weren't just going to try and forget because that was no longer working for us. We were going to embrace our history and take it a step further…this bad stuff happened to us, but we took it and used it to make us stronger as a community.
THIS KIND OF WORK IN LOCAL GOVERNMENT ISN'T EXACTLY CONVENTIONAL. WAS THERE AN "A-HA" MOMENT THAT PERSUADED YOU AND OTHERS THAT THIS WAS WORTH THE INVESTMENT?
By far, the thing I found most powerful to change perspectives were the stories. For aspects of this project, we moved away from the traditional role of local government, and I had some trouble at first with myself and later with certain staff coming along. We learned from Dan, the artist, and started talking about stories as opposed to numbers, and that was critical. It's the difference between "a cancer cluster developed in this area and 90 percent exposed over a 10-year period developed this kind of cancer" and "Kevin Kane and David Keddy lost their lives to these chemicals."
I think in any form of advocacy you must be able to tell a story instead of just recounting data and facts, and I think Dan was essential to telling that story and had the ability to show people the bigger picture: that we still had an immense amount of pain in our community that needed attention to heal. He showed us how badly we needed to have the discussion.
In Ashland, we have open town hall meetings, which can lead to great debate. We can get questioned for hours about spending $2,000 on a ream of paper, but as we moved away from data and more toward anecdotal storytelling, we found an unprecedented level of agreement. Dan's projects are unique in that they're not just painting and sculptures, but they directly connected to the heart of the community. Nobody ever debated if the healing garden looked good or was worth the money spent. I can tell you that nobody has ever asked me once: "What does that cost?" The work we did with Dan had a way of transcending those conversations and people saw the value clearly.
The town made a significant investment as a direct result of Dan's project in that we eventually purchased 180 acres of the contaminated land. Something that originally was so divisive allowed us to all come together in the end and it resulted in a tighter-knit community. When you have 400 people at a New England-style town meeting[3] pass a purchase of that level almost unanimously, you know you've done something right.
WHAT ARE SOME OF THE CRITICAL AREAS OF SUCCESS THAT MADE THIS "RISKY" PROJECT WORTH IT?
We own part of the land now and are creating a multi-modal path that connects to downtown. We were able to attract a regional YMCA[4] community center and age-restricted affordable housing where it was safe to do so, something our town desperately needed. The town is flourishing because we brought this up and worked together to create positive outcomes and take control of our community narrative.
But beyond those easily seen successes, we addressed a deeply seeded wound in the community and took responsibility for it. While the town wasn't necessarily responsible for the decisions that resulted in the contamination, by engaging in the conversation we were able to make huge investments in the social cohesion of the town. We turned that pain into strength. I built authentic relationships in the community and made friends out of those who initially wanted to see me fired.
The value to our community really hit home when I saw two residents who nine times out of 10 are at each other's throats in town hall meetings agree on something. Intangible rewards were staggering, town citizen satisfaction survey responses increased by 20 percent regarding the overall direction the town is taking, confidence in town government, and belief that the town was honest.
WHAT ADVICE WOULD YOU GIVE TO OTHER LOCAL GOVERNMENT MANAGERS INTERESTED IN WORKING WITH NONTRADITIONAL PARTNERS TO TACKLE DIFFICULT CONVERSATIONS?
This is the kind of stuff that is not taught in MPA programs—but neither is handling COVID-19. It is something that is an unconventional skill set or area for local government managers to dive into, and it requires a leap of faith because you won't have complete control over the process. I am a self-professed control freak, so this was very hard for me to do. But after going through this project, I now have a deeper respect and understanding of the ability of art to elicit so many different feelings and responses from the onlookers to powerfully unite the community.
So, my advice would be to take all your preconceived notions about the arts and artists, throw them out the window, and be open minded about working with them on your toughest issues. Be willing to step outside of your "typical" duties. Don't just look at the bottom line of the finances or the administrative details needed to engage in a project like this. Look at how it ties into a community and helps tell the story and try to see it as an opportunity to invest in your community well-being.
FINAL THOUGHTS
Creative placemaking is not just about public art or increasing tourism for cultural events.  It can be a lens through which local governments can confront challenges and opportunities. ICMA's new creative placemaking guide suggests 10 tactics for local government leaders to consider. 
Meet artists where they are and begin to build informal relationships. Attend a meeting of your local or regional arts agency, commission, or other cultural institution leadership. Listen with an open mind.
Invite artists to help you set the table. What are some of the most difficult conversations you're facing now within your staff or with the community? Could an artist help structure those experiences differently?
Make new friends. Connect with your peers who have experience in these types of partnerships or share interest in learning more about these ideas. Join a listserv such as the Civic Artist-in-Residence Project or online affinity group such as Emerging Local Government Leaders' Creative Community Cohort. ICMA members can continue the discussion on ICMA Connect. Reach out to ICMA staff for assistance in identifying contacts.
Introduce new concepts. Share some of the guidance found within this guide with your governing body and staff. Identify those who are more receptive to the ideas and help connect them to the work.
Dare to take small risks and don't overthink. As you start to build relationships and provide space for ideas to spark, seize on opportunities that instinctively feel doable. Stage a pop-up, one-off activity and see what you learn. Use those experiments to develop comfort in working with new types of partners and ambiguous expectations.
Go one step further. Challenge yourself or your team to take a single policy or program and imagine how it could better serve or reflect the community. Maybe it is refining how you make public art decisions. Maybe it is finding new ways to hear from users of a public service outside of city hall. Now think about who can help you do this.
Look to activate and animate dormant spaces and processes with meaningful activities that help unearth underlying challenges or opportunities in a community or highlight existing assets and undervalued resources.
Cast a talent show or create opportunities for staff to share hidden creative abilities of all forms and help honor the existing creativity that's in your departments already. Can these talents be brought to bear in their existing or new responsibilities?
Support your arts and culture sector, even indirectly. Even without dollars to invest, get out of the way by eliminating unnecessary red tape, or use the power of regulation to reward creativity and support for what arts and cultural institutions add to your community.
Watch a movie. There are many examples of videos that document a creative placemaking process or its final product, adding dimension to the experience and its impacts.
Follow this link to download your copy of Problem Solving Through Arts and Cultural Strategies. For more information about this new guide or creative placemaking resources, contact Laura Goddeeris at ICMA.
---
[1]Placemaking is a multifaceted approach to the planning, design, and management of public spaces and creative placemaking is defined by American Planning Association as a process where community members, artists, and other stakeholders use arts and cultural activities to renovate/reconstruct public spaces.
[2] In the United States, a "Superfund" site is a formerly used property that has been substantially contaminated with potentially harmful substances that are a significant threat to public health and the environment. Superfund sites typically require significant resources before they can be cleaned up and repurposed for a future use.
[3] Town Meeting is a form of local government practiced widely in New England towns and townships in the USA. It is a form of direct democracy whereby every eligible voter comes together during a public town meeting to vote on policy issues and adopt the municipal budget. Check this snapshot from ICMA for more information: https://icma.org/sites/default/files/Survey%20Research%20Snapshot_MFOG.pdf
New, Reduced Membership Dues
A new, reduced dues rate is available for CAOs/ACAOs, along with additional discounts for those in smaller communities, has been implemented. Learn more and be sure to join or renew today!