Banner photo by Amu Production, courtesy of The Fargo Project.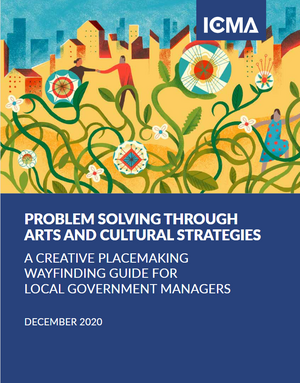 Many turn to the arts as an escape from everyday challenges. And local arts and cultural institutions are often celebrated as community treasures. But innovative local governments have been utilizing artists' unique talents to address a wide range of issues for decades in the growing field of practice known as "creative placemaking."
The arts can do more than just beautify a place. Artists and culture-bearers can facilitate processes that amplify residents' voices and experiences, build trust and enable collaboration across disciplines and sectors, reveal fresh perspectives on persistent challenges, activate community assets, and foster a stronger social fabric and sense of identity.
Problem Solving Through Arts and Cultural Strategies is a comprehensive resource for those considering, launching, or continuing a creative placemaking journey with their staff and partners. Generously supported by ArtPlace America, and developed in partnership with Civic Arts and a talented team of advisors, it explores how outside-the-box processes can offer new ways for government staff and community stakeholders to communicate, build trust, and collaborate. It illustrates roles artists can play across a wide range of contexts, and provides guidance on navigating these processes from defining the opportunity to building the team to structuring and sustaining partnerships. The document is also full of case studies, testimonials, links to tools and additional resources, and prompts to help managers consider how these approaches might benefit their own communities.
Expert Insights
Michael Herbert
Town Manager, Ashland, Massachusetts
"We tend to focus on the technical aspects of our work and lose sight of why we got into public service in the first place.... I wanted to do this job to help develop a genuine spirit of community throughout the town. Engaging in this work is the difference between 'administration' and leadership."
Marty Pottenger
 Founder and Director of Art At Work, theater artist, arts-based civic dialogue facilitator.
"The kinds of things this work tackles are the kinds of things that have no other solutions."
What's Inside the Report
Looking for more from ICMA and our partners on creative placemaking?
View the virtual event introducing the guide.
Register for ICMA's 2021 Annual Conference to attend the ICMA University Workshop Art At Work: Finding Joy in Solving Messy Problems.
Explore these additional resources: