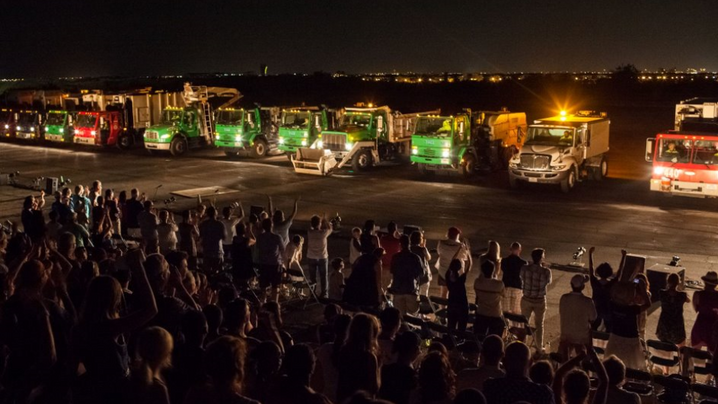 Advancing Civic Processes Through Arts-based ​ Public Participation was a popular Game Changer session at the 2023 ICMA Annual Conference, available on-demand on the ICMA Learning Lab. The season featured real examples of how arts can advance civic processes. By collaborating with local government, artists can facilitate processes that amplify the voices of residents, activate neighborhood assets, and foster a stronger social fabric--building bridges between city staff and communities.
Session panelists were: 
Allison Orr, founder and artistic director, Forklift Danceworks.
Valerie LaCour Francois, human resources and civil service director, Round Rock, Texas.
Jorge Morales, director, watershed protection department, Austin, Texas.
Brigid Shea, commissioner, Travis County, Texas.
My Park, My Pool, My City
The group discussed the logistics and commitment needed to complete a project, and what it ultimately led to:
 
First Level: Individual
Performers, residents, audience members.
Improvement in swimming skills.
Greater sense of self as a creative individual.
Increased sense of interest, concern, and desire to take action in support of local pools.
Second Level: Department
Staff, supervisors.
Increased morale.
Positively impacted communication among staff.
Third Level: Neighborhood
Increased community pride.
Increased communication among community members who otherwise would not interact frequently.
Fourth Level: Municipal
Elected officials, policies.
Increased knowledge of Austin's aquatics system and its challenges.
$40 million aquatics bond package passed.
Additional $1.2 million annually.
 
Trash Dance
A second example followed Orr as she rode along with Austin sanitation workers on their daily routes to observe and later convince them to perform. Months later, two dozen trash collectors and their trucks performed in front of thousands.
Creative Placemaking Guidance for Local Governments
For the next step in creative placemaking, ICMA offers the free guide, Problem Solving Through Arts and Cultural Strategies: Creative Placemaking Guidance for Local Governments
The guide is a comprehensive resource for those considering, launching, or continuing a creative placemaking journey with their staff and partners. Similar to My Park, My Pool, My City, and Trash Dance, the guide explores how outside-the-box processes can offer new ways for government staff and community stakeholders to communicate, build trust, and collaborate.
It illustrates roles artists can play across a wide range of contexts and provides guidance on navigating these processes from defining the opportunity, to building the team, to structuring and sustaining partnerships. The document also contains case studies, testimonials, links to tools and additional resources, and prompts to help managers consider how these approaches could benefit their own communities.
New, Reduced Membership Dues
A new, reduced dues rate is available for CAOs/ACAOs, along with additional discounts for those in smaller communities, has been implemented. Learn more and be sure to join or renew today!