ICMA's 2019 Annual Conference, held October 20–23, in Nashville, Tennessee, attracted 5,534 attendees from across the globe, the largest conference attendance in the history of ICMA! Read on for highlights from the 2019 conference experience.
For their ongoing guidance, enthusiasm, and hard work, ICMA thanks the members of the 2019 Conference Host Committee (led by co-chairs Kirk Bednar, city manager, Brentwood, Tennessee, and Angie Carrier, municipal management consultant, University of Tennessee Institute for Public Service); the 2019 Conference Planning Committee (led by chair Victor Cardenas, assistant city manager, Novi, Michigan); and the many volunteers who helped to make the conference a huge success.
ICMA is also grateful to Title Sponsor ICMA-RC, Platinum Sponsors Cigna and Tennessee City Management Association, and our many other contributors and sponsors for their support of the Nashville conference keynote speakers, other major sessions and events, and much more.
Of utmost importance for the 2019 conference was extra special consideration for the attendee experience. There were a number of new and improved offerings for attendees. At the Startup Zone, conference goers heard first-hand from innovative start-up companies on mobility, finance, and public safety products and services to local governments. Sponsored by Mars Petcare, the Doggy Playpen provided attendees a quick break to play with some cute canines and learn about all the amazing benefits pets can bring to the community. For on-the-spot financial planning, ICMA-RC had Certified Financial PlannerTM professionals available for one-on-one consultations. The Attendee Lounge, sponsored by Diligent, allowed conference goers a spot to recharge (both themselves and their devices) and enjoy coffee and muffins. Attendees also received the #ICMA2019 Show Daily—a printed newspaper on Sunday and early-morning emails each day of the conference—to keep up on news and updates. For those that love a good challenge, the Amazing Race gave members a fun opportunity to learn about ICMA initiatives through challenges and activities posted daily in the ICMA Connect community.
Saturday Special Event: 4th Annual ICMA University and League of Women in Government Symposium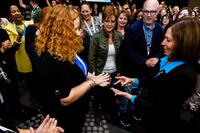 Held Saturday, October 19, the symposium was an afternoon of fantastic speakers, keen insights, female empowerment—and the biggest game of Rock, Paper, Scissors we've ever seen. Nicole Lance, CEO of Lance Strategies, and former assistant city manager of Surprise, Arizona, brought attendees her highly entertaining presentation, "Self-Care Is a Superpower," and discussed more than a dozen micro-strategies for effective self-care. Next up was the 2019 results of the Career Advancement Survey, presented by Angelica Wedell, director of communications and marketing, and Sonya Wytinck, COO, of the National Research Center, Inc. First conducted in 2013, the goal of the 2019 survey was to evaluate the state of local government now as compared to 2013. The closing speaker was Risha Grant, the founder of an award-winning diversity consulting and communications firm, who encouraged attendees to be intentional, question your assumptions, challenge your micro-aggressions, and build authentic relationships. Also on the agenda was the presentation of the 2019 Leadership Trailblazer Award. Congratulations to the 2019 recipient, Lori Sassoon, deputy city manager, Rancho Cucamonga, California.
Sunday Opening General Session and Opening Reception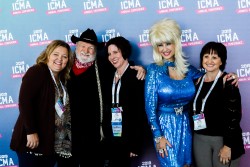 Following several days of ICMA University workshops, research symposia, a reception at the Musicians Hall of Fame Museum, special and regional meetings, tours, field demos, sporting events, and the Luncheon for Women in Professional Local Government Management, ICMA's Annual Conference officially kicked off Sunday afternoon.
After the presentation of colors, singing of the National Anthem, and an inspiring invocation, President Karen Pinkos and ICMA Executive Director Marc Ott recognized members of the conference planning and host committees and accepted a guitar as a special gift from the host committee.
Pinkos recognized ICMA's Strategic Partners, as well as Lynne Ford, incoming president and CEO of ICMA-RC, the conference title/opening session sponsor. Following Ford's remarks, Marc Ott walked attendees through a video review of the organization's FY 2019 accomplishments.
Other highlights of the opening session program included:
Recognition of the outgoing members of the ICMA Executive Board, international guests from around the globe, and conference first-timers.
Introduction of ICMA's 2019 Excellence Award recipients.
Recognition of ICMA members, friends, and staff who had passed away since the 2018 annual conference.
Sunday Keynote: Jake Wood
The program continued with the keynote address from Jake Wood, co-founder and CEO of Team Rubicon, sponsored by ICMA-RC. Wood offered tangible ways in which local government leaders could take the lessons of chaos to plan and execute during and after disaster strikes. He explained chaos by painting a picture of his experience on the football field and in battle during his service as a sergeant in the U.S. Marine Corps deployed to Iraq and Afghanistan as a scout sniper, which was what inspired him to create his disaster relief organization, Team Rubicon. Learn more in our preconference interview with Wood.
Following the Sunday plenary, attendees made their way to the welcoming reception in the Exhibit Hall filled with over 200 exhibitors, where they experienced some of the great aspects of Nashville, including southern eats and live music.
Monday Keynote: Leonard Brody
Monday morning plenary featured business and technology visionary Leonard Brody. An award-winning entrepreneur, venture capitalist, best-selling author and a two-time Emmy-nominated media visionary, Brody used his array of experience to create a framework for our current era in human history, which he refers to as "the Great Rewrite," a time of complete reset of our world operating system from the ground up. He feels that municipalities have a significant role to play in the changing human experience. As the number of people living in cities continues to increase quickly, Brody recommends that municipalities consider being as open, accessible, affordable, and technological savvy as possible. Learn more in our preconference interview with Brody.
Tuesday Keynote: Bonnie St. John
Bonnie St. John is known for many things—Paralympic medalist (despite having her right leg amputated at age five), Fortune 500 business consultant, and former White House official. It was a turning point in one of her Paralympic ski runs that inspired her to study the concept of resilience. In her keynote, sponsored by Cigna, St. John offered local government leaders insight into the five frameworks of micro-resilience, as well as "small hacks" to practice resilience throughout the day. She asked attendees to consider how resilience is even more crucial for those working in local government. "Your communities will face crises and disasters left and right, but it's all about getting back up and getting back to life. You and your team have to be able to get back up to serve your residents." Learn more in our preconference interview with St. John.
Wednesday Celebration of Service
The conference wrapped up with the Wednesday plenary session featuring the Celebration of Service and an inspiring closing keynote address from Gina Rudan, thought leader and cultural alchemist at Google X. Outgoing President Karen Pinkos, city manager, El Cerrito, California, presided over the final plenary.
Kicking off the morning, Pinkos introduced Marc Landry, co-chair of the 2020 Conference Planning Committee, and Jennifer Veenboer, member of the 2020 Conference Host Committee, who presented a video about the site of next year's annual conference—Toronto, Ontario, Canada. The excitement of Toronto in 2020 was followed by the Celebration of Service, a program of ICMA member recognition.
Service awards were announced for those ICMA members celebrating 50 and 45 years of dedication to public service and professional management at the local level. The program also recognized Mike Conduff, Kevin Duggan, and Michael Willis as Distinguished Service Award recipients. Recipients of the Professional Awards included Allen Bogard, Courtney Christensen, Jennifer Cunningham, Howard Balanoff, and Jerrid McKenna. Honorary Membership Awards were presented to David Altman, Alejandro Rodriguez, and Patricia Salkin. Altman, who was honored for his mentorship over the years, said that it was particularly gratifying to see so many of his former interns now sitting in the audience, having come so far in their careers. Read more about the 2019 award recipients in the October issue of PM magazine.
Following recognition of the 2019 Conference Planning Committee and 2019 Conference Host Committee, Pinkos introduced Jane Brautigam, incoming president; James Malloy, incoming president-elect; and other incoming members of the ICMA Executive Board: Raymond Gonzales, Michael Kaigler, Robert Kristof, Molly Mehner, Terese Tieman, and Peter Troedsson.
Induction of Incoming President Jane Brautigam
The audience was presented a video about Jane Brautigam and her home of Boulder, Colorado, where she serves as city manager, before hearing from the incoming president herself. Having grown up outside of Philadelphia, she said she learned early on about the importance of American history and of liberty and justice for all. "History tells the stories of the powerful, but often ignores the histories of the underrepresented." She continued, "How can we lift up the ideals of justice and equality in our communities while addressing the injustices that exist? We have the responsibility to care deeply and achieve change on the local level. It's our responsibility to foster hope and optimism, but hope is only the beginning. It's the impetus to taking action." Brautigam's words were truly inspiring and received a standing ovation, and immediately following, Karen Pinkos noted that this is the first time in ICMA history that a female president is succeeding another female president, an important milestone for the association.
Wednesday Keynote: Gina Rudan
After hearing from our new president, the closing keynote, Gina Rudan, was welcomed to the stage. As Google X's cultural alchemist, Gina Rudan is up close and personal with genius on a daily basis, working with teams of innovators thinking up the latest revolutionary technologies. But she's convinced that genius lives inside us all, and in her keynote address, offered a number of ways for us to consider our own innate genius. Specifically, she advised us how to find our genius, how to summon up the courage to express our genius, and how to reframe the way we approach the concept of failure. She explained that many of us don't give ourselves permission to fail, saying that even at the community level, we have to be ok with failure as a means of finding what works best for our residents. Read more about her keynote address.
Educational Program
Through dozens of educational sessions, featured speaker sessions, ICMA University workshops, roundtable discussions, Startup Zone presentations, field demos, tours, and other learning opportunities, members and other public and private-sector experts shared their knowledge and interacted with conference attendees during the four-day period. Members are encouraged to visit the annual conference schedule to view the extensive 2019 program and then download the session handouts where available.
ICMAtv
ICMA partner WebsEdge Inc., helped ICMAtv bring the conference to life with segments featuring interviews with keynotes, conference attendees, partners, and special guests. Visit the ICMAtv YouTube channel to view the Nashville conference content.
2019 Virtual Conference
ICMA offers a virtual option to individuals who were unable to attend the conference onsite. The Virtual Conference includes: four keynote speakers (keynote session access ends 3–6 months after original broadcast), two featured speaker presentations, 16 of the most compelling sessions, and coverage from the floor brought to you by ICMAtv. Learn more about the 2019 Virtual Conference and share the conference experience with your staff.
Visit ICMA's Facebook and Instagram pages to scroll through postings from the conference floor, and check out the action on Twitter with the hashtag #ICMA2019.
Plan now to attend ICMA's 2020 Annual Conference in Toronto, Ontario, Canada, September 23–26, 2020!