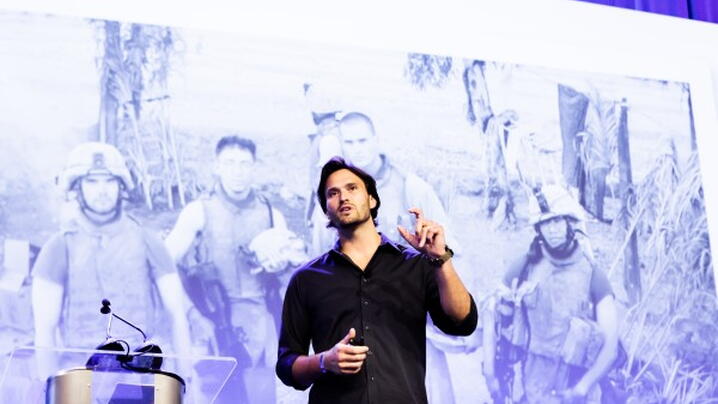 Watch Jake Wood's opening keynote, sponsored by ICMA-RC, through the 2019 ICMA Annual Conference Archives.
In an inspiring kickoff to the 2019 ICMA Annual Conference, Jake Wood educated and engaged the over 5,000-person crowd at the opening keynote, sponsored by ICMA-RC, in Nashville, Tennessee. Wood, the co-founder and CEO of Team Rubicon, explained chaos by painting a picture of his experience on the football field and in battle during his service as a Sergeant in the United States Marine Corps deployed to Iraq and Afghanistan as a Scout Sniper. It was the combination of his military experience and frustration over watching the aftermath of the 2010 earthquake in Haiti that lead to the creation of Team Rubicon, a nonprofit organization that recruits, trains, and deploys military veterans to disaster zones around the world and within the United States. Since that first team deployed to Haiti, Team Rubicon has scaled to 100,000 volunteers and deployed teams to some of the worst catastrophes of the century.
In his newest book, Take Command: Lessons in Leadership, Wood defines chaos and dives into the ways that leaders can break through chaos to lead in times of crisis. In this keynote session, Wood offered tangible ways in which local government leaders could take the lessons of chaos to plan and execute during and after disaster strikes.
Defining Chaos
"Chaos is around every corner," explains Wood, "and can strike at any moment." Before diving into his definition of chaos, he brought chaos to the plenary hall with a game of cards. Over 100 audience members had playing cards under their seat. He instructed those with cards to "find their match" in five minutes, but after he said go, he reduced the amount of time to two minutes. When audience members struggled to find their match, Wood explains what happens in chaos happened in this activity. Chaos, as Wood described, has the following attributes:
Lack of clarity in the mission
Unpredictable changes in the variables
Uncertainly in rules
Unknown cause and effect
From his experience, Wood created a framework to define chaos that includes both a positive and negative perspective. The acronym for both is VUCA.
Chaos involves:
Volatility: an understanding of the levers that cause instability, but the inability to control them.
Uncertainty: the lack of predictability combined the prospects for surprise.
Complexity: countless interconnected parts and variables where causes have multi-order consequences.
Ambiguity: the causal relationships are unclear or confusing and there exists "unknown unknowns."
When VUCA occurs, Wood explains, you have to fight back with another VUCA: vision, understanding, clarity, and agility. By keeping the big picture at the forefront, investing in the sharing of information, and communicating clearly, your best problem-solvers can be free to work through the crisis.
Conquering Chaos
With this understanding of chaos and its framework, how do leaders conquer it? Preparing yourself by becoming comfortable with being uncomfortable is key, says Wood. Coming to terms with what's at stake and building a culture that guides decisions in the absence of orders will make you a better leader and your organization better equipped to handle disaster.
The way a leader reacts is also equally as important as the way they prepare. "Panic is contagious," says Wood, and its critical that leaders stay calm in the face of crisis. He also mentions that, in the absence of a plan, leaders should move towards to chaos, not away from it. Taking it one step at a time will benefit in the immediate aftermath and in the long run.
Finally, local government managers should lead for speed, flexibility, and resilience. Leaders shouldn't let perfection be the enemy of good.  
Wood left local government managers with this important point: "Chaos is real – if you aren't preparing, you are doing a disservice to the people you lead."
Other opening session highlights
Karen Pinkos welcomed attendees and introduced the membership to ICMA-RC's incoming president and CEO, Lynn Ford. She also introduced members to the outgoing and ingoing board membership and reflected on the successes and challenges of her tenure as ICMA president. On Wednesday, Pinkos will move into the past president role and Jane Brautigam, city manager of Boulder, Colorado, will be inducted as the 2019–2020 ICMA president.  
Want more?
You can access this presentation and other ICMA 2019 Annual Conference sessions through the ICMA Virtual Annual Conference Archives. Available on demand, it's a great way to participate in educational sessions presented by knowledgeable speakers and earn credits toward your ICMA-CM or AICP-CM without the cost of travel.
JOIN ICMA TODAY!
ICMA provides the tools, resources and connections to help you become part of the international network of 13,000+ local government management professionals.