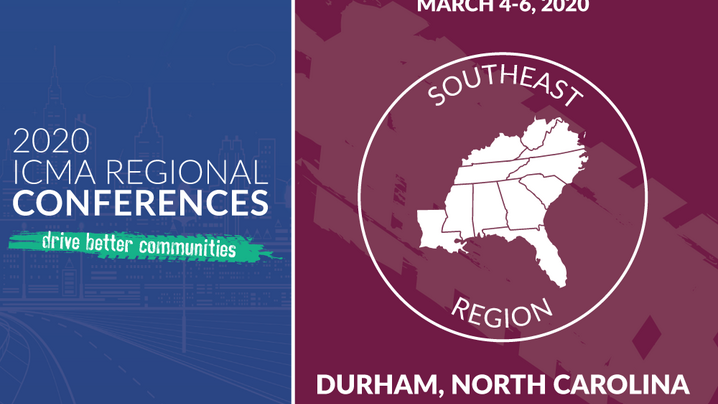 Join us for a 2.5-day conference filled with strategies, tools, connections, and all the things you need to drive your community better, faster, and further in 2020.
Register for the 2020 ICMA Southeast Regional Conference
Historic Downtown Durham Walking Tour
Wednesday, March 4 | 10:00 am - 11:30 am
(There is an extra fee associated with this event: $20)
---
Tobacco to Tech Transformation: Growing a New Downtown Economy
Wednesday, March 4 | 10:00 am - 12:00 pm
The city of Durham has transformed itself from a tobacco industry town to a growing and vibrant city that's home to many new start-up companies.   This mobile workshop will include seeing several cigarette factories, including American Tobacco Company and Liggett and Myers Tobacco Company, which have been repurposed into new bio-tech and medical research laboratories and commercial space. 
(There is an extra fee associated with this event: $25)
---
ICMA University Workshop: Monuments: History, Politics, Art?
Wednesday, March 4 | 2:00 pm - 4:30 pm
This workshop will discuss the function and role of monuments in our communities. Based on their functions, what is the appropriate treatment of controversial monuments and where do they belong? These conversations and decisions have major implications for processes within local governments, and they can be quite politically charged. What is the local government leader's role in this passionate mix? Practices for Effective Leadership Groups: [8] Policy Facilitation and Implementation, [14] Communication and Information Sharing
Speakers:
Eric Stuckey, City Administrator, City of Franklin, Tennessee
Shannon Portillo, Ph.D., Assistant Vice Chancellor of Academic Affairs at the University of Kansas Edwards Campus and Associate Professor in the School of Public Affairs
---
You Don't Know What You're Missing: Making the Most of Your ICMA Benefits
Wednesday, March 4 | 4:45 pm - 5:45 pm
Join your ICMA Regional Director for a lively, interactive session on the benefits of membership in ICMA. You are guaranteed to learn about one new ICMA resource! This session will allow participants to network and share their favorite benefit of membership. Be part of the conversation!
---
Keynote Session: Surviving the Rise of Ransomware in Local Governments
Thursday, March 5 | 9:00 am - 10:00 am
Ransomware and hacking have been a thorn in the side of public and private entities for some time, but in recent years, the frequency of these attacks on local governments has increased, ensnaring jurisdictions from coast to coast. During this discussion, Dr. Tim Rahschulte of the Professional Development Academy and Dr. Mike Lewis, Executive Vice President of Information & Technology/CIO, Trillium Health Resources, will facilitate an interactive discussion about cybersecurity and how cities and counties can shield their systems from this growing risk.
Key takeaways from this interactive session: (1) Determine your readiness for a ransomware attack, (2) Understand the compounding factors magnifying the risk of ransomware, (3) The first steps in the process of protecting and defending against ransomware.
Speakers: 
Dr. Tim Rahschulte, CEO, Professional Development Academy
Dr. Mike Lewis, Executive Vice President of Informatics & Technology/CIO at Trillium Health Resources, a Local Management Entity/Managed Care Organization (LME/MCO)
---
Southeast Roundtables
Thursday, March 5 | 10:15 am - 11:15 am
Homelessness Strategies – Led by Jonathan Lewis, City Manager of Sarasota County, Florida on homeless strategies
Affordable Housing – Led by David Ellis, City Manager of Wade County, North Carolina on affordable and workforce housing
Climate Change – Led by Tansy Haywood, Assistant City Manager of Raleigh, North Carolina on climate change/resiliency 
Event Tourism – Led by Nate Pagan, City Manager of Owensboro, Kentucky on small community event tourism opportunities
---
The Local Government Workforce: How to Engage Millennials 
Thursday, March 5 | 10:15 am - 11:15 am
Statistics show millennials make up about 50% of the workforce and one thing we all can agree on is the "m-word" has been a constant topic of conversation in the workplace over the past few years.  This session (led by two local government millennials) will present the honest truth and feedback of millennials who currently work in local government and discuss how local governments can better engage and prepare for the "Millennial Flood" and aid in a workplace shift that will not only benefit Millennial employees, but everyone.
Speakers:
Chelsea Jackson, Assistant City Manager, City Douglasville, Georgia
Teresa Taylor, Assistant City Manager, City of Decatur, Georgia
---
Making Innovation Actionable: Modeled Through Innovate Durham
Thursday, March 5 | 10:15 am - 11:15 am
Local governments know bringing innovation to life isn't always easy. This hybrid presentation and workshop will walk attendees through a model of innovation that is applicable to local government. This model leverages the successes and lessons learned from Innovate Durham, a 12-week partnership program that turns Durham into a living lab to test new ideas, products, and services. This workshop will provide a well-rounded view of what it takes to explore, implement, assess, and improve new ideas using the resources you already have.
Speakers:
Toney Thompson, Corporate Budget Analyst, City of Durham, North Carolina
Eric Marsh, Strategic Initiatives Analyst, Durham County, North Carolina
---
Human Trafficking: The Potential of Local Government Staff in Spotting Indicators
Thursday, March 5 | 11:30 am - 12:30 pm
Participants will receive basic information about sex and labor trafficking and also learn about profession-specific resources developed by the School of Government for local government staff. 2018 research found that local government staff - looking beyond law enforcement and social services departments - could potentially intersect with nineteen of the twenty-five business models of human trafficking. What are low and no-cost strategies for building awareness? What should staff do if they see the indicators? How such departments develop protocols for reporting suspicious situations? How can local government staff use their interactions with vulnerable populations to both identify and prevent trafficking? These and other practical questions will be addressed in this interactive session.
Speaker: 
Margaret F. Henderson, MPA, Lecturer, The School of Government, UNC-Chapel Hill
---
Under the Umbrella: Smart Mobility - Developing a Citywide Approach to Managing Technologies
Thursday, March 5 | 11:30 am - 12:00 pm
As new technology emerges and cities begin to think about smarter infrastructure investments, city departments must collaborate more than ever to ensure alignment of new applications, technology and infrastructure is occurring in a way that data can be shared and used across departments. The City of Alexandria's Smart Mobility Program is an example of how one city worked collaboratively to pull together all of the technology related initiatives that impacted transportation under one umbrella of a Smart Mobility Program. By bringing these initiatives and project managers together, the program is able to find efficiencies in implementation and data sharing to better manage the movement of people in a dense community where traffic congestion is a top concern of residents.
Speaker:
Hillary Orr, Deputy Director for Transportation, City of Alexandria, Virginia
---
How to Become a Data-Driven City: Using AI to Understand Your Community
Thursday, March 5 | 11:30 am - 12:30 pm
Learn how the Town of Cary, NC uses AI as an essential tool for understanding their less vocal community members, assessing sentiment on key issues (such as e-scooters), and building better policies and services. In addition, Carolyn Roman, Services Design Coordinator for the Town of Cary, will touch on best practices for how to get your entire administration more comfortable with using data in their day-to-day.
Speakers:
Carolyn Roman, Services Design Coordinator, Town of Cary, NC
Traci Siegel, Customer Success Manager, Zencity
---
Southeast Roundtables
Thursday, March 5 | 1:45 pm - 2:45 pm
Strategic Planning – Led by Nelsie L. Birch, President/Founder BIRCHbark Strategic Consulting
Rural Broad-Band – Led by William Whitman, former local government consultant on strategies for rural broadband initiatives
Public Safety – Led by Jodi Miller, Deputy City Manager of Durham County and the Jim Groves, Durham County Emergency Management Director on use of technology to enhance and monitor performance.
Student Chapters – Participants will focus on hacks for healthy student chapters and transition to local government employment opportunities
---
City Managers Making Democracy Work
Thursday, March 5 | 1:45 pm - 2:45 pm
This session will feature a city manager from the region participating in the Making Democracy Work program, a partnership between ICMA and the Kettering Foundation. The participating city manager will share his experiences engaging members of his community to solve wicked problems--problems that are not technical in nature but which involve conflict over competing goods. The participating city manager is taking extra steps to engage the community to involve residents in the co-production of solutions.
Speaker:
C. Seth Sumner, City Manager, City of Athens, Tennessee

Peggy Merriss, CEO, Merriss Management and Leadership Consulting, Decatur, Georgia
---
Managing the New Paradigms in Procurement
Thursday, March 5 | 1:45 pm - 2:45 pm
This workshop will address the strategies available for city management to employ to increase the effectiveness of procurement, and to enable procurement professionals to assist leaders in finding viable solutions to the government's growing operational concerns. In the current environment of shrinking budgets, reorganizations, and limited resources, real-world information will be shared on how to upgrade, and if necessary, grow a dynamic procurement department that offers implementable solutions that are measurable and scalable. The session will cover doing more with less, communicating during changes, and sustaining morale and focus. 
Speaker: 
Althea Pemsel, Assistant Director of Procurement, City of Hollywood, Florida
---
ICMA Code of Ethics Renewal
Thursday, March 5 | 3:00 pm - 4:00 pm
Join members of the ICMA Committee on Professional Conduct to provide feedback on the relevancy of Tenets 8 (Competency) and Tenet 11 (Personnel). This is part of ICMA's ongoing review and renewal of the Code of Ethics. Led by Randall H. Reid, ICMA Southeast Regional Director.
---
Getting Started with an Equity and Inclusion Program
Thursday, March 5 | 3:00 pm - 4:00 pm
The city of Durham has been on an organizational racial equity journey for approximately three years and has now established an Equity and Inclusion Department. This presentation will include a recap of the experience, how to get started, what it has accomplished to date, and other lessons learned.
Speaker: 
Thomas Bonfield, City Manager, City of Durham, North Carolina
Sharon Williams, Human Resource Manager, Onboarding & Professional Development, City of Durham, North Carolina
---
Success Strategies for Small Town Economic Development
Thursday, March 5 | 3:00 pm - 4:00 pm
This session focuses on the importance of a holistic approach to economic development for small towns and rural communities. Local leaders/managers will explore diverse development strategies that match local assets, including industrial development, business retention and expansion, entrepreneurship, retail development, and tourism. Most importantly, successful economic development depends on building a strong community infrastructure - physical, human, and civic. This session emphasizes the importance of strategic planning and community engagement.  
Speaker:
Joe A. Sumners, Executive Director Emeritus, Government & Economic Development Institute, Auburn University, Opelika, Alabama
---
Campaign to Governing: Support Your Board's Transition to High-Performance
Friday, March 6 | 9:00 am - 10:00 am
In this age of divisive politics, local elections can create bruised feelings and even animosity between the newly-elected and the sitting incumbents. Yet a manager's effectiveness depends in part on the effectiveness of his or her governing board. How can the board move beyond bitterness into a cohesive and high-performing board? What is the manager's role in making this happen? Find out in this session.
Speakers: 
Lydian Altman, MPA, Senior Manager of Leadership Curriculum Development, Center for Public Leadership & Governance, School of Govt., UNC Chapel Hill
Kimberly Nelson, PhD, Professor of Public Administration and Government, UNC School of Government
Carl Stenberg, PhD, Professor of Public Administration and Government, UNC School of Government
Martha Paige, MPA, Town Manager, Town of Morrisville, North Carolina
---
Creating Great Local Government Workplaces
Friday, March 6 | 9:00 am - 11:00 am
Great workplaces are created intentionally, by leaders who understand how to bring out the best in their people. This intensive session will equip participants to do just that, by gaining an understanding of common workplace dynamics. Participants will learn cutting edge research from the UNC Local Government Workplaces Initiative and how to translate it into practice. Topics include mission and values, employee voice, employee empowerment, effective rules, and procedural fairness.
Speaker:
Leisha DeHart-Davis, University of North Carolina-Chapel Hill
---
Building a Facilitation of Community of Practice: One Local Government's Effort to Lead Better Meetings, Starting From Within
Friday, March 6 | 10:15 am - 11:15 am
This session will describe the journey it took to build and grow Durham County's Facilitation Program, which uses a community of practice model to link training with ongoing learning and practice opportunities. Led by co-creators from Cooperative Extension and Strategic Initiatives, this session will share lessons learned, feature perspectives from departmental network members, and engage attendees with a handout tool to help them explore possible applications for their own organizations. 
Speakers: 
Michael Davis, Strategic Initiatives Manager, Durham County, North Carolina
Donna Rewalt, Director, Cooperative Extension, Durham County, North Carolina
Lakesia W. Farmer, SPHR, Administrative Officer (Library HR), Durham County Library
James Tabron, Assistant Register of Deeds, Durham County, North Carolina
---
Building the Next Generation of Professionals: Programs that Create a Pipeline of Future Leaders
Friday, March 6 | 10:15 am - 11:15 am
ICMA's Local Government Management Fellowship (LGMF) and Lead For America (LFA) are two programs that are helping match communities with promising young leaders who are interested in careers in local government. This session will introduce participants to the benefits of programs like the LGMF and LFA, and present tools that local governments, regardless of size or budget, can use to ensure that they are creating a pipeline of dedicated young professions to serve as future local government leaders in their communities.
Speaker: 
Joe R. Nail, CEO & Founder, Lead For America
Chelsea Jackson, Assistant City Manager, Douglasville, Georgia
---