Overview
Learn how Black local government leaders navigate historical and future challenges in their careers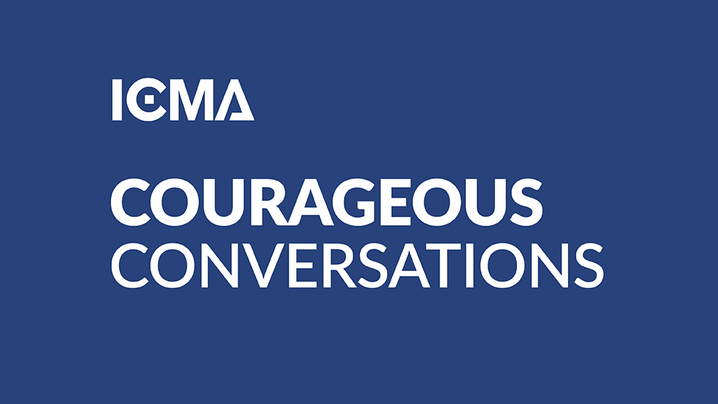 There is no shortage of Black talent in local government, yet systemic failures often persist, creating barriers to the promotion and retention of Black professionals in executive and leadership roles. At a time when local governments are renewing their commitment to equity and inclusion, are policymakers, change agents, and allies keeping their promises to build a supportive environment for Black leaders to grow and thrive? How can black leaders in local government chart their own path forward? Creating and maintaining space for the next generation of Black leaders in local government to advance is key to improving organizational health for all.
During this Black History Month event, you will hear from Tanisha Briley, City Manager, Gaithersburg, MD; Jerome Fletcher, II, City Manager, North Port, FL; Tammi Saddler Jones, ICMA-CM, City Manager, South Fulton, GA; and Mark Washington, City Manager, Grand Rapids, MI, as they courageously discuss the opportunities and potential pitfalls of navigating a career as a Black professional in local government.
This interactive discussion will be moderated by Marc Ott, ICMA CEO/ED, who will engage the panelists as they share their experiences in public service.
---
Panelists
Tanisha Briley, City Manager, City of Gaithersburg, Maryland
Tanisha Briley joined the City of Gaithersburg, Maryland as City Manager in September 2020. The City Manager serves as the chief administrative officer, managing the City's administrative operations in accordance with policies and procedures set forth by the City Council. The City government has a professional staff of more than 600 employees with a budget of $70.2 million, serving a population of just over 69,650 people.
Briley's public sector career spans nearly two decades, with 15 years in city management where she gained experience in all facets of local government administration from budgeting and finance, human resources, labor relations, and policy development, to economic development, infrastructure management, public engagement, and intergovernmental relations. Prior to joining the City of Gaithersburg, Briley served as City Manager of Cleveland Heights, Ohio, a community with just over 46,000 residents, 560 municipal employees and a budget of $79 million. Briley's local government career began with the City of Davenport, Iowa, where she held positions as Management Analyst, Budget Manager, and Assistant City Administrator. Before joining the city management profession, Briley served as an administrator in higher education at The Ohio State University and a legislative staffer in the Ohio Senate.
She holds a Bachelor of Science degree in Business Administration from The Ohio State University and a Master of Public Administration from Cleveland State University, where she was recognized as a Distinguished Alumni in 2010. Briley is also a graduate of the Senior Executives in State and Local Government Program at Harvard University's Kennedy School of Government and holds several other certifications in local government management.
Briley is an active member of the International City/County Management Association (ICMA) and the National Forum for Black Public Administrators (NFBPA) and she is a fellow of the National Academy of Public Administration (NAPA). She currently serves as Chair of the Board of Directors for MissionSquare Retirement (formerly ICMA-RC), a not-for-profit corporation serving 1.5 million participants and more than 9,800 public sector retirement plans across the country. Briley is also a member of the Visiting Committee at the Levin College of Urban Affairs at Cleveland State University, where she has taught graduate courses as an adjunct member of the faculty.
She and her partner Vincent reside in Gaithersburg, Maryland with their rambunctious and loving dogs, Max and Zuri.
Jerome Fletcher, City Manager, North Port, Florida
On October 1, 2021 Jerome Fletcher achieved his goal of obtaining his first Chief Administrative Officer role and became the City Manager of North Port, Florida located in Southwest Florida. The City has a budget of more $196M, more than 700 employees, has a land size of more than 100 square miles, a population of nearly 80,000, and is the largest city in size and population in Sarasota County in Southwest Florida. North Port has a master-planned community currently in development which is listed as #6 in the country. The City is also in the top ten mid-size metro areas in the country in growth during the last few years. He is currently an ICMA Credentialed Manager Candidate, schedule to receive his full designation as a Credentialed Manager on April 1, 2022.
Prior to joining North Port, beginning in March 2019 Fletcher served as an Assistant Chief Administrative Officer for Montgomery County, MD, a suburb in the DC Metro area with nearly 1.1 million residents. In this role, he brought more than 20 years of government experience including success in economic impact with the small business community at a local and federal level. Also, an advocate for diversity and inclusion, he led the team that ensures residents were given a fair shot to thrive in the County regardless of their economic circumstances. He oversaw the Growing Economy and A More Affordable and Welcoming County Outcomes.
Prior to joining the Montgomery County, Fletcher served as the Chief of Staff for the Department of General Services (DGS) and Deputy Director for the Department of Small and Local Business Development (DSLBD). While at DGS he served as the leader responsible for the overall health of one of the District of Columbia's largest and most impactful agencies. Exercised executive management and coordination over all areas including 700+ full time employees, balanced a budget of $800M+, and was responsible for capital construction, real estate management, facilities maintenance and protection, as well as elevating the quality of life for District residents by timely delivery project for the school system including school constructions and modernizations. He also served as the Director's Senior Deputy of DSLBD responsible for the day-to-day management and growth of critical programs and partnerships designed to include and enhance small businesses of the District of Columbia. DSLBD has a major impact on the District by supporting the tax base through business taxes and recognizing local businesses through the Certified Business Enterprise (CBE) program.
Fletcher also served as an official of the President Obama Administration at the General Services Administration (GSA) as the Associate Administrator for the Office of Small Business Utilization. While there he led a team of small business specialists and policy experts who advocated nationally for small companies including, those owned by women, minorities, socially and economically disadvantaged individuals, and Armed Forces veterans. 
Prior to that, he served in City of Greensboro, N.C., City Manager's Office, Financial Department, and Greensboro Coliseum for a total of fourteen years. Fletcher received his Bachelor of Science in Accounting from an HBCU, North Carolina A&T State University in Greensboro, NC and obtained a Master's degree in Public Administration from the University of Phoenix. He enjoys spending time with his wife of nearly 19 years, two incredible children ages sixteen and eleven, as well playing as much golf as his time (and family) allows.
Tammi Saddler Jones, ICMA-CM, City Manager, South Fulton, Georgia
As City Manager, Tammi Saddler Jones leads the city's executive team in managing the day-to-day operations, including the development and implementation of programs, events, policies and the annual budget.
A local government veteran of more than 20 years, Saddler Jones most recently served as City Administrator for Smyrna, Georgia. During her 11-year tenure there, she helped the city move forward through strategic studies as well as economic development, transportation and infrastructure improvement efforts.
Under her leadership, Smyrna made Money Magazine's 50 Best Places to Live in the United States 2018 list because of the city's focused downtown area, parks and historic sites, modest home prices, the school district's high graduation rate and other factors. Her past work experience also includes serving as the Assistant Town Manager in Berlin, Connecticut and as the Assistant to the City Administrator for League City, Texas.
Saddler Jones is an active member of numerous professional organizations, including the International City/County Management Association (ICMA) and the Georgia City-County Management Association (GCCMA). She is an ICMA Credentialed Manager and serves on the ICMA Credentialing Advisory Board as one of the representatives for the U.S. Southeast Region.
A graduate of the Leadership ICMA Program and Leadership Cobb, Saddler Jones also completed the Senior Executive Institute offered by the Weldon Cooper Center for Public Service at the University of Virginia. In 2014, she was selected as one of LiveSafe Resources (formerly the YWCA of North Georgia) Academy of Women Leaders Honorees at the academy's Tribute to Women of Achievement event.
Saddler Jones earned a master's degree in public administration from The Ohio State University in 1997 and a bachelor's degree in English from Tougaloo College in Jackson, Mississippi in 1993.
Mark Washington, City Manager, Grand Rapids, MI
Mark Washington has been Grand Rapids' City Manager since October 2018. As City Manager, he functions as the municipal corporation's Chief Executive Officer. He oversees a $540 million budget, a 1,600-person workforce and all city departments, operations, policies and programs related to public safety, economic development, community services, mobility, infrastructure, health, environment, recreation and community engagement. He is committed to making Grand Rapids a city that is nationally recognized for being equitable, welcoming, innovative and collaborative with a robust economy, safe and healthy community and the opportunity for a high quality of life for all.
Since arriving in Grand Rapids, Mark has led efforts to create a four-year strategic plan, reduce the overall cost of government services, create a performance management program, launch an equitable economic development and mobility strategy, create a public safety oversight and accountability office to improve community-police relations, establish both an equity office and innovation office, launch a homeless outreach team and reaffirm the City's commitment to sustainability.
Mark has 26 years of experience in public sector service. Before becoming Grand Rapids' City Manager, he served as Assistant City Manager for the City of Austin, Texas. In that role, he assisted the City Manager in operating a workforce of 14,000 employees and a $4.1 billion budget. He also provided direct executive oversight to several departments, including human resources, labor relations, fleet services, communications and technology management, building services, innovation, telecommunications, regulatory affairs and the Austin Convention Center. He provided executive leadership on labor contract negotiations, improving police oversight and community relations, hosting and planning large events such as South by Southwest (SXSW) and creating public-private partnerships to address community challenges such as equity, homelessness, digital inclusion, housing/tenant rights, right-of-way uses for disruptive technology and workforce development for marginalized populations.
Before that, Mark served as Director of Human Resources and Civil Service for the City of Austin. In that role, he led efforts that resulted in the City of Austin being recognized among the top 10 employers by Forbes Magazine thanks to efforts around strategic planning, talent management, employee engagement, labor management, risk management, equity, benefits and leadership development. He previously served as Assistant Director of Human Resources for the City of Fort Worth, Texas (6,500 employees), overseeing compensation, benefits, wellness, safety and workers' compensation. He also served as Street Services Operations Program Manager for the City of Fort Worth, overseeing its in-house street maintenance and overlay program.
He has a bachelor's degree in business administration from Tarleton State University, a master's degree in business administration from Amberton University and a master of arts degree and doctorate degree in education from Southwestern Baptist Theological Seminary.
Mark is a member of the International City/County Management Association and Grand Valley Metropolitan Council. He also serves on the Downtown Grand Rapids Inc., Spectrum Health Community Commitment, National Forum for Black Public Administrators and Tarleton State University College of Business advisory boards. He is a Trustee of the Michigan Municipal League and Paul Quinn College. He previously served as State President of the International Public Management Association Texas chapter and is a former board member of the Texas Municipal Human Resources Association and Austin Area Urban League, among other organizations. He holds the following certifications: International Public Management Association-Senior Certified Professional (IPMA-HR-SCP), Senior Professional in Human Resources (SPHR), HR Certification Institute and Society for Human Resources Management Senior Certified Professional (SHRM-SCP) and Certified Government Benefit Administrator certification from the state and local Government Benefit Association (CGBA), among others. He is a member of Alpha Phi Alpha Fraternity and he is an ordained minister.
---
After registering, you will receive a confirmation email containing information about joining the meeting. This event will be recorded. View List of Past Recordings
Event Materials: