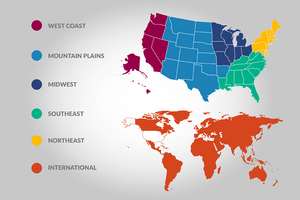 The Regional Nominating Agreements for each of the six regions establish a process for selecting candidates to be nominated to serve as the region's ICMA Vice-President and regional geographical protocols (customized by region) for the rotation of nominees between states or countries and position types. The processes outlined in these agreements are intended to reflect the mutual commitment between ICMA and the state or country associations to identify motivated and qualified members to serve on the ICMA Executive Board. The agreements also work to ensure equal opportunity within each region for all states or countries to be represented, with the goal of achieving a balanced executive board that represents the local government management profession and those served by it.
To view a summary chart for the 2021 election year, click the Download button on this page. To view a Regional Nominating Agreement (which includes full details on geographical protocols for the region), use the links below:
---
---
Contact Us
U.S. candidates: If you have questions about the nominations process in your region, contact your state association or affiliate organization president, or your regional director. Use the State Leadership / Liaison Directory. International candidates, contact ICMA staff at icmanominations@icma.org.
For general inquiries about the nominations or election process, contact ICMA staff at icmanominations@icma.org.
For questions about membership status, contact ICMA staff at membership@icma.org.