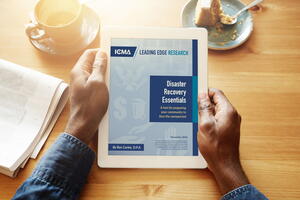 When an emergency or crisis situation hits, local government managers face difficult choices. Their skills in management and leadership are put to the test when the normal workings of the local government are interrupted with a disaster. To help members prepare for the challenges of a crisis, this tool provides tips and techniques for managers to use when planning for disaster recovery.
"Leading Edge Research: Disaster Recovery Essentials," describes important takeaways from managers' experiences in eight recovery topics. Each includes a set of related questions to help other managers begin to assess and improve their own capacity to lead a community through recovery.
Topics included are:
Planning for Recovery
FEMA
Finance
Media Management
Debris
Victim Assistance for Employees
Volunteers and Donations
Mental Health Support
This tool is an excerpt from a forthcoming ICMA white paper: Leadership and Professional Local Government Managers Before, During, and After a Crisis. The paper is based on interviews with city managers in fourteen communities that have experienced a significant crisis. The full report will contain examples and direct observations of the managers interviewed.