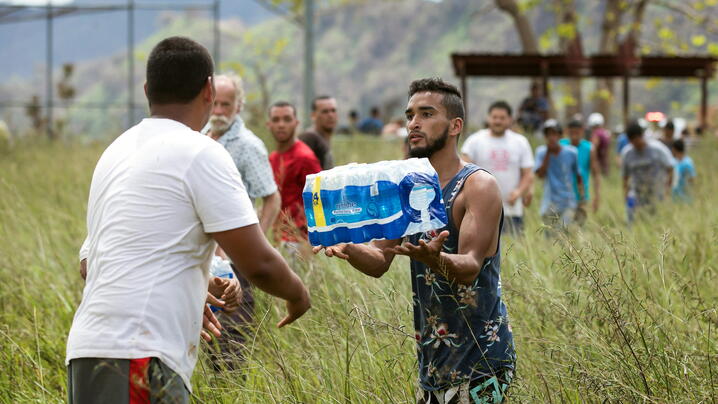 by Ron Carlee, director of the Center for Regional Excellence, Strome College of Business, Old Dominion University
I had the opportunity to interview a number of city managers who have been through crises events for the ICMA white paper, Leadership Before, During, and After a Crisis.  Included in the interviews were four managers who experienced Hurricane Harvey in the greater Houston regions and managers who experienced severe flooding in the Boulder region and in Illinois. As local government managers prepare for storms this hurricane season, here are 10 insights and lessons learned from managers who have been there.
1. Expect the unexpected.
The hurricane you are expecting could stall and create an unprecedented flood event. Rely on your training and be prepared to improvise. Have a diverse team with members who see things differently and question assumptions. Empower staff to make quick decisions. If the storm is widespread, be prepared to be on your own for 24 to 72 hours. Once help is available, recognize where the system is stressed or might be stressed and ask for what you need as early as possible. Use your network with other managers through ICMA or your state association to connect with people who have knowledge and assets that may help you.
2. Communicate Aggressively.
Use all communication tools.  Respond quickly and be honest about what information is verified and what may change. The information must flow quickly.
Create a joint information center (JIC) and have all emergency information flow through a single point so that there are no conflicting messages. Connect the JIC closely to the emergency operations center (EOC) so that communications staff have the latest information and can verify it. Connect the JIC with essential governmental, business, and community partners not located in the JIC. Leverage their communication distribution systems.
Push information to the public, especially per-event preparation information: Use automated calling (such as reverse 911) to target information; create a new landing page on your website and make all emergency information easily accessible, consolidated from across city departments and other responding agencies; use social media platforms and begin to test them early. 
Monitor social media and traditional media to gain situational awareness and respond quickly to misinformation and rumors.
Keep elected officials fully informed at all times. Determine who will be the city spokespeople, especially the role of the mayor and other senior elected officials, including council members representing damaged neighborhoods.
3. Prepare Early.
Activate the EOC early and maintain close situational awareness. While there is a long lead up to a hurricane, once the event occurs, challenges can develop rapidly. Managers have had to be rescued from their homes and brought to the EOC during crises. Other employees will also be unable to get to the EOC or other critical operational positions. Have pre-event discussions with elected officials about roles and responsibilities, where they should be, and how they would meet if needed. Know how your EOC will coordinate with the state, county, and adjacent jurisdictions to share information and coordinate resources.
4. Activate Staff Needed.
During the event, staff may need to remain in place for 24 to 72 hours. How will they sleep and be fed? How will trash be handled? Who will clean the bathrooms? Think through the full range of staff and contractors needed for an emergency beyond police, fire, and public works. 911 staff will be overwhelmed. Is there a 311 or other alternative line that can be used for nonemergency calls? How will the alternative line be communicated and staffed? Additionally, IT and fleet management staff will be needed. Who else? Review your emergency pay policies, make necessary changes in advance of the storm, and communicate the policies in advance.
5. Check Resilience of Water/ Sewer Systems.
Water and sewer systems are frequently at risk in major storm events. In addition to the loss of power, they can be flooded – both the water and sewer plants, and the lift and pump stations.  Where are the weak links in your systems? What would happen if you lose a water or sewer plant?
6. Pre-position Assets. 
Be prepared for high water rescues in neighborhoods that are known to flood. Know your rescue capability. If necessary, expand the capability with volunteers, with a designated staging area and oversight by professional rescue personnel. Know that people rescued from their homes need transportation to a shelter. Dump trucks are not necessarily the best means of such transportation.
7. Pre-plan shelters.
Locate shelters in areas not subject to flooding and on transportation routes not subject to flooding. Pre-position supplies and staff. Shelter workers will also not be available once the storm starts. Have a Plan B and C. Connect with the faith community as a source for volunteers and alternative shelter locations.
8. Be FEMA Ready. 
If the event may lead to a FEMA disaster declaration, capture and document cost information including staffing and purchasing from the very beginning. Activate a pre-disaster accounting team to establish documentation procedures.  Have damage assessment teams document damage with photographs and video.  You cannot have too much documentation.
9. Begin Recovery Immediately.
If there is widespread damage, begin recovery immediately. Have a designated team to focus on recovery plans and priorities. Set recovery goals, have them approved by the city council, and communicate them to the public. Track the goals and report often to show progress. Get rid of debris as quickly as possible. Have a pre-disaster contract if possible and use whatever city support available. The goal is to be resilient and bounce back as quickly as possible, getting people back to work and young people back in school.
10. Be Safe.
Take care of everyone. Work reasonable shifts and do not push yourself or others to the point of ineffectiveness that could endanger others. Be prepared for city employees, including management and elected officials, to be victims of the storm. Think about the mental health needs from a stressful event for all responding personnel and for the community. Create a mutually supportive environment where people take care of each other.
Related Resources 
Prepare Your Organization for a Hurricane Playbook. A free resource created by FEMA for households and organizations to discuss and practice plans and safety measures to improve resilience for specific disasters.
Administrator Breaks Down Reacting, Recovering, and Rebuilding from a Hurricane Disaster. In this episode of Local Gov Life, Paul Shives looks back at preparedness and response efforts from the worst natural disaster in New Jersey's history.  
4 Tools that Will Help Your Citizens Communicate During a Hurricane. In this blog post from 2016, ICMA highlighted four tools that local governments can use to help you communicate with your residents during a disaster.  
New, Reduced Membership Dues
A new, reduced dues rate is available for CAOs/ACAOs, along with additional discounts for those in smaller communities, has been implemented. Learn more and be sure to join or renew today!