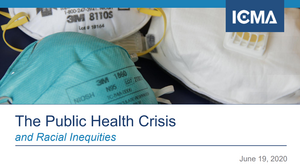 PowerPoint Presentation/PDF Slides
This presentation focuses on the pandemic, economic crisis, and racial justice protests and how these events highlight the larger public health disparities in our communities of color.
Gordon Goodwin, Director, Government Alliance on Race and Equity (GARE)
Genesis D. Gavino, Resilience Officer, City of Dallas, Texas

Dr. Fabiola Cruz, Epidemiologist and PhD Candidate in Microbiology and Medical Zoology, Puerto Rico.

 
---
This webinar was developed in partnership with National Forum for Black Public Administrators (NFBPA), Local Government Hispanic Network (LGHN), International Network of Asian Public Administrators (I-NAPA) and Government Alliance on Race and Equity (GARE)
---
This webinar addresses Practice Areas: [3] Equity & Inclusion; [8] Policy Facilitation & Implementation; [9] Community & Resident Service; [10] Service Delivery; [12] Financial Management & Budgeting of ICMA's Practices for Effective Local Government Leadership.
Get the latest Coronavirus news and resources at ICMA's website.
Get more content on the topic of COVID-19 in your mailbox!