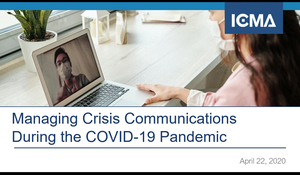 PowerPoint Presention
Presented by  
Thomas Bakaly, former city manager and current CEO of the Los Angeles-area Beach Cities Health District (BCHD),.
Thomas Bryer, Professor of Public Administration at the University of Central Florida
Sarah Stoeckel; Councilmember from Titusville, Florida
Get the latest Coronavirus news on ICMA's website at icma.org/coronavirus.
Get more content on the topic of COVID-19 in your mailbox!