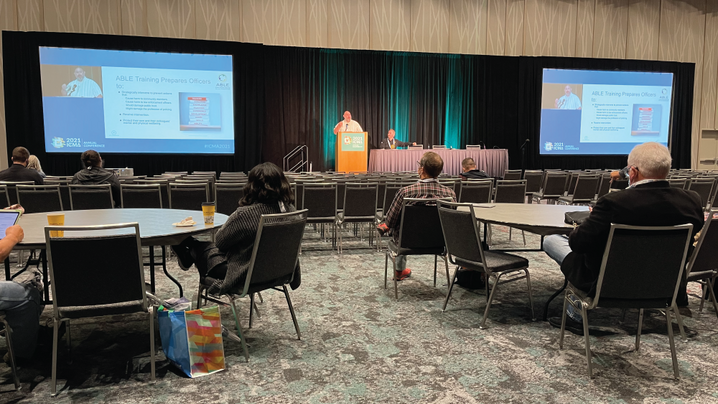 In the 2021 ICMA Annual Conference session, "Just Ask!" Brett Parson, lieutenant (retired) of the Washington Metropolitan Police, and Thomas Wieczorek, director of the Center for Public Safety Management, discussed the current demands for change in police departments.
Thomas explained that police spending has tripled over the last 40 years, helping to make the United States a world leader in incarceration and police killings. He continued that even as cities have faced financial shortfalls, local governments have consistently spent an increasing share of their general funds on police (despite repeated research showing that increasing police funding does not correlate to reduced crime). 
Wieczorek posed various questions that local government leaders should be asking their police leadership, such as:
Is there a better way to determine staffing?
Are your officers getting enough time off?
Are your dispatchers providing the correct expectation for the caller they are speaking to?
What education and training should we be demanding of our police department?
He went on to answer some of these questions by providing suggestions for implementing positive change in the police workforce. 
Recommendations for Change
Adjust your staffing to follow the rule that your police officers should only be out on patrol 60 percent of their time. If you exhaust your staff, they may become reactive.
Remember to set realistic expectations for your dispatchers. Dispatchers are one of the most crucial positions and should be treated as such. 
Ask your chief of police if they are engaging the community. It is important for your police officers to build trust and have a good rapport with areas that they may frequent more often. The more trust they have with one another the less potentially harmful situations that they will find themselves in. It takes time to build the trust, but it is something that needs to be encouraged. 
The ABLE Program
Brett Parson presented on an educational program called Active Bystandership for Law Enforcement (ABLE). Active bystandership empowers law enforcement to intervene in another officer's actions, regardless of his or her rank. ABLE teaches officers to intervene strategically, as well as receive intervention. He described this initiative as a holistic approach to policing and broke down their philosophy and the top three pillars of the program.
Philosophy
Active bystandership training is a tool founded upon decades of social science. 
It is about preventing harm to the community, to the officers, and to the profession.
It requires a culture that supports and expects active bystandership.
Three Pillars
Reduce mistakes.
Prevent misconduct.
Promote health and wellness to the officers and to the community alike. 
Parson explained that communities that want to participate in this program need to follow a list of commitments that include community support, meaningful training, accountability, and a dedicated program coordinator, just to name a few.
ABLE is currently active in 180 communities and growing. However, Parson mentioned that there are over 18,000 communities that could benefit from this program and over 800,000 police officers that still could be trained. He closed by sharing the overarching theme of ABLE: "Affirming the trust and responsibility we put in each other's hands."
It isn't too late to register for #ICMA2021 — Go Digital!
Gain full digital access to keynote and trailblazer speakers, 100+ dynamic sessions, 20+ livestreamed sessions, and conversation huddles through December 31. Register today!