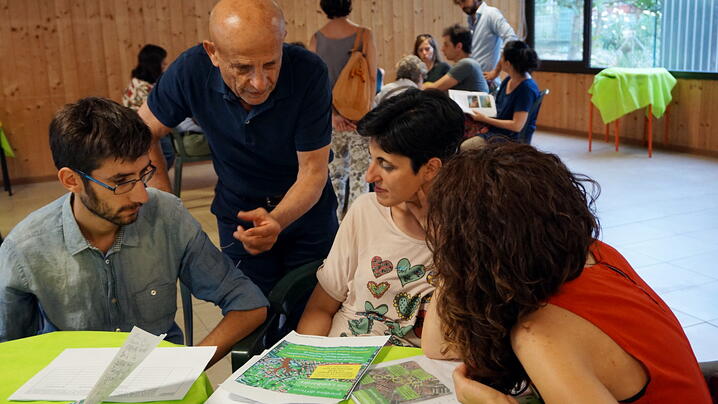 By Myung J. Lee
When most people think about volunteering, they often picture spending a few hours helping in a soup kitchen or cleaning up a park. While these activities are valuable and needed, part of our work at Cities of Service is helping communities push themselves to think more broadly and deeply about the ways they can engage residents in service--not only to help them in direct, one-off ways, but to assist them in solving the bigger, more entrenched challenges the community faces. Any city, county, or town can do this with the right mindset and the right actions.
Three keys to making this happen are
1. Local government leaders must focus on engagement.
City, town, and county managers; mayors; and other elected officials must be involved to create and sustain effective and authentic resident participation and strengthen trust between residents and local government leaders. In particular, devoting a senior staff member to these efforts is critical. This person can manage community-wide volunteer efforts to address top problems. He or she can collaborate with resident volunteers and public- and private-sector partners to create a cohesive strategy that aligns service efforts with mutually agreed upon goals in direct support of the community's own strategic plan, thus bringing focus and shared resources to solving key problems. Such prioritization from the top clearly indicates that engagement and service are important parts of the plan for the local government, community organizations, residents. These groups can then come together to share resources with the community and have a more efficient and deeper impact on a pressing problem. Without this focus from local government leaders, residents are much less likely to get involved.
2. Local government leaders must engage residents early and often and not just for the sake of engagement.
More and more often, the word "engagement" is used to describe activities such as town halls or even voting, but engagement is not just about asking people to come out to perform a task. Such activities are only the first steps toward engaging residents. Instead, local government leaders should think about how they can build relationships with community members by being transparent about community problems, learning about resident concerns, and soliciting feedback so that everyone can work together toward solutions. Engagement is about building relationships.
3. Local government leaders must understand and utilize their residents' specific skills and experiences.
While many people can pick up litter, rake leaves, or paint over graffiti, many can do much more and want to be useful and helpful to the people who need them. When local government leaders think about the problems their communities face and the gap in resources that prevent those problems from getting solved, understanding how their residents can help them is an excellent place to start. One growing population that is increasingly looking for ways to get involved is adults ages 50+. These individuals possess the experience and expertise required to be valuable in many areas. Cities of Service works with communities and partners with organizational leaders such as AARP to create models of service involving experienced adults that others can follow.
Rather than bemoan the fact that so many people distrust government and question its ability to get anything done, local government leaders should tackle problems in their communities and ask for help from residents. Communities worldwide struggle to solve massive and often systemic problems. Making volunteer service a serious priority and working with residents on problems they know well and care deeply about can have a significant impact. With proven results and a focus on the key areas above, communities can more easily expand their reach and increase their ability to get more things done for more people with the limited resources they have--all while building relationships and helping people trust in government again. Long live democracy!
Myung J. Lee is Executive Director of Cities of Service, an ICMA Strategic Partner and nonprofit that helps build stronger cities by changing the way local government and residents work together. More than 260 Cities of Service coalition cities in the Americas and Europe tap into the knowledge, creativity, and service of residents to solve public problems together.