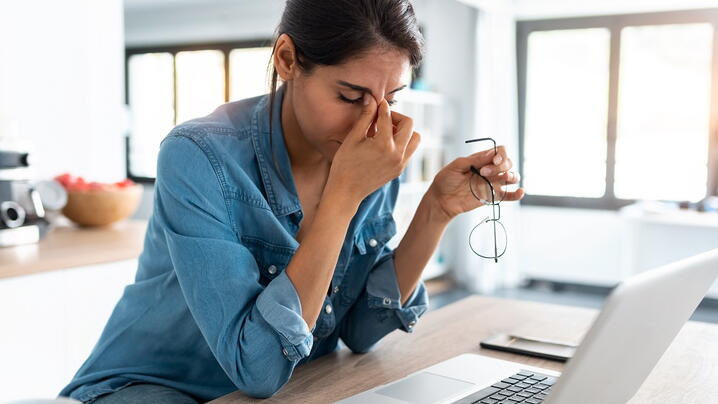 Flexibility, awareness, communication, and mental health are just some of the helpful principles emphasized in ICMA's January 13 webinar "Fostering Workforce Resiliency in 2021." Cara Woodson Welch, executive director of the International Public Management Association for Human Resources (IPMA-HR) and Amber Clayton, director, Knowledge Center, Society for Human Resource Management (SHRM) shared their perspectives on a variety of personnel-related topics managers encountered the past year in response to the COVID-19 pandemic and how to prepare for the year ahead.
Their counsel focused on three broad themes and implications for local and county jurisdictions: employee mental health and fatigue, persistent workforce policy issues, and vaccine rollout and administrative issues. Whether issues were triggered or heighted by the pandemic, they provide lasting lessons for managers in supporting employees even as we look toward the other side of this crisis.
We Can Build the Plane While Flying
Welch and Clayton shared some of the lessons learned so far based on feedback they have received from their respective member organizations through inquiries and surveys.  First among them was that organizations continue to operate and regroup quickly in the new workplace environment and continue to do so, even though many did not have a continuity of operations plan in place. This provided much anxiety and worry at the outset of the pandemic, but for many it was both surprising and empowering to realize that communities could continue to operate and deliver services working remotely. Concurrent with these changes were ongoing workplace issues needing attention, such as social justice issues, diversity, equity, and inclusion, and building a framework in which to have conversations with employees around them. Keeping up with these quick changes highlighted that HR professionals are very resilient and have been available to help their employees not only to support them in an uncertain time, but to also help them thrive.
Increased Flexibility and Communication for Employee Health and Happiness
Coupled with having most staff go to remote work, the availability, use, and safeguarding of technology equipment and its use also became paramount. Taken for granted before the pandemic, it suddenly became the only way to communicate. Welch noted that based on a recent survey of IPMA's members, only 30% of public sector employers had established a telework policy before the onset of the pandemic. Today, 60% report they will maintain some sort of telework schedule for employees going forward. This is consistent with similar research conducted by ICMA. Scheduling flexibility in the hours worked or workweek, along with the increased time savings of commuting, are now part of new benefits that employers are going to be using long term. For those returning to the office environment, staggered work schedules will also be common.
What is certain is that local and county government will not return to the same way of operating, but will deliver services no matter the situation or circumstances.
As the length of the pandemic endures with downturns and spikes, so has the ability to remain positive and optimistic for many individuals. Clayton stated that survey information through SHRM revealed 22-35% of members reported being depressed often during the COVID period. She noted, however, that resilience is proactive—and that what we are all doing during this crisis is building skills so we are better prepared for the next challenge or setback.
Both Welch and Clayton stress that is critically important for managers and HR professionals to be constantly monitoring employee morale and the unique challenges resulting from working in a decentralized workspace. Supervisors should emphasize the need for employees to take breaks, eat lunch, and set boundaries between work and personal time. Managers and supervisors should be aware of how many hours their employees are working; the lines are often blurred when working remotely. Efforts to recognize and reward employees should be a priority. Simple gestures such as calling out a team member in a meeting or saying thank you publicly now makes a much bigger impact. Personal acknowledgement, certificates, gift cards or something small also helps build and sustain an employee's personal resilience along with wellness and mental health offerings.
Tips:
Discover "time-wasters" in our pre-COVID world by asking questions such as: "What are we doing more efficiently now? Do we need so many people in the office at the same time?"
 
Simply ask your employees "What do you need?" and make efforts to help them by encouraging breaks and setting their own boundaries.
 
Find simple and frequent reasons to recognize and reward your employees' work.
 
Stretching Our Crisis Leadership Muscles
Almost everyone has dealt with a life-or-death situation during the past year. Employers are cautioned to be aware of the important difference between burnout—not getting the job done—and fatigue, often resulting from a triggering event such as caring for a loved one, which requires one to be constantly emotionally available. The appropriate response here is compassion and empathy.
In any period of time, communication and transparency are the building blocks of a successful organization. It is no surprise then that frequent and informative communications with employees are of paramount importance during a crisis. Using the January 6 incident at the Capitol as an example, Welch and Clayton discussed ways in which employers could best respond by distributing information employees needed to know to do their job and move ahead successfully via email and text alerts, and by reminding them how you are there to support them through EAPs, wellness resources, and simply conveying that you understand that they may be going through something. As both Welch and Clayton observed, each week brings a different playbook with an evolving set of rules.
Organizations need to be agile and open with employees about what they know and do not know.
We are working at a time when information is constantly changing, and managers need to be open and upfront that they may need to change the information from one day to the next. Rather than seed doubt, it will grow trust and credibility.
Tips:
Managers/HR should practice their own self-care and model behaviors that help others:
1) Be you own advocate first.
2) Allow for time to decompress, refresh, and energize.
3) Help your employees to move forward and to take care of themselves; and most important: 4) increase and encourage communications with each other.
 
Virtual environments and times of crisis may merit enhanced communication from leadership, but balance that with an understanding that staff may need to step away during particularly stressful moments. Explicitly acknowledge that times remain far from "normal," keep staff updated on timely developments, and ensure they are aware of resources available—as well as leadership's commitment—to support them.
 
Key Policy Areas to Watch Now
Local governments are going to be grappling with several persistent workforce policy issues for the immediate short-term: leave polices, equitable telework policies, and issues around COVID-19 vaccinations are just a few.
Leave policies, including those regulated under the Families First Coronavirus Relief Act, are important to understand as they need to be looked at in conjunction with state and local laws regarding sick leave for compliance with all three. While federal requirements for extended leave through FFCRA expired on December 31, 2020, tax credits for those voluntarily extending benefits may still apply, and some states have established their own leave laws. The latest federal guidance from the Department of Labor can be found here, though with the new administration there is also some uncertainty as to what will happen long-term.
Equitable telework. As public employers continue to reevaluate and institutionalize telework policies, other policies will need to be created, updated, or revised in employee handbooks, such as bring your own device, record retention, working in a different office, delayed performance reviews, flexible schedules, and the like. Additional thought must be given to compensation of both remote staff and those deemed essential in-person staff (including, potentially, hazard pay). Hand-in-hand with these policies are the means and methods under which HR staff and managers will support staff working under them. Focus on ways to hold staff accountable for their responsibilities versus micromanaging activities.
Last, COVID vaccine administration will continue to present a number of personnel-related issues for managers. Questions around require vs. recommend, liability, and confidence in immunity, will remain for the foreseeable future (see this recent post for key considerations about vaccine requirements for public managers). Both Welch and Clayton agreed that elected officials, managers, and supervisors can play a proactive, leadership role promoting confidence in vaccinations through publicizing their own and first responders' participation and working closely with health care providers. This will also help combat COVID-19 fatigue. Regardless, there will still be a portion of the workforce that will remain unvaccinated and organizations must plan for this.
ICMA will continue to provide updates as strategies and regulations regarding vaccines evolve. Members can also find and share sample policies and tools via ICMA Connect.
New, Reduced Membership Dues
A new, reduced dues rate is available for CAOs/ACAOs, along with additional discounts for those in smaller communities, has been implemented. Learn more and be sure to join or renew today!