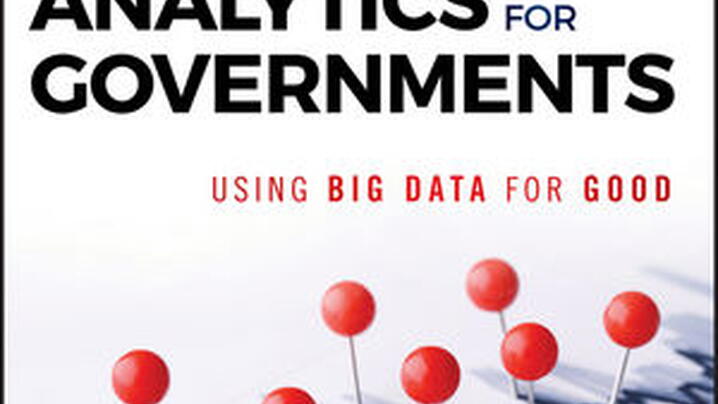 A Practical Guide to Analytics for Governments: Using Big Data for Good edited by Marie Lowman
"Nowhere can more good be done, for more people, than in government." —Paula Henderson, Vice President, State and Local Government Practice, SAS Institute
Data for good. That is the premise of this book. Data is the backbone of making decisions in government. My own personal experience in municipal government, primarily in the transportation sector, has relied on the review of data, including traffic, accident, and pedestrian information in order to derive solutions. There is no shortage of methods to collect data. But what do you do with the data once collected? That is the bigger dilemma. How do you make good decisions?
Analytics is the tool that provides solutions from the data. The book states "analytics wielded by dedicated public servants is a force for good." It further states that the purpose of the book is "to empower public servants to change people's lives."
Each chapter of the book is written by a different "expert," showcases a particular topic, and demonstrates how analytics has been used to effect change in that area. The book is a guide to how analytics can address these pressing issues:
Child Welfare
Education
Healthcare
Prescription Drug Abuse
Criminal Justice
Public Safety
Smart Cities
Transportation
Fraud
Waste and Abuse
Establishing a Centre of Analytics
The Smart Cities chapter was written by Jennifer Robinson, who was an elected official in a medium-sized city. She starts the chapter by focusing on the societal shifts brought on by young professionals entering the workforce. The shift to virtual mobility and different priorities of the millennial generation—life versus such material possessions as houses and cars—has an effect on civic government in terms of decreased revenues. She states that from her experience, there are high expectations for community services but fewer dollars to provide those services. In her opinion, the greatest resource for a community is the ample supply of data, which she states can be used to cut expenses, improve efficiencies, and make an organization more effective. Her definition of a smart city is "one in which a local government uses information technology to improve the lives of its citizens."
In the chapter, Robinson provides examples, including one from Alberta, Canada, used by its environment and parks agency. This agency uses satisfaction surveys from customers, and the feedback received from the surveys is used in midstream operational changes with an immediate impact on the customer experience. One example she shares is that customers didn't feel that the length of the shower time in the coin-operated facilities warranted the cost. Based on this feedback, staff then increased the length of the showers to accommodate this feedback. Later, feedback from customers said that the showers were too long and could be wasting water. Again, a change was made based on this specific feedback. This is one example of timely management of resources based on data.
Each chapter of the book offers real-world situations, provides solutions, and shares the lessons learned from the authors. It can be read on a chapter-by-chapter basis, and it also provides an approachable overview of the use of analytics in any local government.
A PDF of the book or of individual chapters can be downloaded at: http://onlinelibrary.wiley.com/book/10.1002/9781119362517.
New, Reduced Membership Dues
A new, reduced dues rate is available for CAOs/ACAOs, along with additional discounts for those in smaller communities, has been implemented. Learn more and be sure to join or renew today!