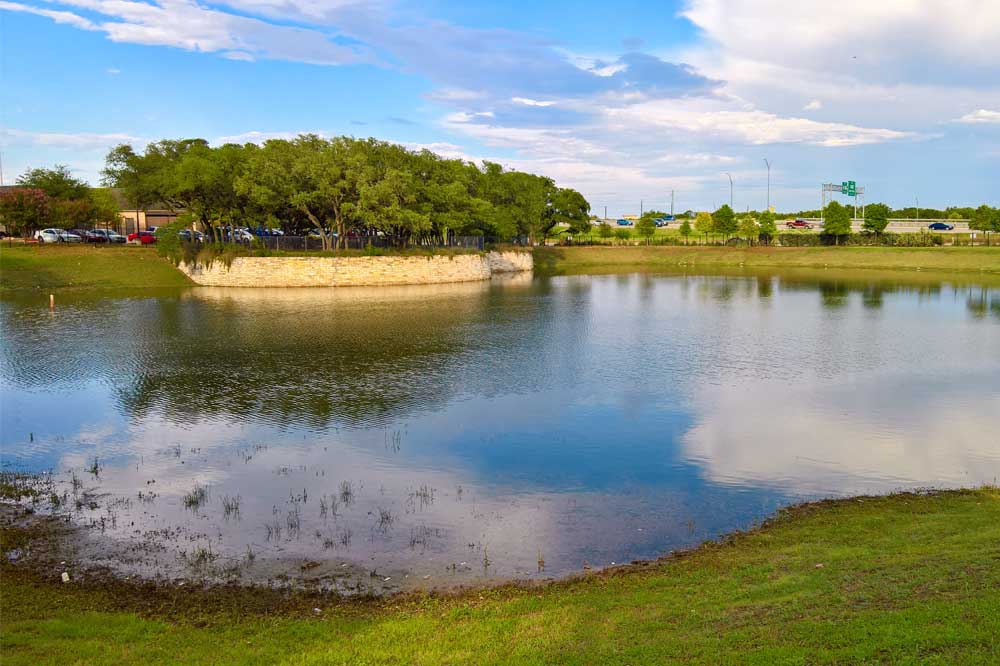 by Austin Bleess, city manager, Jersey Village, TX
Getting into the great outdoors is a favorite pastime for many of us. Being able to be outside, even for a short amount of time, can offer a quick jolt of energy that spurs you forward for the rest of the day. One of my favorite things to do is to get out with the parks and rec director to see how things are going in our parks. Plus it's just a great way to get some fresh air.
But getting outside is not always easy, like when it rains for four days straight during Hurricane Harvey, or when you have snow storms dropping 20+ inches of snow like we saw when I lived in Maine. While we cannot control the weather, there are things that we can do to help mitigate some of its impact.
Low Impact Development
Ever since Hurricane Harvey hit the Houston area, we have been talking about how to handle future flooding issues. As growth continues to happen in our area, we are looking at how to best balance development and the environment. Low impact development is one way to sustainably grow. Here in Jersey Village we are working to utilize our golf course as a water retention area that would allow for storm water to be contained and used in other ways, rather than just letting it run off into the streets. We're using resources from community partners, like our local COG's Regional Guide and the Green Streets' Municipal Guide on Green Infrastructure, to help guide some of the low impact development.
Rain Gardens
Rain gardens have also gained popularity over the years. By creating these areas where native plants can be preserved, we can help filter the water before it hits our streams. We can also prevent some of it from running down the street as well! Implementing rain gardens as a riparian buffer helps filter the water before it hits the stream. It gives the added benefit of beautiful colors to our streetscapes and walking paths. Pennsylvania is one of the leading states in this area of sustainability and the Pennsylvania Land Trust Association provides some great sample ordinances to help get you started.
Solar Energy
There are many other ways that we can help growth happen in a sustainable way. As technology improves, we will likely see more opportunities for solar energy to be used in our day-to-day operations. Columbia Law School's Sabin Center for Climate Change Law provides a framework for cities to implement solar on a small scale. Our friends over at the American Planning Association have a great packet of information to help municipalities prepare for solar energy systems, both large and small.
Wind Power
Solar is not the only area where we will see changes on a residential scale. Wind power is also starting to become an easy way for residents to be more ecofriendly. Energy.gov has great resources for wind power on a small scale. In some parts of the country, this could have big potential for homeowners. Sample ordinances from the Illinois Solar Energy Association are a great starting point for wind projects.
Battery Power
As homeowners and utility companies look to renewable energies, they are also looking at renewable ways to store that energy. Take, for example, the Tesla battery backup system that was installed in South Australia last year. That battery power was able to come online within seconds to keep homes powered during blackouts. The Tesla home battery does the same thing for home owners. When combined with solar panels, it has the potential to minimize reliance on the electric utilities.
As local government managers, we should be concerned with how our communities interact with the environment. Everyone wants to be good stewards of the resources, including tax dollars, that we have been entrusted with.
By making positive design changes in how we develop every day, we can provide our residents with more opportunities to enjoy the green space. A study published in February 2019 in the PNAS journal shows a direct link between growing up near green space and a lower risk of developing psychiatric illness in adulthood. By creating green spaces that are easily walkable for our residents, we can help improve the quality of life for the next generation.
On the local level, it all starts on a small scale. Having discussions about the environment and the impact of it on how we live, work, and play is important to have during planning discussions. As we continually look to update our comprehensive plan, that is an area that we must be mindful of. Working to mitigate issues such as flooding can, and should, include ways that reduce runoff and utilize the water in a better way than simply letting it run down the street.
We can work with our residents who want to try these new technologies in solar and wind power that are available to them. When constructing or modifying new buildings, we can see if these new technologies would be a good fit for these uses. As local government managers, we are in a unique position to be able to positively impact how we interact with the environment around us. Just like many other big issues of our time, the leadership to solve them begins at city hall.

Austin Bleess currently serves as the city manager of Jersey Village, Texas, and has served in this role since March 2017. Since joining Jersey Village, Bleess helped champion new development and implementation of the city's long-term flood recovery plan.
Prior to his appointment in Jersey Village, Bleess served as the city manager of Caribou, Maine, from 2012 to 2017, and as city administrator in Winnebago, Minnesota, from 2010 to 2012. He earned a bachelor of political science from Bethel University, and a master of public administration from Walden University. He holds the prestigious ICMA Credentialed Manager (ICMA-CM) designation.
Other Links of Note for Sustainability
Sustainability topic page. Find case studies, original research, and reports that feature sustainability initiatives from communities around the world. 
Identifying Opportunities in Operations Management to Reach Your Sustainability Goals. Municipal operations provide an opportunity to reduce the impact on human and environmental health. 
Harnessing the Power of Utilities. Sustainability is not a choice, it is a way life. We cannot blindly go forth without realizing the impact that our footprint leaves on future generations.
Achieving Smart Growth Through Land Use Codes. A sampling of smart-growth-based codes from the Sustainable Communities Advisory Committee.