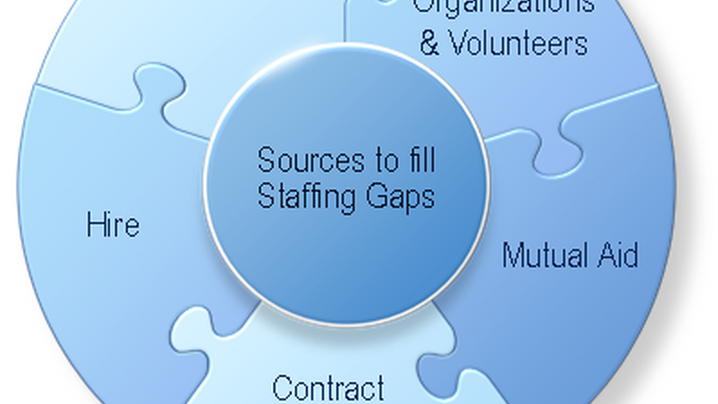 This is a guest post by Jennifer Shafer at LMI.
All disasters are local and so, too, are disaster recovery efforts. But many local governments find it difficult to manage the myriad recovery activities following a major catastrophe. Obtaining the right mix and number of people to support recovery operations can be critical to recovery success and efficient use of funding.
Local leaders often find their existing staff is not sufficient to fully support recovery operations. Managers can seek out several sources to fill the gaps:
Transfers within the local government departments

Volunteers and volunteer organizations

Mutual aid agreements with other jurisdictions

Contracts for services

Temporary or permanent hires.
Communities can also work with regional, state, or federal governments to determine how such organizations can either provide guidance or augment local resources and temporarily fill disaster recovery roles.

Local leaders can do a few things—before a disaster occurs—to be better prepared for recovery:
Build relationships with volunteer organizations. Individual volunteers are extremely helpful in filling human resource gaps. Volunteer organizations can help local governments gain access to people who already have credentials or background checks and may have the baseline training in a specific area. 


Be creative about where you find temporary hires or volunteers. Some communities keep in contact with government retirees, former mayors, and city officials who can step in to lead a particular area of the recovery effort. These seasoned civil servants are particularly valuable because they know the community and its systems and policies. 


Consider proximity when building partnerships and mutual aid agreements. While it is good to have mutual aid agreements with neighboring jurisdictions, disasters and associated recovery activities are often regional in scope. This requires communities to seek support from further afield. Work to build relationships and put memorandums of agreement (MOAs) and memorandums of understanding (MOUs) in place with an outlying region or city to share human resources and support your local recovery. 
For More Information:

To learn more about how cities can staff long-term disaster recovery efforts, check out http://www.lmi.org/DisasterRecovery, where you will find two resources to aid in your local government disaster recovery planning:
LMI's Disaster Recovery Staffing Guide begins where FEMA's National Disaster Recovery Framework (NDRF) leaves off by outlining an overall process and the specific practices local leaders should follow to effectively staff community recovery activities. 
LMI's Disaster Recovery Positions Library describes more than 50 positions that may be used to conduct the full range of local recovery activities. 
LMI is a not-for-profit organization aimed at researching problems that affect governments and the public and formulating solutions to those problems. You can find more about LMI at www.lmi.org.