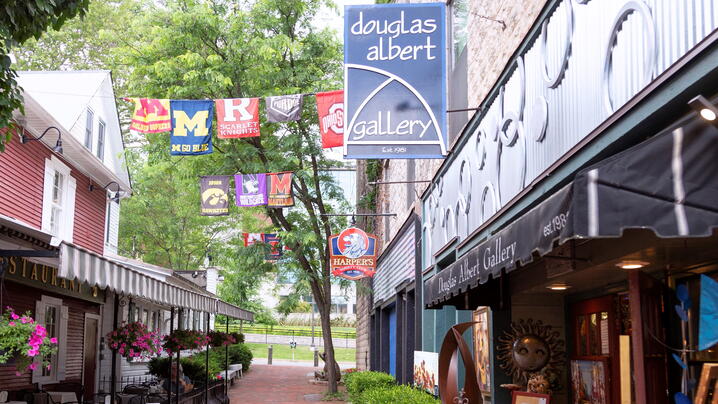 As areas stabilize from the COVID-19 pandemic and governors begin to lift statewide stay-at-home restrictions, local governments will have to implement strategies to reopen public facilities, bring workers back into physical workplaces, and restart local economies. ICMA's focus will be to provide managers with the guidance and resources needed to reopen their communities as safely as possible for the public and public employees. 
Despite staffing shortages and budget cuts, cities, counties, and towns are working to get small businesses back on their feet as states issue guidelines for reopening the economy. Here are some tips and examples as you work with your business owners to reshape your economic development strategies.
Know the Guidelines.
Help your small business owners understand the federal and state guidelines, as well as some of the cultural and social aspects of your community, that may affect how broadly residents will embrace the new normal. Given your unique and expansive knowledge of your residents, you are in the best position to offer advice and training. It's a great opportunity to gather your business community, chamber, a health and safety expert, as well as your economic development staff on a video call to do a basic presentation and offer a Q&A.
Help Find Customers.
Here's a cool way for cities, counties, and towns to help residents find small businesses providing takeout or delivery in their neighborhood. Approximately 20 cities and counties are participating in the #SupportPugetSoundSmallBiz map, and each municipality is working with its local economic development organizations to ensure restaurants are added to the map. The map allows users to search for open small businesses in their neighborhood and navigate directly to a business' website or third-party delivery service page.
Allow Businesses to Use Public Spaces
Vilnius, the capital of Lithuania, is allowing restaurants and cafes to set up tables and chairs in the city's public spaces at no charge to allow them to reopen while still observing social distancing guidelines.Consider ways you may use your public spaces, to support your local businesses. 
Offer Rent Relief. 
Countless cities and counties large and small continue to offer loans and grants where possible to small businesses. Mountain View, California, has established a $750,000 fund and Manassas, Virginia has set aside $60,000 in grant funding for businesses in its historic district. The funds often combine local government resources, as well as private/foundation commitments, and can be used to cover rent costs during closures.
Here are some additional tips shared by the CEO of Main Street America, Patrice Frey:
Build a Marketing Campaign.
Base a marketing campaign around the implementation of safety practices with small businesses that positions your downtown as a safe option for shopping, working, and socializing.  For example, consider closing downtown streets on Sundays to allow for safe walking, running, and biking. Places like Duluth have used this strategy to give residents safe recreation options, while featuring downtown as the community's focal point. 
Rethink Your Workplan.
You can't rely on activities that were part of your workplan in January in a world dramatically changed by COVID-19. This study conducted by Main Street America has some eye-opening data, including that two-thirds of small businesses surveyed do not have an online presence. For example, while your original plan called for hosting an event, your new plan may call for providing assistance in developing an e-commerce platform, training by area e-commerce and social media marketing specialists, or connecting small businesses to needed resource providers and other tools.
Base Your Recovery Plan

on Data.
Any recovery plan should be informed by the following inputs:
National trends that may impact your downtown, for example, levels of remote work, new e-commerce shopping habits, and impacts of public spaces for recreation use.
Consumer preferences and safety concerns through a resident survey.
Local and state guidelines that provide guidance on reopening.
Set Consumer Expectations.
Be prepared to frame expectations to consumers and key stakeholders.  Shopping experiences will be different in the near term.  There may be queueing to get into stores, limitations on occupancy in restaurants, new technology glitches like touchless payments, and the human element of some business owners perhaps electing to stay closed for personal safety and a belief that consumer safety is still of concern. 
Additional ideas were shared in this article How Local Governments Are Keeping Small Business Alive. Feel free to share your best practices by engaging in ICMA Connect our member network or sending an email to coronavirus@icma.org.
New, Reduced Membership Dues
A new, reduced dues rate is available for CAOs/ACAOs, along with additional discounts for those in smaller communities, has been implemented. Learn more and be sure to join or renew today!