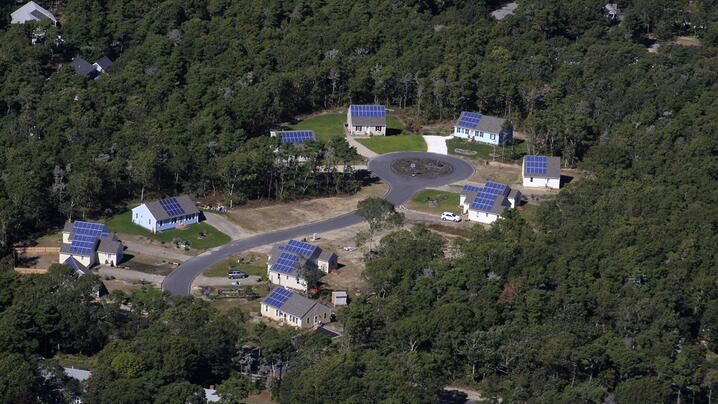 Resources
Ad Hoc Clean Energy Policy Task Force project webpage.
Clean Energy Policy Task Force report.
Clean Energy Community Survey presentation.
---
By Thom Moton, deputy city manager, Wilmington, North Carolina and Steven Neale, director of administration and economic development, Verona Township, New Jersey
During the run up to the 2020 Wilmington local elections, many residents and other community members voiced interest in the city intensifying its commitment to sustainability. Wilmington has a commendable sustainability history: adopting greenhouse gas reduction standards and its commitment to enhancing water quality through public education and partnerships;  growing its urban forest canopy, which stood at 48.1% of the city's land mass in 2018; and exploration of expanding the use of non-synthetic herbicides and pesticides, to name a few.
Following the 2020 campaign cycle, interests in the city joining about 180 other communities by endorsing the U.S. Conference of Mayors 100% Renewable Energy commitment surfaced.  Staff and the mayor and councilmembers expressed interest in joining that national initiative.  However, instead of just passing a resolution stating the city supports the initiative, a staff proposal was supported to engage the community before passing such a resolution. 
Task Force
Until city staff began seeking applicants to a Mayor's Ad Hoc Clean Energy Policy Task Force, I did not realize the depth and breadth of the human capital that called Wilmington its home.  I think every community has a similar reservoir of talent and those persons are waiting to be invited.  Initially, there was some trepidation about getting volunteers to explore such a policy area, especially when staff proposed a task force membership greater than nine. 
Here's why staff advocated for greater task force membership:
The smaller the group, the more exclusive the group.
The smaller the group, the more challenging it is to be inclusive of as many aspects of our community.
The smaller the group, the more challenging it was to seek a diverse task force composition.
The larger the group, the more resources could be leveraged as the volunteers set to do their work.
The larger group size helps overcome the tendency of one or a couple of strong voices driving the entire groups efforts.
We hope that the large group would be more inclined to consider applying an equity lens to its work; that is, try to ensure that the benefits derived from a clean energy policy would extend to all socioeconomic statuses of community.
More Engagement, Stronger Community Buy-in 
Prior to starting this work, staff invested some time in a literature review to better understand the landscape. In addition, staff completed an environmental scan of how other North Carolina communities and communities across the country had undertaken this work with the hopes of identifying best practices.
What we learned was more engagement on the front led to stronger community buy-in and ownership.  We learned that rushing through the process was less effective than taking time to be intentional about the membership composition and being clear on the group's charge.  So, we started with drafting the task force charter, identifying staff to support the effort, creation of subcommittees that would enable non-task force members an opportunity to be engaged, and identified the community stakeholders we hoped to attract, such as:
Privately owned electric company.
Large industrial companies.
Small business.
Chamber of Commerce.
Educational institutions–secondary, higher education.
Other governmental institutions, i.e., water & sewer authority.
Private citizens with and without expertise in engineering, science, and energy fields.
Strong female participation.
BIPOCs participation or persons who are recognized as representing BIPOCs.
Clean energy businesses.
Environmental advocates.
Two appointments by the mayor and each of the six councilmembers.
Based on the membership composition, a group larger than 9, 13, and 21 was needed.  We settled on a maximum limit of 35.  Of the 35 appointed to the task force, 34 started and completed the 9-month journey. 
Did I mentioned we wanted to accomplish this engagement process near the start of the coronavirus pandemic, March 2020?  The idea of conducting monthly task force meetings and regular subcommittee meetings began to appear a little farfetched. 
However, we kicked off the group's first meeting with an orientation and get-to-know each other virtual meeting. Meeting facilitators (not advocates) were hired to help organize the meetings and to assist the two volunteer co-chairs with their duties.  Additionally, the facilitators, co-chairs, and staff assigned to support this task force held planning meetings to help support the task force work. To help better inform the volunteers on community attitudes, a community survey was administered. While the survey lacked the statistical potency of a random survey, we were able to get a sense of community attitudes.  
Engagement at every meeting was high; we were all thrilled to see the level of enthusiasm and participation. Rich ideas and conversations were happening via Zoom. We used virtual breakout rooms to enable the subcommittee members to meet during the full task force meeting every other month.  We found that the virtual meeting format accommodated more participation by people who were more likely not to have participated because the meeting format saved on transit time and allowed volunteers to be in their preferred location for 6 p.m. meetings.  We committed to 90 minutes per meeting maximum and pretty much honored that commitment 100%. We learned that some members wanted to hang out after the meetings ended to chat a little bit or ask a question or two. So, the co-chairs, city staff, and facilitators committed to remain in the virtual room at the end of the meeting for up to 30 minutes so that members could hang out and converse. 
In this virtual environment, we observe strangers becoming acquainted with each and the building of new relationships, something that we did not anticipate or consider as a benefit.  We used Microsoft Teams to store documents and to post agendas—one location for all content as opposed to searching your email inbox for task force information. Meeting notes were taken and posted following each meeting. 
Time was left on each meeting agenda to help ensure we were hearing the voices of the volunteers.  We learned we did not need to structure the meeting to the fullest extent possible because we need to enable the volunteers to have ownership of the work being done.
Results
Surpassed our expectations! Each subcommittee presented its report with a strong sense of ownership and commitment. Moreover, the ideas and recommendations were far beyond what I think we would have done as a staff. And yet, the volunteers offered strategies and clean energy policy recommendations that were prudent and demonstrated an awareness of fiscal limitations and creativity. The clean energy policy recommendations were presented in a short, intermediate, and long-term framework.  Policy recommendations pertained to public facilities, city motor vehicle fleet, and policies to encourage/incentivize private sector participation and commitment to clean energy.
I am happy to announce that the mayor and city council adopted a clean energy policy, including a goal of using 100% clean energy by 2050. Furthermore, a permanent clean energy advisory committee has been created to provide policy guidance and input to staff. At the August 17 city council meeting, the council approved a U.S. Conference of Mayors/Sierra Club 100% Renewable Energy commitment. 
Subcommittees, to be composed of the task force co-chairs, sustainability manager, and deputy city manager, will cover the following topics:
Transportation/fleet operations.
Clean energy technology.
Social equity and community-wide adoption.
Policy and legislation.
Register for the ICMA Annual Conference
Join us September 17-21 in Columbus/Franklin County, Ohio for the 2022 ICMA Annual Conference.
JOIN ICMA TODAY!
ICMA provides the tools, resources and connections to help you become part of the international network of 13,000+ local government management professionals.