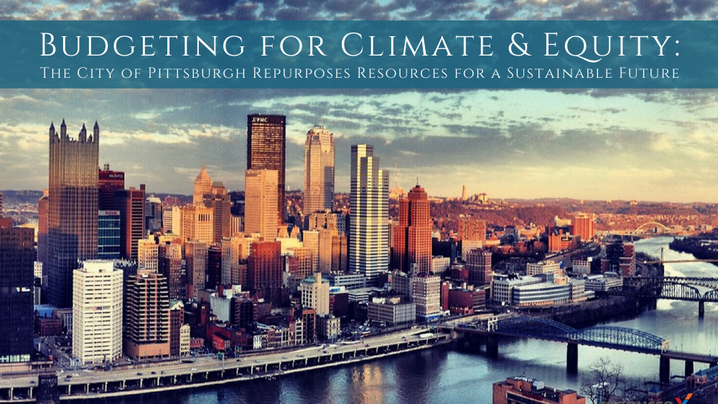 Sponsored content powered by ResourceX
A local government budget is not just a collection of numbers but an expression of a community's values and priorities. Pittsburgh is living up to that principle under the leadership of the mayor and striving to achieve the goals they set out in their Climate Action Plan. In partnership with NRDC, Pittsburgh was awarded a grant in November 2020 to implement priority-based budgeting (PBB) and apply PBB data to fund the city's climate (and equity) goals. Through this NRDC and Bloomberg American Cities Climate Challenge grant, Pittsburgh was to apply PBB through a program-based lens to identify opportunities to free up, repurpose, and prioritize resources to fund climate objectives.
But what will a program-based lens help them see that a line-item lens doesn't? How does the shift in focus shift resources? This shift embodies the ResourceX mantra: programs are a vehicle for change.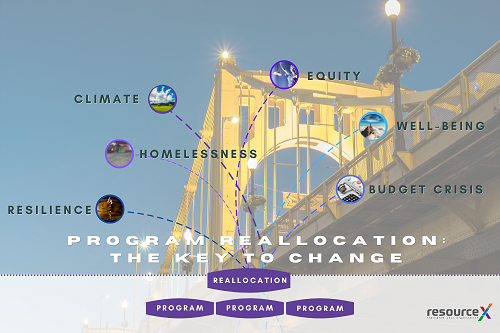 Pittsburgh has a clear goal for pursuing climate action and equity and needed a shared language among staff, elected officials, and citizens to communicate without barriers. They had the passion and the support from the mayor; they now needed the mechanisms to power the action.
What staff provide, what citizens expect, and what elected officials campaign on are programs, not line-items. Programs translate the line-item budget and strategic plan into a singular point of reference that completes the holistic picture of your entire service offering. It is an expression of your community's values and priorities. 
Through priority-based budgeting, Pittsburgh identified 249 programs across 23 of their departments. Each of these programs are reflected in their OnlinePBB model to easily manage, apply recommendations, and track changes over time. Of these 249 programs, 74 programs were marked as actionable towards impacting their climate and equity priorities.
Each program includes a clear description of the program provided, the FTE who contribute their time to delivering it, the operating expenses associated with the program provision and its alignment to their specific set of results. This bundling of information into a single unit, the program, enabled conversations, both internal and external, that were easy to understand and backed by data.
Beginning with our commitment to build a more resilient city and strategic partnerships over the years, Pittsburgh was able to identify $41M in spending that has been repurposed to meet our sustainability goals. A new model of priority based budgeting for cities. 

 - Bill Peduto, mayor, Pittsburgh
Local government leaders have a unique opportunity to prepare their communities for the impacts of climate change. The resources and opportunities available at this level of government allow for the application of knowledge and customization of an approach based on the specific circumstances within their community.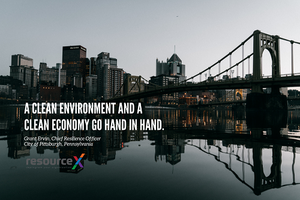 And it is through the power of the budget that these leaders can most clearly communicate their community's desires. But if that message is lost in a language of line items, it is an effort wasted. Through the power of the program, priority-based budgeting creates the common language that powered the city's shared purpose.
Grant Ervin, chief resiliency officer, Pittsburgh, said, "The idea that we create a shared language in terms of how we finance operations and improve outcomes for our residents is really what is in everybody's best interest. So, creating that shared space in the shared language is a huge opportunity."
Programs provide not only an easy-to-communicate frame of reference; they are a living and breathing, three-dimensional expression of the cost and impact each service you provide has on your organization and community. As Pittsburgh looks to the future of their PBB work, they see climate action as a great way to reframe how they approach service provision, leadership, and community welfare. The ability to capture those ideas and to be able to communicate and share them is invaluable, and they plan to incorporate PBB concepts into all future budget decisions to ensure a climate and equity focus.
So, what would it take to fund your climate and equity work? Learn more about priority-based budgeting or contact ljohnston@resourcex.net.