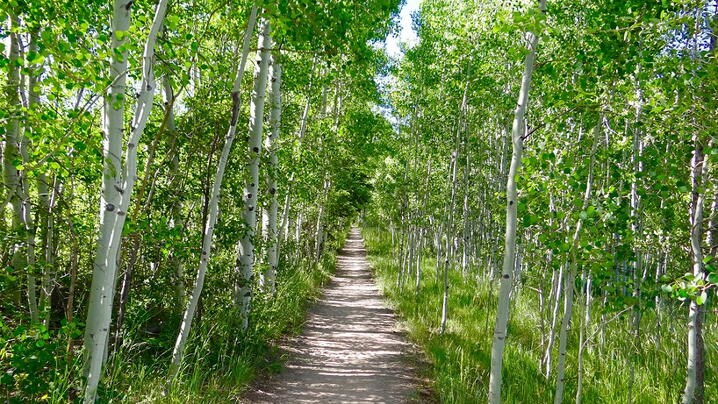 By Sara Ott, city manager, and Ashley Perl, climate action manager, Aspen, Colorado,
All towns and cities across Colorado are impacted by the changing climate, and the mountain town of Aspen is no exception. Data shows that Aspen currently has 35 fewer freezing days than it did in 1980. Losing over a month of winter has far-reaching impacts across the community, including contributing to poor air quality, damage to infrastructure, creating limitations to the community's energy supply, and reducing the resiliency of the local ecosystems. Reversing global climate change will require every city and town across the world to reduce their contribution of greenhouse gas (GHG) emissions. A best practice for cities is to use a Climate Action Plan (CAP) as a guiding document for reducing GHG emissions locally.
In 2021, Aspen will update its CAP for the third time since the plan's inception in 2006. This time around, Aspen will follow the example of cities that are leading the way by centering the work of climate planning in equity principles.
Aspen's first approach to incorporating social equity will be via the widely held community value of environment stewardship and climate action. Both the community and city organization have a long history of environmental stewardship: it guides decision-making and is incorporated into planning documents. Capitalizing on this shared value, we will examine the community's commitment to race acknowledgement, inclusivity, and equity in all planning processes. This examination starts with the 2021 update to the CAP. The need for this approach is a result of the continued evolution of Aspen's recognition that various sectors of the population need different, and perhaps more, support to realize the benefits of GHG reductions and avoid unintended consequences associated with GHG reductions. The incorporation of a tenet of social equity, including the development of a localized social equity lens and matrix, will become a staple of the city's planning processes. By starting from this shared environmental stewardship value and incrementally expanding the inclusion of social equity to other planning arenas, we anticipate the community will be more receptive to learning about different stakeholder risks and rewards.
Previously, Aspen has attempted to address environmental issues in an ad hoc manner. Although some success has been realized, consideration for the complete community system, including a varied collection of voices, has been missing from the process. One successful example of climate action is the city's electric utility, which operates using 100% renewable energy. Further, the city has been advancing the construction and conversion of affordable housing to all-electric systems, which is considered a best practice to reduce GHG emissions when buildings are receiving electricity from a 100% renewable source. However, an unintended, inequitable consequence has been the increased cost burden put on residential utility customers as they enter higher rate categories due to the increase in consumption of renewable electricity over natural gas. The Aspen City Council made a policy decision to treat these customers differently in the city's electric rate structure. Through adding a social equity lens, Aspen anticipates forecasting these potential burdens before they impact the community and will be able to eliminate them from policies and programs.  
By focusing on existing strong agreement, Aspen anticipates the community will embrace changes more quickly and readily. In turn, the city is building community capacity to move on to larger and more difficult policies and conversations that require a social equity lens. Colorado cities serve convening and catalyzing roles for stakeholders to engage in action. In this service, our cities are accountable to set the conditions to bring different voices together. Our cities are also accomplished strategists in planning and executing positive change in communities when stakeholders are brought together. Cities have a responsibility to bring diverse voices to the table and plan in partnership with those community members. When Aspen updates its CAP later this year, we will be using equity and inclusion principles to engage previously underserved and disenfranchised community members and we will be committing to a process that is open and accessible to all. Aspen is new to the work of equity and inclusion and we are thankful to have examples from other cities and access to resources from trusted partners.
In Colorado, Fort Collins recently updated Climate Action Plan centered in equity in spring 2021.
In Rhode Island, Providence is leading the way with a Climate Justice Plan.
The Urban Sustainability Directors Network supports Climate Action Planning and Equity Initiatives. Some examples of successful programs can be found here.
---
This article first appeared in the Colorado Municipal League Magazine in April 2021.
Register for the ICMA Annual Conference
Join us September 17-21 in Columbus/Franklin County, Ohio for the 2022 ICMA Annual Conference.
JOIN ICMA TODAY!
ICMA provides the tools, resources and connections to help you become part of the international network of 13,000+ local government management professionals.