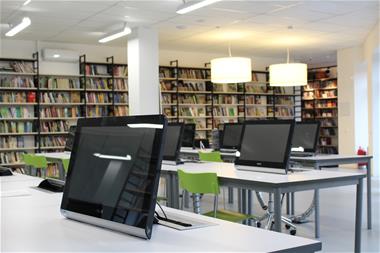 Written by guest contributor Ken Purce, vice president, Library Systems & Services. 
When city and county officials sit down to review their fiscal state and hammer out a budget, the discussion about performance objectives becomes more evident for some departments than others. In public safety, for example, data can show the number of hospital trips made by ambulances or the number of police responses and their outcomes. Public works departments can cite how many potholes were filled or street lights replaced. 
Similarly, for libraries, the data can inform leaders about performance, but with so many performance measures, it can take digging to get to valuable insight. Here are four steps for county and city executives to consider when evaluating their library's performance.
Number of staff per 1,000 residents. When reviewing this measure of efficiency, be certain to make sure it is compared to other libraries with similar-sized populations. For example, for libraries serving a population of 50,000-99,000, the median staff per 1,000 residents is .39. Knowing this provides other libraries with a more accurate view of where they fall and what to strive for.
Cost per Visit. Each time a patron enters the library to borrow a book or other material, the associated cost can vary widely based on many factors. Know what the most efficient library in your state spends, and you can better gauge where your library is. If your cost is much higher, you may have the unusually high staffing or collection costs.
Cost per hour. By itself this number useful to know, especially when compared to similar libraries. But be sure to factor in the number of hours your library is open for a true assessment of how much your city or county is paying.  
Trend analysis. In reviewing your library's services, look at the data going back 3-5 years. Short-term events like storms that close a library can skew year-to-year numbers, so it's useful to take the longer view. Your library may deliver exceptional WiFi and computer access, but the numbers reflect a decline because patrons use their smart phones. Program attendance, circulation and the number of visits are other areas where a multi-year review would be most informative. 
Library performance data is readily available through the federal Institute for Museum and Library Services, although it can take some expertise to interpret it. For a complimentary evaluation, please contact me at ken.purce@lsslibraries.com