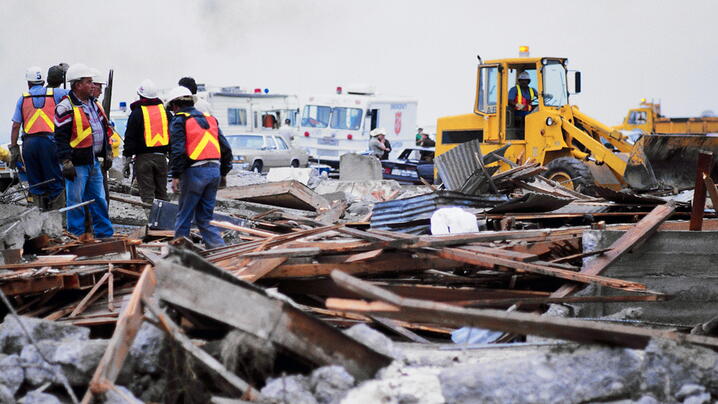 ICMA and the National Association of Counties co-hosted a webinar on December 12 to help North Carolina local governments address their short- and long-term Hurricane Florence recovery challenges.
Ron Carlee, author of new ICMA research on crisis management and an experienced local government manager, summarized recovery essentials with an emphasis on flood events, recovery organization, and leadership challenges.
Doug Anderson, retired St. Lucie, Florida, county administrator, shared his lessons learned from four hurricane recovery situations. He reviewed funding sources and how local governments can rebuild infrastructure in a more resilient way.
Norma Houston, University of North Carolina disaster expert, provided tips on ways to maximize the fiscal recovery and avoid reimbursement pitfalls.  
Key Takeaways:
Short-term recovery involves providing shelter, helping local businesses temporarily resume, providing food, ice and drinking water to residents, restoring power, and removing debris. Long-term recovery involves rebuilding infrastructure, managing stress, documenting disaster effects, and establishing reimbursement processes.

When thinking about long term recovery planning, involve community stakeholders, especially for business and housing recovery, incorporate mitigation into your plan, and stay hopeful by focusing on the long term growth for your community.

Be organized with your recovery by finding a structure that works for you. Make sure to communicate thoroughly with staff and stakeholders about the organization and the plan moving forward.

Focus on resilience, not just rebuilding. Rebuilding smarter and better can create a stronger and more resilient community.
The webinar content was based on North Carolina survey feedback about priority issues. It includes links to disaster recovery resources for leadership, planning, coordination, recovery management, and financial management. 
The Powerpoint slides to accompany this presentation can be found below, or you can download the presentation.
Register for the ICMA Annual Conference
Join us September 17-21 in Columbus/Franklin County, Ohio for the 2022 ICMA Annual Conference.
JOIN ICMA TODAY!
ICMA provides the tools, resources and connections to help you become part of the international network of 13,000+ local government management professionals.