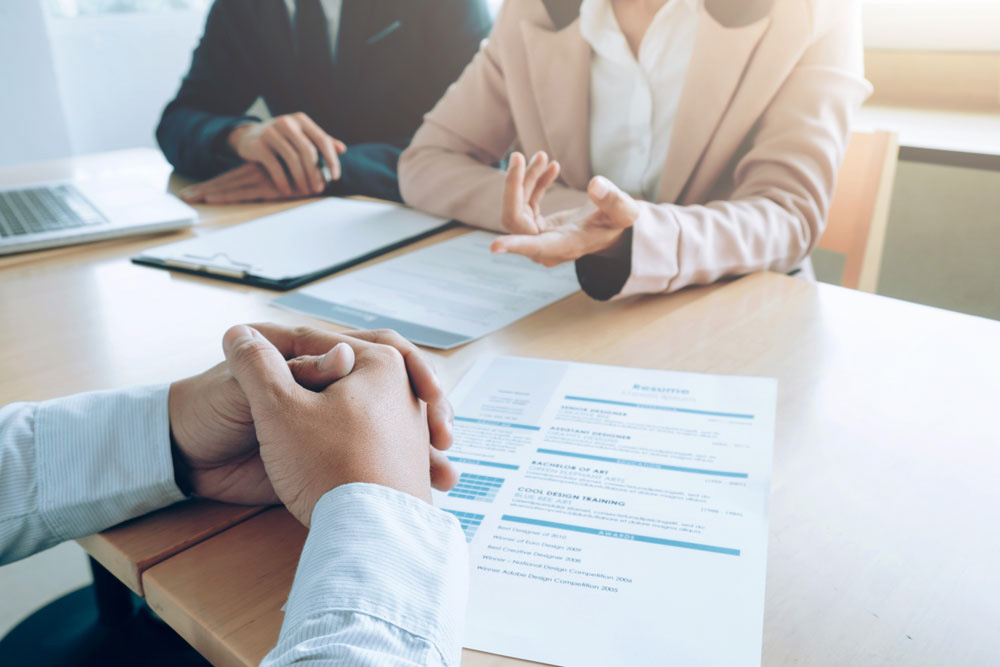 ICMA dedicates this blog post to veterans and transitioning military members. It also provides valuable tips and best practices for anyone trying to land a job in local government. These tips come from the new ICMA handbook, Veterans Guide to Finding a Job in Local Government.
You have translated your military skills, identified the local government job you want, and submitted a great resume. You filled out the mountain of application forms and required documents. Now you get the phone call or email saying you've been selected for an interview. You're excited, satisfied, anxious, and impatient—probably all at the same time. There are a lot of great resources on the web for handling interview questions. Here are a few tips tailored just for veterans but that can also be used by anyone entering the local government workforce.
Prior to the Interview
Your military background will help you prepare for an interview. You may have been before a promotion board or an awards board before. While the preparation may not be identical, the preparation process is similar.
1. Recognize the Value of Your Experience.
In preparing for your interview, it is essential to recognize the value of your experience. The Harvard Business Review article, "How Military Veterans Can Turn Their Skills into a Corporate Career," provides a context for transitioning from a military career to a public sector career.
2. Do Your Homework (i.e., Assess the Situation).
Learn about the local government by browsing the website. In larger cities/counties, the department you applied to will probably have its own website. Prepare for sample questions you know you will encounter:
How does your military experience apply to this position?
Tell us about an event or project that you did very well.
How do you interact with others? Are you good at working on teams?
Why do you want to work "here"(i.e., versus federal government, state government, or private sector)?
3. Practice the Interview (i.e., "Rehearse" the Operation).
You probably found during your military career that "rehearsals" before any operation, while tedious, really helped the final product. Find someone to ask you some questions. Look up your old "battle buddy," ask your partner or spouse, or maybe you know someone in local government (even better!) . . . just practice the process of ask and answer.
4. Plan to Arrive Early and Smile.
Plan to get to your interview location about 10 to 15 minutes early. When you get there, smile and greet everyone warmly. You probably will be met by someone you will eventually work with or who may be on your interview panel. Relax, breathe, and get ready for a great interview.
During the Interview
1. Focus on Management and Leadership Abilities.
It is important for commanding officers to focus on your management and leadership abilities and relate them to the particular supervisory or management position for which you are interviewing. Enlisted personnel need to focus on the specific military skill sets that relate directly to the skills listed in the job announcement. A good coach can help you best frame and promote your military experience.
Most interviewers have no experience with military service. It is quite possible that the person interviewing you may have a negative bias about military service for one or more of the following reasons:
Since the military is so big and bureaucratic, military experience is not seen as relevant to most communities.
With a "command and control" structure, military leadership is seen as more authoritarian than inclusive and participative.
Until recently, the military has been an all-male organization and not viewed as supportive or inclusive of women.
During an interview, it is important to be sensitive to these possible biases. If you pick up any of these biases, deal with them directly during the interview.
2. Answer the Question, But Not More Than the Question.
Think about the context of each question from the perspective of your potential employer. Your interview panel members (or hiring manager) are interviewing multiple people for this position, and they are looking for someone who will add value to their department. When asked, "Tell us a little about yourself," don't say "I got out two months ago and this looked like a good job."
On the other hand, don't start with your birth and give an autobiography of every aspect of your military career. Find a good middle range that describes you in a way that will be interesting to the interview panel (or hiring manager). Frame yourself in a manner that shows how you will add value to their organization. Answer questions in "civilian" terms, avoiding military acronyms or lingo. Not everyone will know what those letters stand for, and not everyone will be comfortable asking you to translate.
3. Watch Your Tempo. 
You may or may not be nervous, but you have spent time in an organization where getting things done quickly is valued. You may think you are answering the question with all the relevant information, but your interviewer just hears a steady drone of facts and data. Modulate your voice, shift eye contact between panel members, "listen" to the cadence of your own voice, and try to keep a conversational tempo.
4. Ask for Feedback During the Interview. 
Unlike a promotion board in the military, it's perfectly acceptable to ask questions of your panel. Let's say, for example, you're applying for a position as a sewer technician, and you have no previous experience as a sewer technician. You are asked, "How would you fix a leak in a sewer main?"
You prepared for this, and you give examples from your career of how you were given a new task or assignment, quickly "ramped-up" on your own, and learned how to adapt to a new situation. Once you've finished your example (that was concise and in conversational tempo!), take a moment to ask the panel, "Was that helpful in understanding how I would take on the task?" In some cases, the panel may not be looking for your technical expertise so much as they are looking to see how adaptive and creative you are.
Post Interview
1. Write personalized thank you notes immediately.
It seems like a small thing, but an applicant who is perceived as grateful for just the opportunity to interview will oftentimes be rated higher than one who feels he or she is supremely qualified for the position. Remember, you asked them for the chance to interview, and you got it. That's reason enough to offer thanks.
2. Assess how you've done.
Make notes for yourself for the next level interview or the next interview elsewhere.
Other Tips
Connect with a Coach
The most important thing you can do as a veteran prior to a job interview is to get a job coach, preferably a coach with military experience. A good coach can help you adapt your specific military skill set to the required skill set of the job you are seeking. A coach can also help you deal with the built-in biases many people and organizations have about military experience. ICMA offers several coaching opportunities, including:
Interviewing is an art and skill. The more you practice, the better you get. Ask your coach or someone you know in local government to conduct a mock interview with you.