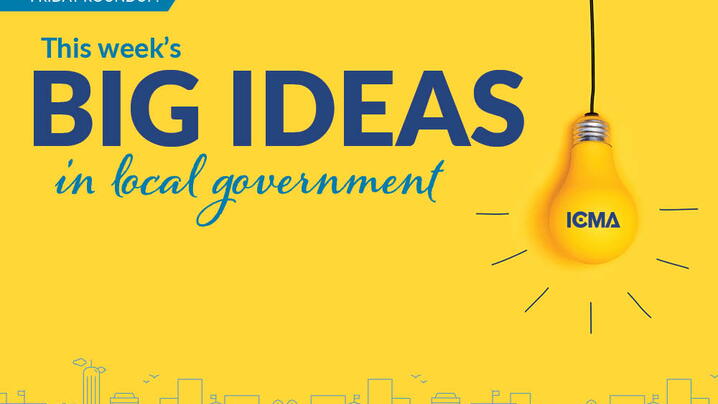 Local government is a busy place, with new innovations working to build stronger communities making news every week. Here are a few of the best ideas from local governments this week to keep you up-to-date on the latest in city and county management!
Public Libraries Lend Wi-Fi Hotspots in Dallas, Texas
As a city dealing with a lack of access to internet service in a lot of neighborhoods, many Dallas residents use the the public library to access the internet. The city is launching a pilot program to allow patrons with library cards to check out mobile hot spots for up to one month. The Dallas Independent School District also will provide hot spots to families who don't have internet. Dallas represents a growing trend in cities to use public funds to expand access to the internet for residents. >> Read more
Providing effective, efficient public services are at the heart of what local governments do. ICMA shares leading practices and resources from an extensive network of experienced managers and researchers on public libraries.
A New Transportation App Launches in Columbus, Ohio
A new trip-planning app called Pivot is in beta phase testing in the city of Columbus. The app connects travelers to their transportation options, including public transit, rent-to-ride bikes and scooters, and other forms of transportation, all in one place. Pivot is account-based, so users can link all their accounts together to be able to seamlessly pay for their transportation use. This initiative is part of Smart Columbus, an overarching set of next-generation projects unfolding in Ohio's capital city. >> Read more
Public Safety Radio Project in Erie County, Pennsylvania
The Erie County Department of Public Safety is rolling out a new public safety radio project aimed at replacing an antiquated, patchwork system of radio technology used by law enforcement, firefighters, paramedics, and other emergency responders that, in some cases, prevents interdepartmental communication. In the next few weeks, emergency responders and dispatchers will be trained to use the new technology, which covers more than 95 percent of the locations that have been tested. Dispatching consoles, communication towers, antennas, dishes, handheld radios, and other equipment are being replaced as part of the project. The county's public safety staff will be able to communicate with 56 different groups using this new digital platform. >> Read more
Want to stay in the know about all things local government? Subscribe to the ICMA blog!
New, Reduced Membership Dues
A new, reduced dues rate is available for CAOs/ACAOs, along with additional discounts for those in smaller communities, has been implemented. Learn more and be sure to join or renew today!