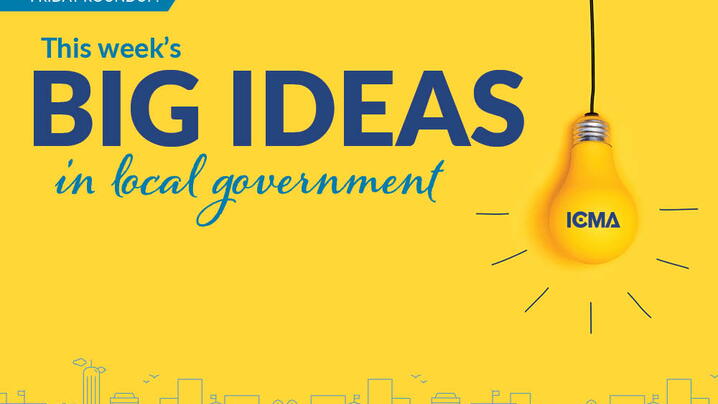 Local government is a busy place, with new innovations working to build stronger communities making news every week. Here are a few of the best ideas from local governments this week to keep you up-to-date on the lastest in city and county management!
Rescue Drones in Southern Manatee County, Florida
Southern Manatee County Fire and Rescue is taking emergency response to the air by partnering with a drone manufacturer to test new emergency response equipment. The new drones were used recently during the sulfur fire at the Port of Manatee to reveal where the fire was the hottest and to track the smoke plume. County officials note that this type of technology is helping first responders make decisions on the ground and could be used to locate lost children or persons using heat signatures. >> Read more
School Buses Become Safer in Hopkins, Minnesota
In an effort to prevent school bus tragedies, the school district in Hopkins, Minnesota, is testing a number of automated devices called "Predictive Stop Arms" on a few buses in their fleet. By combining radar technology and artificial intelligence, the device, made by the Safe Fleet Company, can determine if a vehicle is going to stop when the bus's stop arm is extended. It will alert the bus driver and students to drivers that may be distracted and not stop for the students to cross the street, helping to keep everyone safe. >> Read more
Want to learn more about keeping students safe in your community? Check out this ICMA blog on student safety resources.
Flood Plain Replaced with Park in Austin, Texas
The old Onion Creek flood plain of Austin, Texas, has been transformed into the the newly created Onion Creek Metropolitan Park at Yarrabee Bend. After conducting a homeowner buyout program, the Watershed Protection Department removed 813 houses from harm's way and replaced the area with 190 acres of parkland and 100 acres of recreation area with pavilions and trails. The department is in ongoing conversations with the local community about the amenities and programs to be established in the park. >> Read more
Colorado Springs, Colorado, Launches Behind-the-Scenes Podcast
In order to educate community members and provide a lighthearted look at local government, Colorado Springs is launching a new podcast called "Behind the Springs." Available on most major podcast platforms, this podcast will give listeners a casual, in-depth look at local government through conversations with elected officials, department managers, and city employees. >> Read more
Want to stay in the know about all things local government? Subscribe to the ICMA blog!
New, Reduced Membership Dues
A new, reduced dues rate is available for CAOs/ACAOs, along with additional discounts for those in smaller communities, has been implemented. Learn more and be sure to join or renew today!