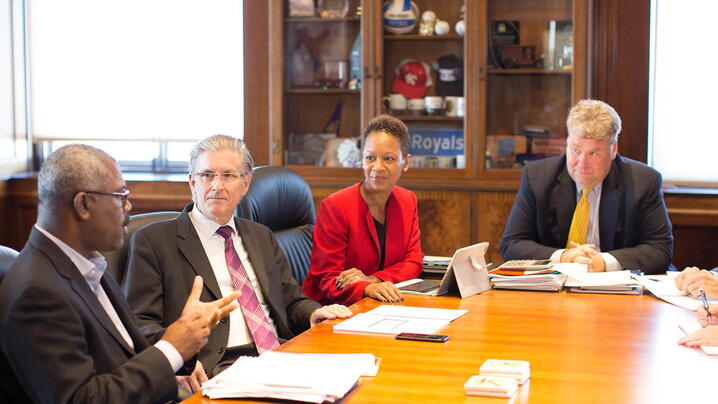 One of the critical aspects of any council's ability to be successful in offering a community the leadership it feels is warranted (and perhaps missing) is the relationship it has with its chief administrative officer/manager. That relationship will impact the quality of services and decision making residents and businesses receive.
Why Is this Important?
I have written on this topic extensively over the past four decades and it has been a frequent topic at seminars during the same time period. For good or for naught, a council and its manager are tied at the hip for the duration of a council term. Each will be viewed by the public as the "face" of the municipality, and while the mayor might be judged more prominently in that chair, his or her colleagues on council and the manager will be squeezed into the same position. The public seldom sees its elected officials as all that different from its chief hired gun and views the words of one as synonymous with that of the other.
While the manager's role is to manage in an apolitical manner, the council's role is to reflect the public's "will" and to make and implement decisions that are sensitive to the aspirations of the community. The American writer Walter Lippmann is credited with the expression, "I presume the public interest to be what people would choose if they saw clearly, thought rationally, and acted benevolently."
The Cost of Change
I am just concluding a study of a coastal municipality that has approximately 60 managers in its upper echelon. Over the past five years, this city has experienced over 100 personnel changes. I pointed out that there have been a number of consequences to that style of leadership, including a loss of corporate memory, loss of image, loss of morale, loss of talent, and a loss of organizational culture. None of these are inconsequential; there is a price to pay.
What Are the Flaws?
Just when I think I "have seen it all," something different pops up and I shake my head in wonderment. How can something that I see with reasonable clarity become so befuddled to so many? The answer lies partly in how long I have been associated with local government and the very nature of these vastly different roles. I'll spare you the first part of that answer, but let's explore the rest.
Managers Advise/Manage; Council Members Govern
While the roles of governing and managing often look quite similar to neophyte members of a council (or governing board), they are fundamentally distinct. The manager is charged with providing advice based on her or his expertise, training, and experience, whereas the council member who has just been elected is expected to come at the same issue from the perspective of a community member, not from that of their professional or work-life background. Regardless of background (and some may possess very useful skills relative to the needs of a municipality), the responsibilities of an elected official are quite different from that of the chief policy advisor, the local government manager. A mayor or councilor needs to speak the will of the public, at least as he or she understands it to be. The manager is not under the same obligation or yoke; he or she is to advise based solely on what makes administratively good sense and not be based on what the public may or may not support.
The Manager Advises All
Council members might feel that they are within their rights if they try to influence the decision or advice of their manager. The manager, on the other hand, is expected to advise all of council and then take action on decisions made by a majority of council members. Where this gets complicated is when the mayor is in opposition to the council decision. While this may not happen often, a manager understands that being on the wrong page with the mayor is not conducive to a lengthy career, or at least not a long tenure in that community! On the other hand, a seasoned mayor will understand the dilemma and be supportive of the guidance being given to the manager, which the majority of council will expect to be followed.
The Manager's Clout
A third "fatal flaw" is found in expecting the manager to manage his or her management team and then being surprised when the manager decides to terminate the employment of a senior manager. Provided that this is covered in a managerial contract, it should be expected that the manager is council's sole employee, and that one of his or her responsibilities is to manage the civic employees and services in a constructive, professional manner. Any manager who has the authority to manage the administration, and who is expected to do so in an effective and efficient manner, needs to be accorded the power and right to do so in an unhindered fashion. This is of course a two-edged sword, as the manager is expected to hire quality people and to mentor their performance. In that way, the lack of performance by another senior staff member is also a commentary on the ability of a manager to manage. Too many personnel changes will be a red light to any council.
Friends of the Mayor and Council
Further, in a small community it can be expected that a senior manager/department head might be a friend of one or more members of council. This will be very problematic for the manager if performance issues dictate an abrupt departure from the community. A senior manager so affected might call his or her friends on council and thus undermine the manager.
George B. Cuff, FCMC, is president of George B Cuff & Associates Ltd., based outside of Edmonton, Alberta. His firm has offered seminars on governance and good management for the past 40 years and has conducted over 500 reviews of municipalities, government departments, agencies, and not-for-profits. His background can be found on www.georgecuff.com. He has taught in the ICMA University program over the past 10 years on the topic of "Fatal Flaws of a Council-Manager Relationship." Cuff has a background both as a municipal manager and as a mayor elected four times serving 12 years in that capacity.
Other Links of Note for Council-Manager Relationships 
Council-Manager Relations: Communicating and Sharing Ideas. ICMA shares three tips for local government managers on communicating and sharing ideas with elected officials.
Why Orientation Is Needed for All Members in Local Government. What many administrators fail to understand is that every new term of office should begin with an orientation for all members, not simply those who are the most recently elected.
The 6 Keys to Excellent Council-Manager Relationships. A variety of suggested techniques and strategies to maximizing the likelihood of establishing and maintaining an effective working relationship with your board.
Making It Work: The Essentials of Council-Manager Relations. This e-book from ICMA provides the competencies needed to build a relationship that is based on mutual respect, understanding of roles, and open communication.
New, Reduced Membership Dues
Beginning October 1, a new, reduced dues rate is available for CAOs/ACAOs, along with additional discounts for those in smaller communities, has been implemented. Learn more and be sure to join or renew today!