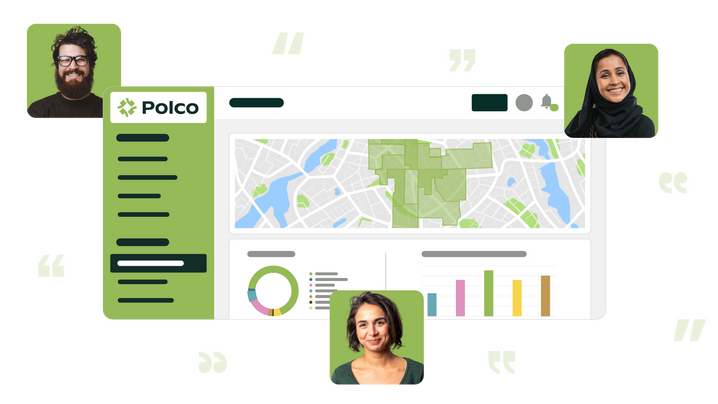 Sponsored content powered by ICMA Strategic Partner, Polco.
Data-driven decision-making has been integral in the private sector for years, but it's only recently become the expectation for local governments. Basing choices on reason and metrics allows leaders to explain and defend their actions and gain support. Data-based decisions are also more likely to result in the desired outcomes. But not every organization has a dedicated data program or the resources to launch one. How do local governments get started with turning data into decisions?
---
Become a true master of data driven decision-making: Register for the Data Driven Decision-Making Certificate Program 
---
National Research Center at Polco is an in-house laboratory of data and survey scientists who have spent three decades researching and analyzing public opinion. Michelle Kobayashi, principal research strategist for Polco, shares five tips on how to become a data-driven local government.
1. Understand Your Goals and Vision
There is infinite data out there, and mostly everything is measurable. Without a mission, it's easy to get bogged down or confused with the sheer amount of information available.
Understanding what you want to achieve is a good first step in getting started. Do you want a baseline for your community's performance? Maybe the goal is to reduce homelessness. Knowing your intention allows you to focus energy in the right direction and ensure all stakeholders understand the intended results.
2. Assess Your Current Data Resources
Before you start digging into data, Kobayashi says you must understand your organizational capacity. Do you have the staff and the time? What is the level of data and technological literacy? Do you have the necessary technology? Do you have the financial resources? Is your organizational culture supportive of change and innovation?
"For most local governments, the answer is no," Kobayashi said.
Even if this is the case, you can still lead with data. To start, identify your strengths and challenges. Maybe you have a skilled employee with the right acumen and extra time to explore data collection. Or maybe you have the funding to outsource data collection and analysis.
Accessing your resources will help you hone your plan by eliminating unrealistic goals with your current abilities. You might have to prioritize two or three targets to start.
3. Develop an Action Plan to Move Your Organization Forward
From there, determine what actions you can take to achieve your goals. How do you plan to gather your data sources? Develop employee skills? Culture surveys?  Community engagement surveys? Online sources?
"Sometimes small steps are the best approach," Kobayashi said.
For example, send promising staff members to learn Excel or Python programming. Look for data skills when hiring new employees.
4. Create a Learning Culture
Some officials are hesitant to look at data because they fear negative results. This worry often stifles innovation. Kobayashi says it's important to create a learning environment that is receptive to change and improvement rather than judgment.
Data—positive or negative—are an opportunity to learn. Kobayashi says governments must establish a growth mindset upfront to navigate potentially difficult discussions.
She also suggests including stakeholders and staff in the data collection and evaluation processes. This gives employees ownership over the data, and educates staff on the tools and methods involved.
5. Measure What Matters
As mentioned, there are a lot of potential indicators to measure.
"There is so much data out there, don't just start collecting everything or only low-hanging fruit," Kobayashi said.
Many people who are inexperienced in data collection would naturally measure what's easiest to collect rather than what's most meaningful. Productivity metrics like how many police officer new hires or how many streetlamp repairs are easily accessible, but what do they actually say about your organization's performance?
While it is valuable to know how productive and what your local government has done, it's even more valuable to understand the effects of those actions. Kobayashi says local governments should measure what residents care about.
The wrong metrics can lead decision-makers astray and have negative consequences. If a fire department tracks the number of inspections without measuring the number of fires, how would they know if those inspections are actually preventing fires? What if a planning department tracks the length of time to get a housing permit without measuring housing affordability? Staff may pursue a good score on processes that inadvertently cause worse results in the end.
Leaders need to assess the impact of their actions as the true measure of success. To keep things simple, Kobayashi says, "Be intentional. Start small. Follow your plan."
Tools Empower Local Governments to be Data-driven 
Polco gives local government leaders useful community data in one convenient space called Performance Dashboards. Kobayashi led the creation of these dashboards by collecting and analyzing public data from authoritative sources like the U.S. Census. Get meaningful metrics specific to your city or town that you can compare to similar communities. The dashboards save an immense amount of staff time and effort on quality government performance measurement efforts. Get a sample of your community's data today.
New, Reduced Membership Dues
A new, reduced dues rate is available for CAOs/ACAOs, along with additional discounts for those in smaller communities, has been implemented. Learn more and be sure to join or renew today!