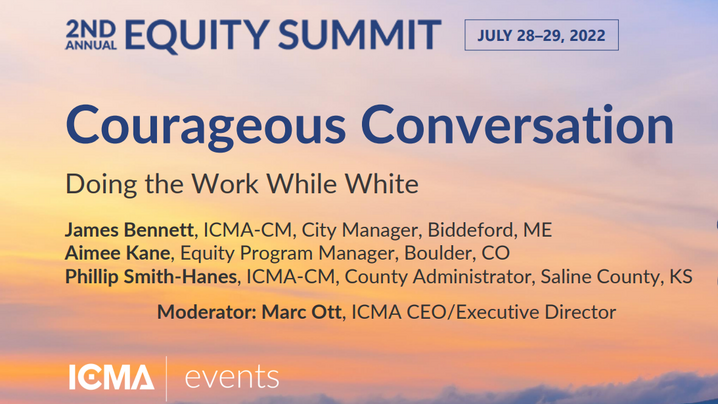 When considering equity work and those who spearhead these initiatives, many default to believing that those involved in this work are predominantly Black or indigenous people of color (BIPOC), when in reality, equity work is just as important, if not more, for white people to pursue. ICMA hosted its latest Courageous Conversation at ICMA's second annual Equity Summit: Ready or Not! Moving from Discourse to Action, which covered the importance of doing the work while white. Moderated by Marc Ott, ICMA CEO and executive director, this insightful panel of local government leaders came together to share their unique perspectives about breaking into diversity, equity, and inclusion (DEI) work; building their credibility; helping themselves and others get over their fears; and their greatest hopes for the future of DEI work.
Breaking into DEI Work
Since BIPOC are those who are most directly impacted by equity initiatives, their reasons for being involved in DEI work comes from a deeply personal place. But for white people, there is typically a wider variety of reasons as to why they find themselves involved in this work, and this panel is no different. Each panel member has diverse reasons for diving into DEI, whether it be after addressing and dismantling years of their own personal bias, all the way to experiencing inequities themselves. For panel member James Bennett, ICMA-CM, city manager, Biddeford, Maine, his experience participating in Leadership ICMA gave him the epiphany that he had been doing everything wrong up until that point, and that systemic racism distorted his views. Once Bennett came to terms with his own unconscious bias and privilege, he began unlearning those warped ways of thinking. While coming to such realizations as an adult can present its own set of challenges, it can also light a fire to dismantle the very systems that cloaked one's viewpoints for so long.
On the other hand, gaining a passion for DEI work from a young age can spark the long-burning passion that these initiatives really need. That is just the case for panel member Aimee Kane, equity program manager, Boulder, Colorado. Growing up in more diverse Denver, Colorado, and then moving to the predominantly white Boulder, Colorado, was a pivotal experience for Kane, who made fast friends with a young Black girl who she witnessed being teased for the color of her skin. This inspired Kane to do her part to make life fairer for all, so taking on the role as equity program manager within the very city that inspired her passion for the work was a natural fit.
Equity is everyone's business, but complacency can be common for those who do not frequently experience inequities themselves. Panel member Phil Smith-Hanes, ICMA-CM, county administrator, Saline County, Kansas, is a gay man who has experienced his fair share of inequities, but did not realize just how much he needed to learn. Joining the ICMA Equity Officers Cohort opened his eyes to the Black experience and helped him look at his community through a racial lens. Each member of this panel joined the fight for equity for very different reasons, but what was more important than how they got here, was that each of them showed up and continue to show up, taking on the critical title of "ally" to help propel the work forward.
Credibility When Working in DEI While White
A common fear associated with doing DEI work while white is for oneself and others to question their credibility or intentions. While Smith-Hanes acknowledges that lived experience certainly helps, he clarifies that none of us can be "everything." Looking at DEI work through different sets of lenses is essential, and white people hearing about the importance of this work from someone who looks like them makes a huge impact. Bennett echoed that sentiment and further explained that many white individuals see racism as isolated incidents, while BIPOC see racism as systems put in place to work against them over and over again. Merging those views is paramount to creating change, and it takes both BIPOC and white people being involved in this work to help do that.
Understanding that white people need to be involved in the DEI process is just the beginning. White people also need to earn that credibility from their coworkers and communities of color. Kane asserts that many BIPOC have been burned by white people removing themselves from the work when things get hard. Being authentic in the work and willing to earn that credibility will help instill that much-needed trust. From there, continuing to learn and build relationships while moving forward will strengthen credibility and trust from the community.
Getting Over the Fear
Fear is a very natural emotion associated with diving into DEI work. There is a certain degree of vulnerability that is experienced, but Ott expressed that you cannot do the job out of fear, and you cannot fear to do the job. So, how do you help yourself and others get over that fear?
The fear of "getting it wrong" is common, so allowing yourself to get hung up on perfection does nothing but slow the process. To circumvent this, Bennett created a structured program within his organization that acts as a safe space to be uncomfortable together. Through Boulder's train-the-trainer program, Kane stresses the importance of meeting people where they are and not letting perfectionism get in the way. Furthermore, she points out that this hard work is also "heart" work, and you must keep at it to make the change you want to see. Overcoming the natural fears to dive right in can be challenging, but that is not an excuse to do nothing.
Greatest Hope
While this work entails overcoming fears, vulnerability, and obstacles, it is important to not lose sight of our hopes for a more equitable future. Each panelist shared his and her hopes for their efforts, as well as the collective efforts of everyone who does their part to advance equity. Smith-Hanes hopes to develop greater understanding and empathy for BIPOC, while Bennett looks to love his community and have his community love him back. Kane closed out this thought-provoking session with the hope that she will one day work herself out of a job and there will no longer be a need for an equity manager. These are hopes that everyone can sympathize with and work collectively to achieve.
---
Equity is everyone's business, but it is largely up to white people to prioritize this essential work to help foster change in other white people. Making the transition from unconscious participants to active change agents is the type of allyship that is needed most during these times. Things are changing, and being on the right side of those changes is where we all want to be to see the progress we want to see. If you need help mapping the next steps of your equity journey, look to ICMA's equity resource hub.
New, Reduced Membership Dues
A new, reduced dues rate is available for CAOs/ACAOs, along with additional discounts for those in smaller communities, has been implemented. Learn more and be sure to join or renew today!