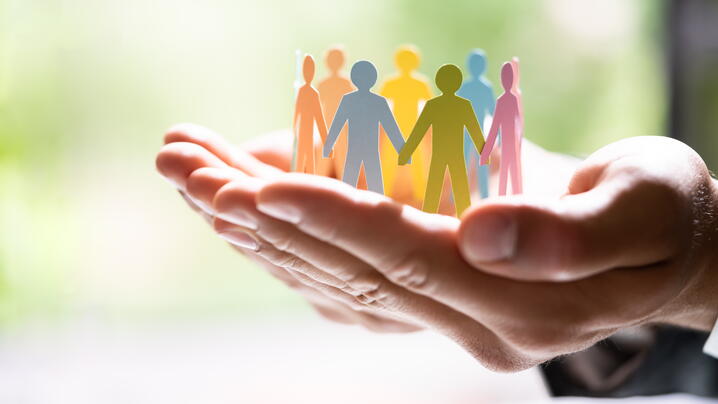 Creating a truly inclusive community takes better understanding and addressing of the issues surrounding disability, accessibility, and the "stigma" surrounding mental health. To put some of these issues into perspective, ICMA gathered a diverse panel of local government leaders who are living with disabilities and leveraging their roles to foster inclusivity in the communities they serve. The latest in ICMA's Courageous Conversations series features candid conversation about the challenges faced and mind shift needed to become a truly inclusive organization and community, as well as being mindful of opportunities to increase accessibility for all.
Providing Perspective
Considering issues of community accessibility may be a hypothetical discussion for many local government leaders, but such topics are much more tangible for these panel members. Panel member Michael Boyton, town manager of Medway, Massachusetts, lives with a physical disability that requires him to walk with a cane. While Boyton feels that his performance expectations are no different in comparison to other local government leaders, he is definitely more compassionate and mindful of accessibility and inclusivity issues in his community.
In the case of panel member Melissa Wiley, deputy town administrator of Erie, Colorado, she is much more familiar with the hurtful comments and assumptions that come along with living with disabilities while being in the public eye. After a childhood dog attack left her face permanently disfigured, Wiley finds that the more visibility she gains, the more hurtful comments come her way. When Erie announced Wiley as the new deputy town administrator, more comments seemed to be directed at her headshot rather than her diverse array of qualifications that followed. Although there were other comments to counteract the negative ones, they are still hurtful and hearing that type of negativity never gets easy. Wiley has even found herself feeling the need to take a step back from the public eye for her own well-being. She says that even though we claim that we want the best of the best in local government, sometimes the best candidates are not willing to take the potential ridicule that comes paired with their disabilities or other differences being put on public display. Wiley's account alone is enough proof of the significant mind shift that is needed to create a more inclusive environment.
Accessibility in the Real World
While community accessibility is typically discussed in terms of compliance, and can even be an afterthought in many cases, these issues are the difference between a life of comfortability and freedom as opposed to a life of inconvenience and discouragement for those living with disabilities. Things like extra curb cuts in sidewalks, more handicapped-designated parking areas, and ample handicapped bathrooms all work to provide both freedom and inclusivity.
The term "reasonable accommodation" is often thrown around during accessibility discussions. Many leaders debate accessibility in hypothetical terms rather than recognizing that there are real people whose quality of life often depends on their communities being more accessible.
For panel member Michael Boyton, the lack of ample curb cuts in the sidewalks in Boston made moving around on his trip much more difficult. Even in his own community, a large, $15M parking garage project cut corners on adding a $1,400 handicapped-accessible bathroom, which left him unable to efficiently use the bathroom that was installed instead. These are just a couple of examples of how treating accessibility as an afterthought can effectively make someone's life more difficult in the process. At the end of the day, "reasonable" accommodation is not reasonable unless it's 100%. That means 100% of what you do needs to be accessible, regardless of financial or social barriers.
Reasonable accommodation does not stop at infrastructure. Not every disability is visible, and COVID-19 has put an even greater magnifying glass on issues surrounding mental health. Since mental illness is invisible to the naked eye, it can be even harder for those afflicted to receive the accommodations they need. While you may wonder why those experiencing mental health issues can't ask for the accommodations themselves, that is much easier said than done. The average time it takes someone to seek treatment for their mental illness after the onset of symptoms is 11 years, which is simply not acceptable. This is why providing both support and flexibility for those who may be experiencing mental health struggles is just as important as providing the wheelchair ramp that leads into your building.
Nowhere to Go but Up
Since the implementation of the Americans with Disabilities Act, there have been great strides in community inclusivity, but there is still work to be done. Set goals for your community's path forward on your road to inclusivity. Panel member Trish Stiles, town administrator of Bennett, Colorado, recognizes that projects yield better results when there is emotional buy-in from everyone. For this reason, town leadership implemented a scoring system for all community projects. This scoring system attaches an emotional score to each project to gauge each participant's emotional investment. Fostering such buy-in from your organization and community at-large will help propel your inclusion efforts forward and achieve those goals you put in place.
Establishing that emotional buy-in first requires a more wholistic view of inclusion. Recognize that everyone has a struggle, and as a leader, you must be perceptive and understanding of those struggles. Model vulnerability and openness with you team so they feel comfortable doing so as well. This will naturally result in your team working more efficiently and becoming truly invested in the work they are doing for their community.
Furthermore, acknowledge that most people have an underlying fear of disability. Fear makes people take a step back and disassociate, which is the catalyst for detrimental misunderstanding that slows inclusion efforts. As a leader of your community, it is critical that you acknowledge the fear instead of disassociating. Educate yourself and other decision makers to advocate for inclusivity. Facing these issues head on may be uncomfortable at first, but they are for the greater good. Being seen, heard, and empathized with is something that everyone in your community needs.
Keep in mind that the decisions you make toward inclusion are nothing short of life-alerting, and will only benefit your community in the end. 
As you go forth on your path toward creating a truly inclusive community, remember to establish realistic goals, obtain emotional buy-in from your team, allow yourself to be vulnerable, educate yourself, and always keep accessibility for all at the forefront of every decision. The growing pains may be tough, but the positive change you will see blossom in your community will be worth it. For more insightful and inspiring information from this Courageous Conversation, view the recorded presentation.