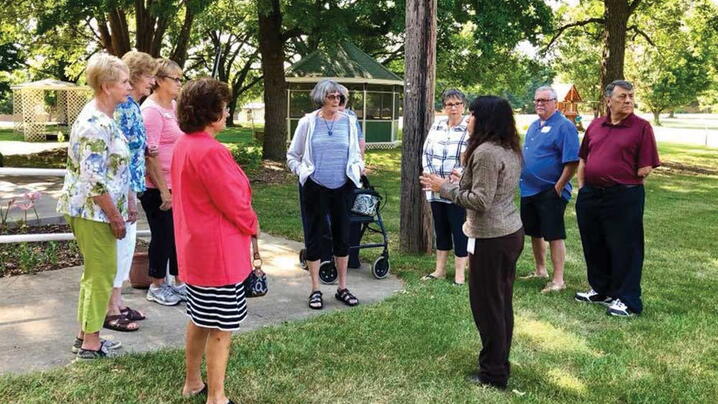 by Greg Burris, executive director, Give 5 Program, United Way of the Ozarks; former city manager, Springfield, Missouri
What if you could implement one program that would address the rising trend of social isolation, provide a wave of talented volunteers to the nonprofits serving your neighbors in need, and make your community attractive to an entire generation with a lot of time, talent, and resources to share? That would be a win-win-win! I am convinced that the communities that get this right will have a competitive advantage over the next 20 to 30 years.
Each day in the United States, 10,000 baby boomers retire. Shortly after retirement, many feel a void, as if something's missing. It's a sense of loss and disconnectedness, a vacuum in their lives, that reduces the sense of purpose, relevance, and identity that their career(s) previously provided.
Before retiring on June 30, 2018, I served for 10 years as city manager of Springfield, Missouri, the third-largest city in the state. During the past few years, I've worked with Cora Scott, director of public information & civic engagement with the city, to create a first-of-its-kind civic engagement program called Give 5.  Give 5 "matches innovative volunteer opportunities with retired (or almost retired) baby boomers ages 60+ who live in Greene County." The program addresses five macro-trends that we believe are affecting nearly every community in the United States and many around the world:
Ten thousand baby boomers will turn 65 every day for the next 19 years, but most aren't seeking "traditional" retirement. By 2030, all baby boomers will be older than age 65. This will expand the size of the senior population so that one in every five U.S. residents will be retirement age.  In Japan, Germany, Italy, Canada, and other countries, the percentage will be even higher. In Japan, for example, one in three citizens will be age 65+ by 2030.
Social isolation is a large and growing health issue.  A recent BYU study found that the physical health impact of social isolation is equivalent to smoking 15 cigarettes a day.
There is a need to strengthen the underlying fabric of our communities by building trust and empathy.  I'm likely speaking to the choir on this one.
Volunteerism will become increasingly important to our nonprofits as they compete for talent in a hyper-competitive labor market.
The largest transfer of wealth and knowledge in the history of the world is underway, and legacy giving and the transfer of institutional knowledge are both threats and opportunities. Baby boomers are projected to possess 70% of all U.S. disposable income, and about $30 trillion will change hands over the next 25 to 30 years.
The Give 5 program addresses all five of these macro-trends by matching retired/nearly retired baby boomers and other retirees with strategic volunteer opportunities. We call it "civic matchmaking," and it is working even better than we had hoped. The program provides retirees with an opportunity to find the best individual fit between program participation and nonprofit volunteer opportunity.
Retired baby boomers are an asset to any community, and any community that is able to recruit and retain them is going to have a massive competitive advantage compared to communities that ignore this wave of talent and resources.
How civic matchmaking works for Springfield-Greene County, Missouri
Each Give 5 class meets one day a week for five weeks and visits nearly two dozen nonprofits over the course of the program, and many more nonprofits apply to the program than can be selected. The nonprofit volunteer opportunities chosen were those that aligned specifically with poverty, the social issue that we elected to attack in our community. By applying a tsunami of skills, talents, and passions to the nonprofits working to address poverty in our community (both upstream and downstream), our volunteer graduates help move the needle on this challenge.
The program is also fertile ground for recruiting class participants to serve on city and county boards and commissions.  Does your community ever need engaged, unbiased applicants for your boards and commissions?  We do, and Give 5 graduates are great candidates for these roles.
Consider the skills and talents of the individuals in your community who, if not intentionally engaged and invited to get into the game, could be sitting on the bench (or the couch) when they retire. Consider your civic, business, and community leaders who plan to retire during the next five years.  What will they do?  Will they feel a void once they turn in their key, their email is disabled, and they are no longer invited to meetings?  Will they retire to the couch to watch TV all day?  How powerful would it be if they remained engaged in your community in some capacity, perhaps volunteering 5 to 10 hours per week?  These individuals are loaded with experience and expertise. Consider the horsepower they can add to your community.
While working in our careers, we can get overwhelmed by the onslaught of emails, voicemails, and meetings, and we joke about wanting it to stop.  Just turn it all off!
And then it does stop.  And you turn in your key.  And you're not invited to those meetings anymore.  It's weird.  As city and county managers, we derive much of our identity from our jobs. So do the people in other professions. If you stop me on the sidewalk and ask me who I am, I'll tell you what I do.
What do I say after I retire?  "I used to be someone"?
Learn More
If you would like to learn more about the Give 5 program, contact Greg Burris at GBurris@UWOzarks.com, download an in-depth case study (which can be customized to fit the unique needs of any community) on how the Give 5 program works in Springfield-Greene County (see below), and listen to the most recent Local Gov Life podcast featuring Greg Burris.
Other Voluteerism-Related Links
How to Build a Successful Volunteer Program. This adapted guide will help communities build successful volunteer programs.
Manage This: Promoting Volunteerism to Your Community's Retirees. Five things to consider about getting your community's retirees active through volunteerism.
Three Keys to Effective Volunteer Engagement. Local government leaders can inspire residents to solve entrenched problems.