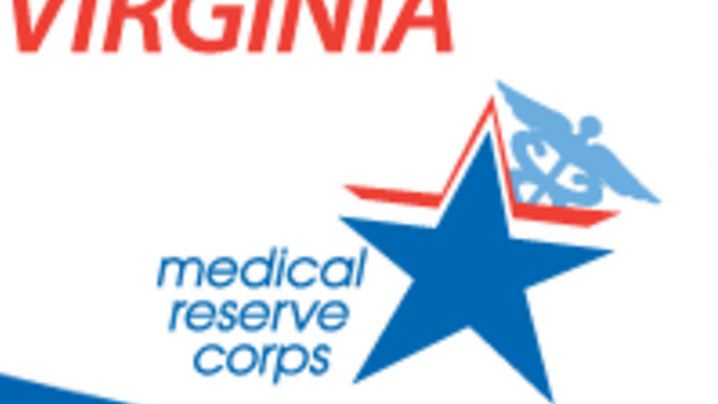 The Medical Reserve Corps (MRC) is a national network of volunteers made up of roughly 800 local units nationally. Dr. David Goodfriend, Loudoun County Health Department Director, said the county's MRC is one of the first and strongest in Virginia and in the country, forming in the early 2000s in response to the September 11 and anthrax attacks.
"Back then we did not have staff to reply to a wide-scale emergency. A main lesson from 9/11 was that we can't rely on spontaneous volunteers," Goodfriend said.
Over time, Loudoun's MRC cultivated a base of 1,400 regular, background-cleared and trained volunteers to serve a population that has now exceeded 400,000.
MRC: More than Medical or Emergency Response
Francis Rath, long-time Loudoun MRC Coordinator, said success is attributed to how the MRC has been an integral partner both with the health department and with other aspects of the county government.
"We're involved day-to-day and have been integrated into the health department's plans," he said.
"MRC has also responded to nonmedical emergency services over the years. We're here to help the county in whatever way we can."
"MRCs can assist on a variety of issues. Get out of the silo thinking that it's limited to medical people doing medical work," Goodfriend said. "Prior to the influx of COVID-19 response, we've had a big chunk of nonmedical volunteers and we still do. It's incredibly essential not just for public health, but to support other departments for other types of events, which has been our approach."
Rath and Goodfriend credited support over the years from county administrators and the board, including current County Administrator and Clerk of the Board Tim Hemstreet.
"Having dedicated staff to lead is important. A number of health departments across the country have an MRC, but many [MRC] organizers are really doing other full-time jobs," Goodfriend said. "Loudoun initially had grant funding for Rath's lead position, and this was expanded to include an assistant. County leadership came forward and made both roles full time without being grant dependent. They understood the importance of the MRC and that it is an asset beyond emergency response."
"People at the county level are sold on the MRC and have made it very easy for us. I don't have to sell it, I just have to make it work and encourage our residents to join to be prepared," Rath said.
The long-term MRC investment by county leadership proved effective time and again, through efforts that weren't always medical or emergency response, like community event support, health screening and education promotion, snowstorm response, sheltering programs, and yes – vaccine clinics.
COVID-19 Response
As the scale of the COVID-19 epidemic became clear in March 2020, the MRC took advantage of its existing infrastructure and reputation to ramp up recruiting.
"We went from 1,400 to 4,000 volunteers. Logistics, answering phone calls, contact tracing, testing, and eventually, vaccination. People want to help, including high school students. There's been an amazing response from the community," Rath said.
He shared a story of a family that joined the volunteer ranks after a relative passed away due to COVID-19 complications as a way to give back to the community.
In difficult times, countless people across the country want to help. It is up to local government to organize and harness that energy, transforming it to output that best serves its residents.
To date, Loudoun MRC has provided more than 90 thousand hours of COVID-19 related volunteer time.
Communication Is Key
During an emergency, clear communication to the public is critical. While the MRC was the backbone of Loudoun's COVID-19 volunteer response, the Public Affairs and Communications Office provided the expertise on communicating with the public and how to best handle incoming questions about vaccine distribution.
"Public Affairs took charge of the call center," Goodfriend said.
Emily Watkins, Loudoun County Public Affairs Manager, said the office was tapped to manage the call center once vaccine availability was imminent, as calls jumped to thousands a week and as many as 900 in one day.
"The COVID-19 call center existed. In March 2020, the hotline was opened with staff from the health department and MRC. Public Affairs was called in months later for vaccine information help," Watkins said.
Glen Barbour, Loudoun Public Affairs and Communications Officer, said the majority of calls were about the appointment process and issues booking/confirming. The Centers for Disease Control and Prevention (CDC) used an old, pre-COVID vaccination management system that wasn't designed for the difficulties or volume COVID-19 presented.
"We wanted to create a streamlined process for the public as soon as possible," he said.
"The rubber meets the road at the local level.
Federal to state to local, things were constantly changing. I.T. had to enhance the vaccine administration management system (VAMS), which was a challenge as it was constantly changing, but hopefully improving."
While the majority of calls were about navigating technology, logistics, or even the familiar frustration of passwords not working, other questions were about the vaccine itself. Answers were kept informational and apolitical, as local government focused on public service and getting the work done, separate from national level political debates.
"All of the call center's responses were developed through Dr. Goodfriend and from public health information, which is not political. It was information you could find in more than one place, and we'd refer people to publicly available resources," Watkins said.
Public and Internal Messaging
The communications team created and regularly updated a booklet, or cheat sheet, organized by topics and FAQs, so volunteers manning the phones could look up answers quickly to relay a complete, consistent, and up-to-date set of answers.
"Questions about Moderna vs Pfizer, talking points to respond to the latest news, we updated the book daily," Barbour said.
Internal communication was also an important step.
"Preparing the call takers was a critical reason for the communication team to manage the call center," Watkins said. "We briefed at the beginning of each shift, talking about themes, new information, and possible upcoming information. This included the feedback loop to let the volunteers share what they're hearing from the public and ask us questions."
No Shortcuts
Similar to Goodfriend and Rath explaining how county leadership supported the MRC, Barbour and Watkins repeatedly credited intradepartmental cooperation.
"The entire county has stepped up to make this work. Not just the health department or public affairs. Parks and rec, library staff, education, leadership–everyone was involved in pandemic response," Barbour said.
Watkins echoed how the MRC's past is what set it up to meet the challenges of COVID-19.
"Specific to volunteers, what the MRC has cultivated has taken many years. They're constantly recruiting and training, even before the pandemic – which gave everyone a tangible thing to contribute to, so quick growth from 1,400 to 4,000 [volunteers] was possible," she said. "Support for the MRC also comes from the dollar value they provide. Ninety thousand volunteer hours can get leadership's attention."
Takeaways
Five key takeaways on how Loudoun got it right:
Don't wait for the next emergency. Early and full commitment to an MRC, that in turn provides the backbone to emergency response and ongoing support to local government in more than just medical crises.
 
Educate and recruit residents both medical and non-medical to join the MRC or similar organization now to be eligible to assist during the next emergency.
 
Invest in the right training, transparency, and resources for volunteers.
 
Communicate with the public, staff, and volunteers through communication professionals.
 
Intradepartmental cooperation focused on results over credit.
Given the human and economic toll COVID-19 has inflicted on a global, national, state, and local level, success story may not be the right phrase. Still, the response in Loudoun County, Virginia, and many other examples ICMA has witnessed show that the work of local government has the challenge, opportunity, and commitment to make immeasurable positive impact on the public it serves. Units like the MRC and Public Affairs and Communications, and the individual contributors within, are the ones that get it done.
---
Call for Content
Share your ideas with fellow ICMA members and local government leaders to advance the profession. We're searching for interesting and insightful stories that can help others learn a memorable takeaway to serve their communities better.
Best practices, practical tips, innovative approaches, and lessons learned through success or failure are a few of the methods; PM magazine, ICMA Blog, Voices in Local Government Podcast, and videos are a few of the platforms. 
Whether it's a completed draft ready to submit or an early concept, complete the short form and we'll reply to talk about next steps.
New, Reduced Membership Dues
A new, reduced dues rate is available for CAOs/ACAOs, along with additional discounts for those in smaller communities, has been implemented. Learn more and be sure to join or renew today!