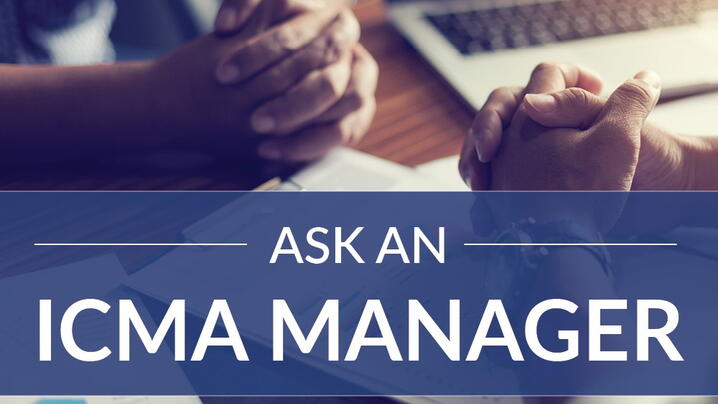 Editor's Note: Ask an ICMA Manager is a monthly blog series where ICMA asks a current or former local government manager or local government professional to answer a question on a management issue facing local government.
Ask an ICMA Manager: What Is the Difference Between Managing in Large and Small Communities? 
by Bryan Hill, county executive, Fairfax County, Virginia  

I have seen more similarities than differences; however, due to the size of Fairfax County, it tends to develop a culture of doing business that I must pay attention to as I try to build confidence in staff as well as the board of supervisors. Here are the three differences:
Added Zeros 
In leaving James City County, I left behind an annual budget of $228 million and approximately 900 employees. The Fairfax County general fund budget is $4.3 billion, with more than 12,000 employees. Communicating and connecting is a challenge, especially coming from outside the organization. My daily schedule of starting at 7 a.m. until completion has not changed; however, I have had to be more efficient in my use of time. In larger jurisdictions, being able to address questions concisely is a must, along with trusting your team to enhance relationships with all stakeholders. I have had more than 500 meetings internally and externally in my first five months, as I believe it is important to understand the needs of residents, staff, and regional partners while also balancing the expectations of the board of supervisors. My past experiences in finance and budget have helped with understanding the budget process used in Fairfax County, as its process is like what I used in James City County and Beaufort County, South Carolina.
Increased Transportation Strategies 
In both James City County and Fairfax County, transportation is a high priority. Northern Virginia, however, will continue to have opportunities to address traffic congestion and mitigation and to work on adequate funding models for Metrorail. As you can imagine, there are numerous complexities associated with moving a population of 1.2 million residents while creating a balance to ensure that the workforce and the tourists can continue to move freely around our great community. 
"Size" - Your Mind Is Now Working 24/7  
The final difference can be characterized with the word "size." My mind is now ever working to communicate to a larger audience, streamline the process to help promote economic development, and lead an extremely well-run organization into the future. Every jurisdiction continually struggles with school funding, economic development, environment (stormwater), state funding challenges, and the expectations to provide exemplary delivery of services to residents. I have readily embraced and accepted the challenge and the employees of Fairfax County, who are forward-thinking employees looking to make local government better as we battle through less federal and state funding. 
As I have transitioned into a local government 16 times the size in population, I've found that the key during any transition is to listen and understand the needs of the constituents while a strategy is developed to proactively identify and address those needs, because there is only a short window of time to solve their needs before it becomes a concern for elected officials. In closing, I want to thank executive assistants Ania Eckhardt (James City County) and Sue Robinson (Fairfax County) for their support and general understanding of how I work. They have made me a better administrator.
Related Content 
Small City Helps Create a Big Success. This article from 2012 looks at how one community, Whitewater, Wisconsin, partnered with an area university to create a new innovation center to help with the community's economic development. 
The Small But Mighty City of Colquitt Doesn't Quit. This 2017 blog post looks at how one small community has used the arts to improve the community both economically and culturally.
Too Small to Benchmark? Not! In another 2017 blog post, ICMA looks at how small communities are still managing to benchmark their performance.  
---
ICMA Blog: Want to contribute to the blog? Send your request to Niles Anderegg at nanderegg@icma.org with suggested topics or questions. 
Past Ask an ICMA Manager Blog Posts

Get more content like this in your mailbox!
New, Reduced Membership Dues
A new, reduced dues rate is available for CAOs/ACAOs, along with additional discounts for those in smaller communities, has been implemented. Learn more and be sure to join or renew today!