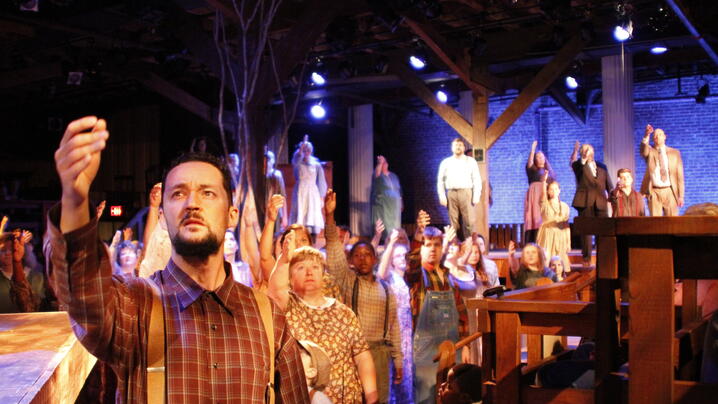 The city of Colquitt is a small, rural community located in central Georgia that went from being the ninth poorest congressional district in the United States to an economically thriving tourist destination. How? The city rebranded itself as an art community.
Being receptive and embracing partnerships gave Colquitt the ability to renovate not only its infrastructure but also its identity as a community. In the past, the 2,500 residents relied chiefly on agriculture, but now tourism is also a primary economic agent. Colquitt's creative approaches to achieve economic success and citizen engagement are worth shining a spotlight on.
The History
Twenty-eight years ago, the agrarian city of Colquitt was in survival mode. As farming became more machine based, unemployment rose and many left the town to find jobs elsewhere. ICMA member and current city manager of Colquitt, Cory Thomas, reveals that the city "realized we had to do something different if we were going to stay alive. We were treading water." Creating an art industry "began as an idea of how to recreate and rebrand our community." This mentality led to the development of the Colquitt/Miller Arts Council (CMAC) and Swamp Gravy, Georgia's Official Folk Life Play.
Thomas explains how the individuals leading Swamp Gravy "gathered stories of their heritage, history, and community to put on the stage." Swamp Gravy's mission is to "involve as many people as possible in a theatrical experience that empowers the individual, bonds the community and strengthens the local economy while crossing the boundaries of class, race, economy and social class."
Every year, the Swamp Gravy cast of more than 100 local volunteers performs in Cotton Hall Theater, an old, renovated cotton warehouse. Swamp Gravy was chosen to perform at the Centennial Park during the 1996 Olympics in Atlanta. They performed at the Kennedy Center in Washington, D.C., that same year. 
The Impact of Art
Every year, an average of 40,000 people come to Colquitt to watch Swamp Gravy's performance. A Portland State dissertation entitled "The Narrative Processes in Urban Planning: A Case Study of Swamp Gravy in Colquitt, Georgia" revealed that Swamp Gravy had an impact of $2 million a year on the community. "Swamp Gravy keeps our economy going and brings new people here all the time; it's part of our identity now," Thomas explains.
Tourism has had a profound effect on local businesses. Since Cotton Hall Theater is located alongside Colquitt's shops and restaurants in the downtown square, tourism has become the local merchants' lifeblood. 
Renovations and Attractions Continue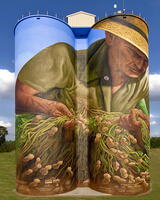 A University of North Carolina at Chapel Hill Case Study entitled
Small Towns, Big Ideas
reported that the Colquitt/Miller Arts Council has reinvested more than $1 million in downtown renovations and building projects.
For example, the arts council turned a deteriorating fertilizer distribution facility into a daycare and child center for after-school programs. The arts council also owns and operates a local bed and breakfast, mini-mall, storytelling museum, children's theater and mural project. Due to the 12 murals painted on old buildings, Georgia's legislature dedicated Colquitt as Georgia's first Mural City. The project has helped beautify the city and given another reason for tourists to visit. The 27,000-square-foot Agricultural Icon Mural (pictured to the left) is one of the largest hand-painted murals in the United States.
For 34 years, tourists have also been compelled to visit Colquitt for its National Mayhaw Festival. This one-day event, run by the city's chamber of commerce, annually attracts 5,000-10,000 people and involves almost 100 local vendors. The Colquitt Miller chamber of commerce is also one of the key partners that work with the Arts Council in promoting Colquitt and capitalizing on the tourism aspect.
Thomas also mentions that one way the local government shows its support for the local art industry is through renovation projects. He reports that they are in the process of turning the old movie theater that ceased operating 50 years ago into a regional multi-use conference/meeting/performance center. Colquitt carries its dedication to renovation and improvement to other aspects of the community as well. The local government has undertaken close to $10 million in capital outlay projects, including a wastewater treatment facility. 
When this community is faced with economic adversity, it is active in finding a solution. This initiative was manifested with Swamp Gravy and again when health care was a serious issue and the small hospital came close to closing. Miller County Hospital officials developed a unique plan to create a dialysis outpatient facility to treat patients in Miller and surrounding counties. In 2015, the dialysis center was built, and it became the first facility in South Georgia to provide this type of convenient care for patients. Thomas notes that these efforts "were part of the catalyst that provided some financial stability to the hospital and were the stimulus that created a $10 million expansion." Today, the hospital employs 500 people and is the largest employer in the city and county, generating $60 million in medical revenues, with a $30 million-a-year payroll for the community. 
Passing the Torch
Colquitt has proven that the key to economic success and citizen engagement is a commitment to constant renovation and a devotion to working together. Thomas advises other local governments to:
1. Educate yourself:
"Make sure you are not ruling something out that can be a golden egg for you," Thomas emphasizes.
2. "Forge those partnerships and embrace them."
Even though Swamp Gravy is not directly affiliated with the local government, leaders still do all they can to support it. When you call city hall, you are greeted with a message that says, "Welcome to Colquitt, Georgia, home of Swamp Gravy." Thomas signifies that "we feel like even though we are not a direct partner, we are still a partner because what they do not only enhances and increases our quality of life for those who live here, but it keeps our community afloat and moving from a position of just treading water to hopefully being able to thrive."
Thomas argues that local governments need to transition their perspective about their city's arts council. "Instead of an arts council being just another organization out there or an organization that maybe works against the core mission of what they have, they've got to become partners and work together. I am not talking about financially, we do not give them any financial assistance," he explains. Swamp Gravy is a "self-sufficient nonprofit organization. We do, however, try to support them in any way we can because it is to the advantage of the whole community. If they go away, our community would be changed forever. Both identity-wise and economically." 
Colquitt is eager to help other communities build a creative community through the arts and other unique perspectives. Building Creative Communities Conference (BC3), launched in 2006, is an annual convergence of community change agents that takes place in Colquitt every February. Local and global changemakers speak about how to build a creative community through the arts and other unique perspectives. BC3 also provides community development workshops and interactive opportunities to help participants gain hands-on skills and deep insights into the Story Bridge process: Story, Performance, Affinity, Collaboration, Engagement. 
New, Reduced Membership Dues
A new, reduced dues rate is available for CAOs/ACAOs, along with additional discounts for those in smaller communities, has been implemented. Learn more and be sure to join or renew today!