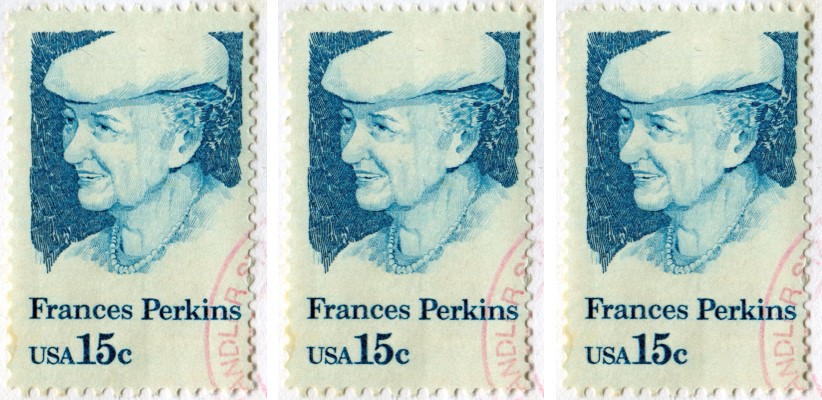 BY KELLY HOUGHTELING
In 1933, a worker's rights advocate and forward-thinking leader named Frances Perkins was named secretary of labor by President Franklin D. Roosevelt. She was the first woman in history to hold a presidential cabinet position and the longest serving cabinet member with a 12-year term. Few cabinet members since have rivaled her impact in reshaping the twentieth century. She was the woman behind the New Deal, social security, unemployment insurance, minimum wage, abolition of child labor, and creator of the weekend. After her retirement in 1945, it would be 30 years before another woman would serve in a presidential cabinet.
This opportunity for Perkins was cultivated through a longstanding friendship based on trust and mutual respect. She first worked with Roosevelt after the tragic Triangle Shirtwaist Factory Fire in 1912. Perkins, a successful labor organizer and the secretary on the Committee on Safety of the City of New York, worked with Roosevelt, then a young New York state senator, on enacting workplace safety reforms. In 1929, Roosevelt was elected governor of New York, and appointed Perkins as the state industrial commissioner, where she oversaw a new state agency with 1,800 employees. FDR valued her wit, intellect, and ability to drive change. As told by Frances Perkins in her book, The Roosevelt I Knew, the traits he displayed made him a true friend and ally to Perkins.
What can we learn from Perkins, her work, and executive-level experience?
Hire the Right People
FDR could have easily hired "the right man for the job," and since no woman had previously served in a presidential cabinet, he could have saved himself political scrutiny. Yet Roosevelt knew that Perkins had the right qualifications, experience, and character to be successful.
In practice: Hire for the long-term; don't rush the hiring process. Seek a diverse pool of candidates by posting on ICMA Affiliate job boards, across regional networks, and with partnering educational institutions.
Empowerment
Before Perkins would accept the cabinet position, she told him, "I don't want to say yes to you unless you know what I'd like to do and are willing to have me go ahead and try." Perkins then outlined her list of policy priorities (she accomplished all but one) and FDR supported them all.
In practice: Strong allies trust their team, communicate a clear vision, and give them room to fail. They empower their team to be their authentic selves.
Empathy
As Perkins noted in her book, FDR underwent a spiritual transformation during and after his illness. "The man emerged completely warmhearted, with humility of spirit and with a deeper philosophy. Having been to the depths of trouble, he understood the problems of people in trouble."
In practice: An ally leads with empathy, listens to their team, forms connections, and see things from others' point of view.
Support Opportunities for Growth
Perkins convinced FDR to support unemployment insurance; however, he wanted a deeper dive into the topic and sent Perkins to England to study the British system. She returned with a list of recommendations that moved the conversation forward.
In practice: Encouraging professional growth and development of your team creates strong organizations. We can't be afraid of losing our best people. And if we're fulfilling our role as managers, we're empowering a new generation of public service leadership.
The close working relationship between Perkins and FDR is important to reflect on. Serving as an ally is a step in the right direction toward a more inclusive, high-performing, and innovative workplace.

KELLY HOUGHTELING is deputy town administrator, Wellington, Colorado (houghtkm@wellingtoncolorado.gov). She also serves as president of the League of Women in Government.
RESOURCE
1 Frances Perkins, The Roosevelt I Knew (New York: Viking Press, 1946).
New, Reduced Membership Dues
A new, reduced dues rate is available for CAOs/ACAOs, along with additional discounts for those in smaller communities, has been implemented. Learn more and be sure to join or renew today!