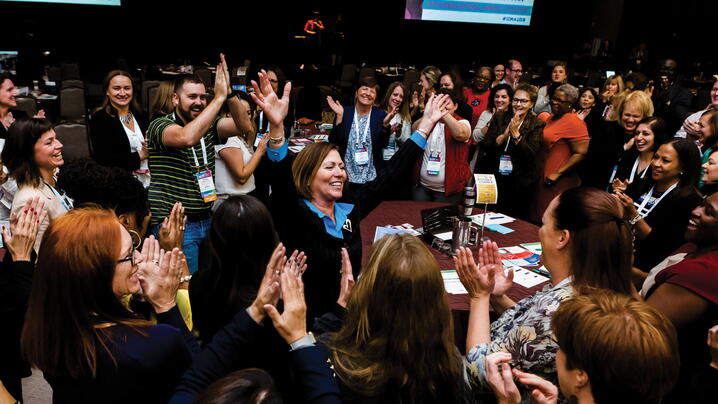 BY NINA VETTER
Welcome to our new column! Thank you to ICMA and the League of Women in Government for sponsoring and supporting our column. Every month we will hear from a different ICMA member on her experience in local government and how our service to our communities and organizations is changing the world one day a time.
At a community event last year, two of my female employees stopped me and looked visibly upset. Then they told me a little story. A female resident of our community stopped by to see them and when they told her that it would be most helpful for her to speak to the district manager and pointed at me across the room, she said, "Are you freaking kidding me? They hired a FEMALE manager?!" She hadn't even met me yet, but she was already upset that the manager was a female.
I had heard this or similar comments before, but never in the presence of my employees. Hours later after the event ended, I realized that I was upset, not because it was offensive toward me specifically, but because of the impact that it had on my female employees—two employees who work hard to further themselves, do their best for the community, and serve as fantastic leaders in our organization.
Even as we continue to make progress in gender equity in local government management, we will continue to face hurdles, biases, and people who just can't the see world in a different way than their own. Our tribe of powerful, smart, driven, compassionate female managers, assistant city managers, assistant to the city managers, and so on is stronger than the gender bias that we will continue to face.
Our responsibility and our call is to not let that hold us back from pursuing the top jobs, but not just because it's our dream. We have a responsibility to better our communities through our leadership. We have a responsibility to our female local government employees and future leaders to see and experience female leadership so that many years from now when we retire and move on, we have left our gender in an even better position to run the world.

NINA VETTER is district manager, Pueblo West Metropolitan District, Pueblo West, Colorado (nvetter@pwmd-co.us).
JOIN ICMA TODAY!
ICMA provides the tools, resources and connections to help you become part of the international network of 13,000+ local government management professionals.