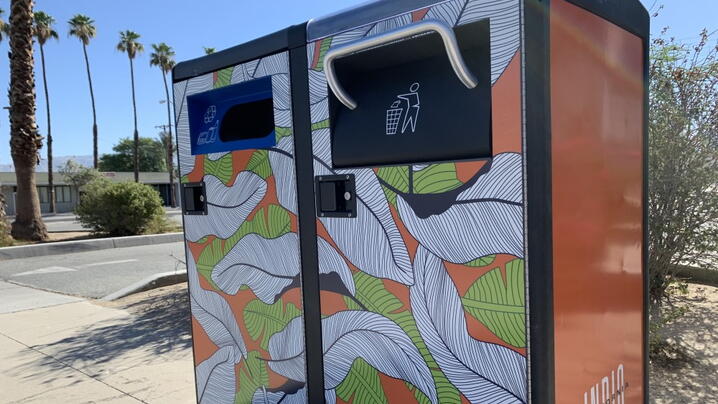 In a downtown space that's been waiting to take the plunge for what feels like forever, each time the city of Indio, California, puts a toe in the water, it tends to make a splash.
That's true for each work of art that goes up in a public space, each banner hung, and most recently, each time a trash can is installed. Wait, a trash can?
Recycling and waste container might be the more accurate term, but it hardly describes the 20 new receptacles peppering the promenades of the Coachella Valley's largest and oldest city.
With their sleek and shiny designs, the Bigbelly units sparkle like gems on the sun-soaked streets. Each unit features a different design meant to represent the colorful, vibrant community surrounding it. From cactus greens to earthy oranges, locally grown fruits and veggies, and photo panoramas so strikingly similar to their surroundings, it's hard to tell a Bigbelly apart from the scenery itself.
"The Bigbelly at the east Indio trailhead may be my favorite," shared Sara Toyoda, Indio's environmental programs coordinator, referring to a gorgeous desertscape design that melds sand and sky with the natural horizon.
Toyoda spent hours going back and forth with a local design company, the city's public art and historic preservation management analyst, and the city's director of communications and marketing on wraps for the Bigbellies that would not only add aesthetic appeal, but last in the extremely hot, often windy desert climate. "Temperatures can reach more than 120 degrees in the summer," said Toyoda. "We didn't want the wraps to fade or look old. We wanted them to add to the placemaking efforts in developing the downtown area."
Of course, and most importantly, the Bigbellies have practical purposes. Bigbelly markets the systems as "smart, solar-powered, sensor-equipped waste and recycling stations," and in Indio, the hope is to eventually save the city money and manpower, and through the eye-catching designs, encourage sustainability.
"One of the sustainability commissioners brought a photo to one of our meetings of a waste can in the downtown area," explained Toyoda. "He noted that there was not a recycling container next to the waste can, and asked if we could do something about that."
The simple request led to a months-long fact-finding mission into how to feasibly add recycling units without taxing Indio's street crew, which would be tasked with monitoring and maintaining them.
As solar-powered monitoring stations, Bigbellies generate digital reports, alerting crews if something is wrong and when specific units need to be emptied. This important feature alleviated much of the manpower issue, since crews would only have to service the stations "when called." The stations also compacted trash to maximize content and minimize workload on staff.
"We never have trash cans that overflow, and we never have crews sent out to check trash cans that don't need to be emptied," explained Toyoda. Real-time status can be accessed from any computer or mobile device. Fewer trips to empty recycling and waste containers mean reduced greenhouse gas emissions from vehicles, fulfilling the city's sustainability goals.
Unfortunately, at $8,000 to $9,000 each, the cost appeared prohibitive. "Shortly after, CalRecycle released a competitive grant to increase collection of cans and bottles," said Toyoda. "Purchasing waste and recycling containers that are permanently attached was an allowable project for the grant."
In September 2019, Indio was approved for the second round of funding, and the city council approved the grant in November 2019. Additional costs were funded through AB939 funds, which are specifically earmarked for waste diversion.
Once the funding process was approved, Toyoda worked with public works and planning staff to decide on Bigbelly locations around Indio. "We wanted to put them in areas with persistent litter problems, and in areas where the city expected to have growth, for example, around the campus of the expanding College of the Desert. With a large campus and a lot of students, we decided to place several of the Bigbelly stations downtown."
The newly opened East Indio Hills Trail was another prime location for a Bigbelly station. "You have people coming off the trail who have plastic water bottles that need to be recycled. Plus, you don't want to litter this pristine environment," said Toyoda.
Kelsey Tustin, manager of Channel Partners for Bigbelly, said Indio's stations are  fifth generation models. To her knowledge, they are the only such models in the Coachella Valley, the geographic area of just under half a million people also known as greater Palm Springs.
Tustin said more and more municipalities are using the design wraps, replacing previous Bigbelly models, which were beige or brown. "The wraps are getting more popular because they deter graffiti and allow cities and communities to incorporate elements associated with the area, like logos and photos."
The models installed in Indio include foot pedals, a  fifth generation feature that is especially timely in the era of COVID-19. "You can just put your foot on the pedal and it will open up," explained Toyoda, who said the response to the Bigbellies has been overwhelmingly positive so far. "People don't feel squeamish about touching a trash can when they have a hands-free option," added Tustin. "One of Bigbelly's core values is not only beautification, but public health and quality of life. We are increasingly moving to hands-free and contactless in the way it supports public health at large."
The units even attracted the attention of the local news station, which ran a story on the Bigbelly solar system within hours of their installation in early July; and a local radio station, which featured an interview encouraging people to look for the unique designs and choose their favorites.
"Indio is known as the City of Festivals," said Toyoda. "It's also known as the City of Sustainability, so keeping our streets and communities clean and making sure people are aware of their recycling capabilities is really important."

 BROOKE BEARE is director of communications and marketing, Indio, California. Known as the City of Festivals, Indio is the largest and most populous city in southern California's Coachella Valley. She is also an Emmy winning journalist, who had a successful first career as a television news anchor and reporter.
Register for the ICMA Annual Conference
Join us September 17-21 in Columbus/Franklin County, Ohio for the 2022 ICMA Annual Conference.
JOIN ICMA TODAY!
ICMA provides the tools, resources and connections to help you become part of the international network of 13,000+ local government management professionals.