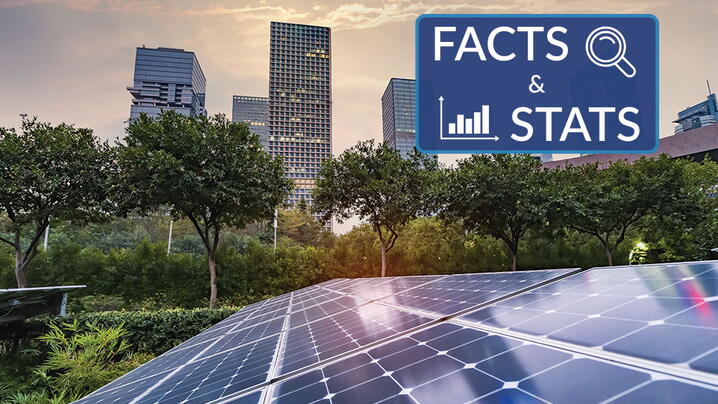 As technology advances, so do the expectations placed on our local governments. The United States is gradually transitioning from fossil fuels to renewable energy sources, and some are referring to these shifts as the "energy transition." From LED bulbs in streetlights to electric-powered city fleets, the energy transition is impacting the way our local governments do business.
With climate strikes happening across the world, it has become increasingly common for environmental concerns to be listed among a municipalities' top priorities. Local governments like the Hillsboro, Oregon, Iowa City, Iowa, and McHenry County, Illinois, identify environmental sustainability as a top goal in their strategic plans, including goals associated with the energy transition.
ICMA has been supporting communities through the energy transition for over a decade. ICMA's work with SolSmart has designated 275 cities, counties, and regional organizations in 40 states and the District of Colombia for fostering the development of mature solar markets. SolSmart helps eliminate excessive solar permitting, planning, and regulations to make it easier, faster, and cheaper to go solar. One in five Americans now live in a SolSmart-designated community. As the market becomes increasingly "green," so do our cities and counties.
To gain a better understanding of the challenges municipalities may be facing with changing energy, economic, and environmental conditions, ICMA conducted a survey in 2019 with Indiana University's O'Neill School of Public and Environmental Affairs. Here are some key findings from the survey:
Most respondents viewed the effects of the energy transition on their jurisdiction as either neutral (45 percent) or at least somewhat beneficial (43 percent).
Although some of the impacts of the energy transition can be positive, substantial changes can lead to negative impacts on local government. Twelve percent of respondents felt the energy transition's effects have been somewhat or very harmful to their jurisdiction. Respondents that viewed the transition as harmful cited local economies that rely on fossil fuel industries, long-term commitments to coal-based utilities, and low support from their governing bodies as explanations.
Nearly half of local governments with capital improvements plans (CIP) report addressing the energy transition in these documents/strategies, and 67 percent of municipalities ranked aging infrastructure among the most important issues facing their local government today.
Transitioning energy impacts a number of municipal services and departments. Although efforts can save money overall, upfront costs are often large expenses for cities. Forty-eight percent of respondents plan for infrastructure costs associated with energy transition as part of their CIP. Cities like Austin, Texas, and Eugene, Oregon, have dedicated sections of their CIP to the energy transition.
The potential for cost savings, potential for local economic development, and concern for environmental sustainability are among the most significant motivations for local governments to address issues related to the energy transition.
Aspen, Colorado announced $1.6 million in energy savings in their community in 2016. Other communities like Lackawanna, New York, redeveloped an old steel mill into a wind power facility using the energy transition to spur economic development. Motivations for the energy transition are numerous, but so are deterrents. Lack of funding, lack of staff capability, and lack of information on how to proceed were respondents most significant inhibitors for issues related to the energy transition.
This survey was distributed by email to 3,131 ICMA member municipal chief administrative officers, 476 of which responded, for a 15.2% response rate.
ICMA is pleased to provide detailed results of this survey in a recently published survey summary report. Learn more by downloading the report today!
New, Reduced Membership Dues
A new, reduced dues rate is available for CAOs/ACAOs, along with additional discounts for those in smaller communities, has been implemented. Learn more and be sure to join or renew today!