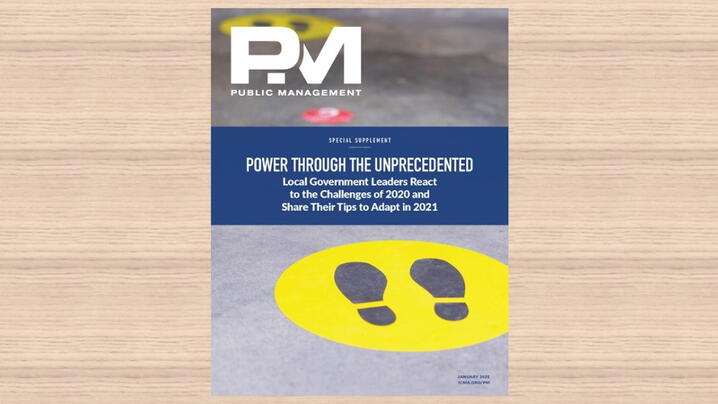 In this special supplement of the January 2021 issue of PM magazine, local government leaders react to the challenges of 2020 and share their tips to adapt in 2021.
To read the supplement, select the square fullscreen icon in the middle of the viewing window.
Contents:
Civic Unrest
Kurt Wilson, local government advocate, researcher, and educator
Addressing Racial, Structural, and Systemic Inequities
Siri Russell, director of equity and inclusion, Albemarle County, Virginia
Economic Restoration
Sheryl D. Bailey, PhD, visiting professor of practice, School of Public and International Affairs, Virginia Tech
The Future of Work
Paul Martin, city manager (chief executive), London Boroughs of Wandsworth and Richmond
Leading Through Disruption
Tanisha R. Briley, city manager, Gaithersburg, Maryland
Police Governance and Service Delivery
George A. Perez, division chief, Miami-Dade Police Department
Threats and Emergencies
Jay Gonzalez, PhD, Mayor George Christopher Professor of Public Administration, Golden Gate University
Strength to Power Through the Unprecedented: A Poem in Tribute to 2020 and Beyond
Renée N. Wilson, MPA, grants and governmental affairs manager, Miami Lakes, Florida
Register for the ICMA Annual Conference
Join us September 17-21 in Columbus/Franklin County, Ohio for the 2022 ICMA Annual Conference.
JOIN ICMA TODAY!
ICMA provides the tools, resources and connections to help you become part of the international network of 13,000+ local government management professionals.