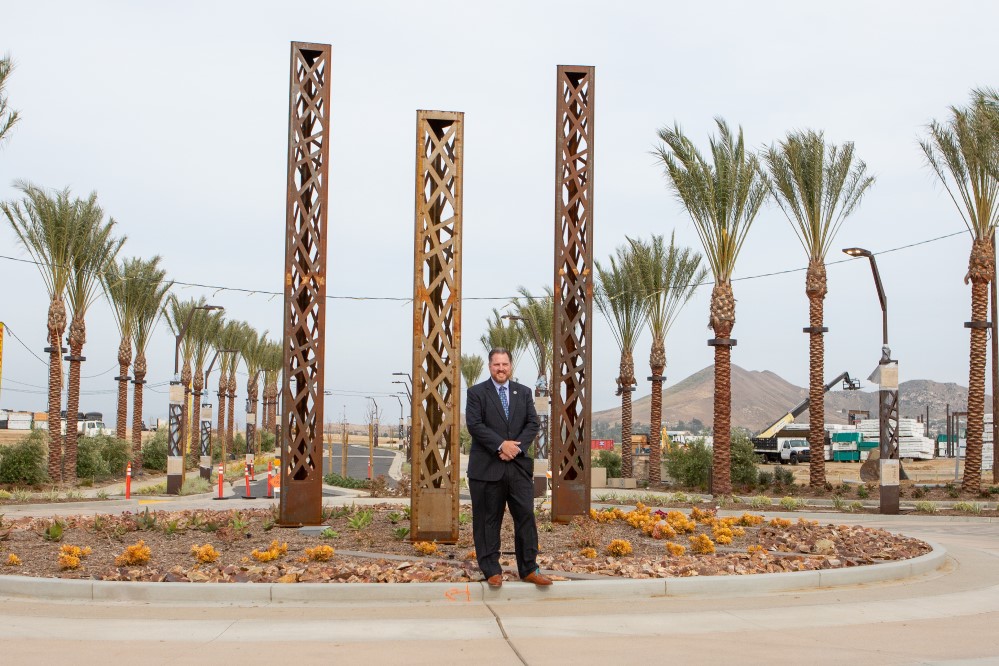 Despite the worldwide pandemic, one of Southern California's newest and fastest-growing cities is thriving. The city of Eastvale is home to 73,700 residents within a 13.1 square-mile area in Western Riverside County. Nestled along Interstate 15, the city lies just east of Los Angeles and Orange Counties and north of San Diego County. The local economy relies heavily on restaurant and retail businesses and a complete shutdown would have resulted in devastation for our community. With California cities facing some of the most stringent lock-down measures in the nation, navigating an unprecedented pandemic was no easy feat.
Throughout the pandemic, Eastvale saw unprecedented growth and a quick economic recovery thanks to courageous and forward-thinking leadership. Led by the city council, City Manager Bryan Jones, and the rest of Team Eastvale, the city reimagined its day-to-day operations and quickly pivoted to safely remain accessible to the public.
"We had never operated all of our services virtually, but the city hall team, with direction from the city council, made it possible with courageous, creative, collaborative results and unconventional thinking that's not generally seen in a government agency. We couldn't afford to operate how it's always been without resulting in a devastating impact on our community, who rely on our services," said Bryan Jones, city manager.
While caution and safety were necessary during this fluid situation, the ripple effects of the damage from the abrupt changes were devastating to communities. Eastvale made an intentional choice to adapt to the situation differently, and quickly pivoted its operational strategies to meet the needs of the community by using creative approaches that reflected its entrepreneurial spirit.
"At Eastvale, we champion experiences that engage, excite, and elevate our community. This creates an empowered and engaged team at city hall to think critically and, more importantly, take action to serve their comm unity, with an emphasis on 'unity.' And, this strength-based leadership, purpose-values driven, and people-serving approach was a promise to our community, which influenced and inspired us to continue providing essential services by adapting in uncertain times."
Adaptability—How Eastvale Did It
Eastvale has always prided itself on operating a mid-size city with a lean team of professionals. The Eastvale team may not be as big as neighboring agencies, but amid the pandemic it truly became purpose-driven, approaching and solving challenges in unconventional ways and turning them into opportunities.
"We've always valued doing more with less and allowing our team to provide an exceptional level of service within our streamlined operational structure of 32 teammates," said City Manager Bryan Jones. "It's not uncommon to see cities of our size with much larger teams."
This lean structure proved to be a critical game-changer when it came to quickly developing an all-virtual city hall just 48 hours after the lockdowns in March 2020, with the 14-day flatten the curve request from the state. City council/commission meetings immediately went virtual. Instead of cancelling events that were normally held in person, Eastvale moved forward with hosting virtual events for its 2020 State of the City, Veteran's Day, and 9/11 ceremonies.
Within a few weeks, the team worked collaboratively to install safety measures at city hall to enhance safety for employees and the public, so its team could continue to provide in-person services to residents and businesses. Safety measures, including installing plexiglass, hand sanitizers, and electronic temperature readers in city hall, as well as utilizing A & B shifts for staff to achieve social distancing, were just a few of the many ways the city adapted to serve the Eastvale community.
Growth—Eastvale's Expansion and Development Soar
Eastvale strives to be a business-friendly city. In support of local businesses who were struggling due to the California shutdown, the city awarded 27 business grants through the Eastvale Emergency Enterprise Grant Program. Each business received approximately $10,000 in funding.
Additionally, Eastvale's "Biz Support Program" was born and provided resources to assist local businesses in staying open during the pandemic. The program included a simplified, no-fee temporary-use permit process for outdoor dining and tents, in addition to free signage, social media content, and six-feet-apart stickers.
"The city has shown a tremendous amount of support for local businesses during this past year," said Leticia Davila, owner of EastBrew Café, which opened in the midst of the pandemic. "Not only did they provide financial support through the grant program, but also they frequently highlight our business and other local businesses in their outreach efforts over social media."
And they weren't the only business opening a venture in Eastvale during the pandemic. "The process of establishing a business in Eastvale was not typical of local government," said Paul Deppe, representative for Dutch Bros Coffee. "The city staff has a streamlined process in place to make it easy for businesses to get up and running as soon as possible. As a result, Dutch Bros chose the city of Eastvale as a location in which to sign a lease and do new construction for one of its first locations in Southern California."
Economic development continues to be a top priority. Despite the lockdown, Eastvale saw numerous grand openings, made progress on construction, and signed leases and letters of intent for new businesses. In 2019, 12 new retail businesses opened. In 2020, there were eight, and currently for 2021, two have opened, with 23 expected over the year.
The growth and attraction of restaurants during this time was originally a direct result of Eastvale's city council strategic plan focus area to enhance dining and choices for our residents in 2018 and was reaffirmed at the 2021 strategic plan workshop. The city is trying to make a dent in the $72 million in revenue leakage for food and beverage from the city, and strived to not let COVID-19 halt its momentum on economic development.
"Working with the Eastvale local government has been crucial to our success in delivering grand openings, like Sprouts, and attracting amazing new restaurants and businesses during the pandemic," said Grant Ross, partner with Orbis Real Estate Partners (The Merge). "They are responsive, solutions-driven, and they truly align their actions with the mantra, 'your success is our success,' when they talk with businesses."
The Merge is a prime example of what comes from a local government that does government differently and works closely with developers to listen to each other's perspectives to elevate the product and focus on performance. The level of trust that was built on both sides is such a critical component to being successful and taking calculated and strategic risks.
"We value our small business community and wanted to support them every step of the way," said Bryan Jones. "Small businesses are the backbone of the economy. At every turn, we thought, 'How can we make this easier and help our local businesses thrive during tough times?' And that guided our mission to streamline and innovate. Everyone talks about going back to a new normal, but we used this time to elevate and put the extra effort into making the ordinary more extraordinary."
Another example of Eastvale's nimbleness during the middle of the pandemic, when most hotels were closed and the tourism industry was shut down, was when the city partnered with two of its residents to break ground on a four-story hotel and restaurant, with a conference and event center, along the Interstate 15 corridor in the Inland Empire.
In addition, in 2020, we set records for home improvement and renovation projects like solar, pools, and backyard oasis.
Results—Eastvale Thrives
Currently, city services at Eastvale are operating at 100 percent, which has been the case since June 2020. Being fully accessible to the community they serve has always been a priority as public servant leaders. The front counter at city hall is open half of the day in the mornings for walk-ins with QR check-in outside. Appointments are available. This modification was made to not overwhelm the lobby, as well as provide social distancing. City hall visitors check in using a QR and the city texts back when a person is next in line. This approach allows visitors to enjoy local shopping and dining while they wait or safely sit in their car until their appointment time.
In FY 2020–2021, compared to FY 2019–2020, the city of Eastvale has witnessed the following growth:
• A 32.26% increase in new business applications and renewals.
• A 5.95% increase in property taxes.
• A 7.69% increase in sales and use tax.
• A 6.49% increase in franchise fees.
"If the past year has taught us anything, it's that our Eastvale community has an unbreakable spirit," said Jones. "We'll continue to handle whatever comes next as a community so we can thrive with resiliency and courage."
MARC A. DONOHUE, MMC, has served as the city clerk for Eastvale, California, since May 2019, and city clerk/communications director since November 2019.
New, Reduced Membership Dues
A new, reduced dues rate is available for CAOs/ACAOs, along with additional discounts for those in smaller communities, has been implemented. Learn more and be sure to join or renew today!